Google says it will unveil 'future of gaming' at GDC 2019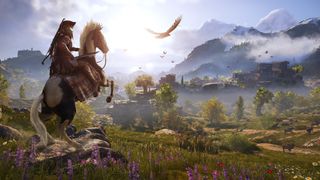 (Image credit: Ubisoft)
Ever since Google announced "Project Stream" in partnership with Ubisoft, gamers everywhere have been clamoring to learn more about the company's gaming ambitions. Today, Google announced that it would reveal what it considers to be the "future of gaming" at the Game Developers Conference (GDC) 2019 later this month. The corporation has never had a strong gaming presence in the past, so it'll be interesting to see what happens next week.
There are a lot of rumors floating around as to what this may entail. For example, the company may only announce its streaming service and a launch date. However, many analysts are expecting dedicated hardware, like a dongle that plugs into your display and allows you to stream games. Lastly, there are even stranger rumors out there that Google will get into the hardware market by revealing an ultra-powerful console. Take all of these with a grain of salt until official confirmation.
We'll have to wait until March 19 For Google's event to find out. There are already a lot of streaming services available on PC like Rainway and Shadow which allow gamers to access their titles across a variety of platforms. Many of these are also coming to Android and iOS. Google will have to blow all of these services out of the water if it is to succeed. Additionally, if a console is revealed, there are even more challenges to contend with. It likely has to be more powerful than the Xbox One X and offer a better catalog.
You need compelling games and a lot of studios making these titles to attract users to a new platform. You also need the support of major third-party publishers. Since EA is working on similar technology, we don't know how that will happen. It's unclear if Google has all of these at the moment. Lastly, the controller has to be comfortable and a tool gamers actually want to use; it has to be better than what Astro, Microsoft, and Razer offer, for example. In other words, Google would have a lot to prove.
Asher Madan handles gaming news for Windows Central. Before joining Windows Central in 2017, Asher worked for a number of different gaming outlets. He has a background in medical science and is passionate about all forms of entertainment, cooking, and antiquing.
Google has a lot to prove. They know as much about gaming as about sailing. I'm not betting on them.

"They know as much about gaming as about sailing." - You do realize the same thing was said about Microsoft in the mid too late 90's, right? Same thing was said about Sony in the late 80's/early 90's

MS has always been a big part of gaming before it got into the console market... They had studios... Flight simulator, close combat, midtown madness, motocross madness, monster truck madness, and a bunch of other relatively good titles back in the days... Not only that but they were a big partner for developers in the gaming industry with direct X among other tools... So nothing compared to where Google has to come from...

Not to mention GameCube...

They also give up on projects even more often than Microsoft, so I wouldn't trust them if I was a developer.

The gaming space is large and full of potential. Surprising that Apple hasn't tried to get a piece of the pie. Google will do just fine.

Apple already did and failed with Apple Bandai Pippin.

Pretty sure the Apple TV gaming initiative isn't going well.

Microsoft shows off the multi million selling IP Forza that they own being played live on Android using their 100M R&D Xbox controller and it forces a response from Google within hours lol. Project stream is irrelevant and DOA until Google announces they are also buying Ubisoft, Capcom, Nintendo, EA, Activision, Bethesda, 2K games, Tencent, CD projekt red, Square Enix or Sony. They have no gaming credibility or multi million selling gaming IP to drive subs.

Your comment makes absolutely no sense.

This was announced before xCloud was shown off on Inside Xbox. Also, your comment makes no sense, Microsoft will have the same exact issue regarding 3rd party devs.

I'm not sure about it. This streams all of your existing games to anywhere you are. Since Xbox is a major platform, especially in the West, EA can't boycott from releasing games on the system. I don't think Google has that ecosystem.

If Google succeeds at this it will have horrific consequences for the future of gaming.

People can play free, as long as they can bear with the ads overlay on screen?

I been saying for 6 months Google is the real competitor to MS now. Not Sony. The reason MS is bolstering First Party is to win this new age war of Gaming. Gaming moving forward will absolutely be about Hardware mixed with Streaming next Gen. And then maybe more just streaming the Gen after. Jade Raymond is now also the VP or Google Gaming. Ex Ubisoft employee. And Phil Harrison. Used to work for both Playstation and Xbox.

I actually think they are bolstering content because eventually all games will go the streaming route and developers/publishers are going to release their own streaming apps for tv or whatever instead of having to share money with Microsoft/Sony/etc. So "third party" won't be a thing anymore.

Not sure about that. You need access to huge amounts of Servers. Only a few companies have that. Google, MS, Amazon. Also MS have spent 5 years designing code that runs high latency code right there on the device your playing on. Stuff like hit detection, etc. I mean it just would cost developers to much to implement worldwide. They would have to have alot of servers that they pay for. Whereas MS, Google and Amazon already own there's. However I do see 3 or 4 streaming companies vying for the space. There is a rumour going around Sony are in talks to buy Take Two. If that happens. It's bad for us gamers. I mean MS have been buying Studios, but only AA studios that were struggling to stay afloat but had huge talent. If Sony do this, bet your bottom dollar MS and Google will buy publishers like EA, Ubisoft, Bethesda etc. It will open a can of worms and one that is gonna hurt the consumer in the end. As any streaming service will only have 40% of the games made coming to their platform. Maybe 30%. As everyone would have bought publishers to keep on their system. Real dangerous move from Sony if true.

Which, to be fair, is exactly the same as what we have with movie streaming services now, so why wouldn't gaming be any different?

I agree. But Gaming prices are drastically higher. I could easily see Google charging £20/month to access their service. Am I really gonna pay £100/month to play all the services?

How do you stream on the plane or shinkansen?
When can we human, expect a robust, high speed (8k 0 latency?), uncapped, cheap internet every where we go, across continents? In 5~10 years? We still need a local solution. For existing xbox owners, streaming is just a bonus feature, for convenience, for people to continue their game sessions on the go.
* XPA or xvc is prob what you would prefer, if you have a gaming Win10 NB? Or, you can run computation cheaper games using XPA or xvc on your Surfaces? Streaming on a flight or bullet train is just not feasible... not possible. For MS, when people start gamepad gaming on the go, they will bring in their friends to the ecosystem. Gamepad playing Forza, FIFA, Red Dead, Human Fall Flat on a phone, Surface Go or arm64 NBs attracts eyes, which equals to free ads.
And, why wouldn't you want to invite your friends to join your game sessions? All you need is a gamepad, a account and a phone or low spec NB. But in the end, if one wants hassle free, best gaming experience in one's living room with best tech the world / future can offer e.g dolby, freesync, etc, "Games Play Best on Xbox".
And you get o carry all your game lib, peripherals and saves over to future Xboxes, no more resets.

All Google fanboys unite in the comments section.

All the "experts" said Google Plus would overtake Facebook and was a must for advertisers. I'm sure that there will be a large bandwagon for Google Streams that many will jump on and then ride it over the cliff. I don't see any reason why Google gaming would take a different path than Plus did.

You are probably right. I don't see this being successful, but maybe. A $50 "Chromecast Play" with AAA titles might have a chance. They need to find some way to entice the game makers who will undoubtedly want to have their own platforms. Maybe the hardware is free with a base subscription and they leave it open so developers can create their own stores/subscriptions on the platform.

Hardware is a non issue, more and more TV's are being released that run Android, all they need is a controller.
Windows Central Newsletter
Get the best of Windows Central in in your inbox, every day!
Thank you for signing up to Windows Central. You will receive a verification email shortly.
There was a problem. Please refresh the page and try again.