GoPro app for Windows Phone updated with support for the new GoPro Hero4 Session camera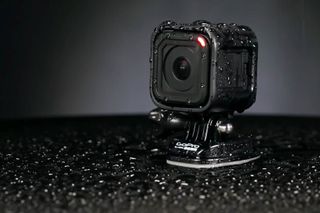 GoPro has just launched their smallest, lightest, and most convenient camera: the GoPro Hero4 Session (opens in new tab). What's a really exciting feature for this new GoPro camera? It has a durable waterproof design that eliminates the need for a separate housing! If you're itching to buy the Hero4 session, we have another good news for Windows Phone users. The GoPro app for Windows Phone has just received an update to support the new camera.
Learn more about the GoPro Hero4 Session in the video below
HERO4 Session features
1080p60, 720p100, and 1440p30 video
Waterproof to 33' (10m), no separate housing required
One-button control: short press of shutter powers camera on and begins capturing video, long shutter button press powers camera on and begins capturing time-lapse photos
Captures 8MP Single, Burst, and Time Lapse photos
Compatible with GoPro mounts and accessories
Dual Mic system captures enhanced audio during high wind and water-based activities
Built-in WiFi and Bluetooth® enable easy connectivity to GoPro App and Smart Remote
Auto image rotation corrects image orientation during recording
Includes standard and low-profile frame mounts for increased mounting versatility
New Ball Joint Buckle mount is included
GoPro app for Windows Phone
Full remote control of all camera functions
View photos and play back videos
Copy photos and videos to your phone, then share via email, text, Instagram, Facebook or other app
Browse and delete files on the camera's memory card
Use the GoPro App to wirelessly update your HERO3+, HERO4, and HERO+LCD camera software
Use the GoPro App to wirelessly update your camera Wi-Fi network name and password
View the GoPro Photo and Video of the Day
The GoPro HERO4 Session will be available at authorized retailers around the world and on GoPro.com beginning July 12, 2015 for $399.99. Is this the GoPro that you've been waiting for? Let us know in the comments!
-Download GoPro for Windows Phone (Free)
Windows Central Newsletter
Get the best of Windows Central in in your inbox, every day!
Yo, Mark...an integrated housing is a BAD thing! It is not a selling point!
(No way to replace scratched lenses. No way to check if the housing is actually watertight prior to taking the camera into the depths etc etc!)

Screen protector for the lens... Or extra case development...

I've always thought the cases made them bigger than necessary, but you've brought up a good a point that's making me reconsider.

It's the ability to check if the case is watertight that is so important. It is why I would never buy a waterproof digital camera for underwater work...and why GoPro's (with separate cases) work so well.
I scuba dive with my Sony AS15. Whenever I haven't used it for an extended period, I will go down with an empty case, and see if it remains watertight. Only then will I put the camera in.
This GoPro doesn't allow that (and could lead to a v.v.expensive mistake!).
I guess you wouldn't really spot these things in normal life :)

Always good to do research and trials runs.

Hehehe... That is funny... I was just looking some action cams... What are the odds of seeing an app pop up and get reviewed here... Awesome!!!

Love seeing windows phone support

Would love one..... Got new carpets to buy first. Then a new mountain bike.

Love that GoPro continues to update their windows phone app simultaneously with the others. Thanks, GoPro.

We want retrica and soundcloud! Before windows 10

Just got a gopro and shot underwater the pictures and videos looked pretty amazing. I double checked the housing before I went under water with it. I noticed that the white part wasn't in as deep as it could go so I re-latched it and had no issues.

Hope AEE releases app for WP

Dont open camera roll for gopro hero 3+ silver.....

GoPro Hero 4 Sessions will not connect to Windows 8.1 phone (Samsung ATIV Neo).
Windows Central Newsletter
Thank you for signing up to Windows Central. You will receive a verification email shortly.
There was a problem. Please refresh the page and try again.