Grab a 12-month Xbox Live Gold subscription for $40 from Amazon (U.S.)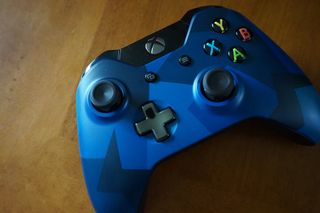 If you're looking for a good deal on a year's Xbox Live Gold membership right about now then Amazon's U.S. site is worth stopping by. Right now you'll find a 12-month voucher for the service discounted by $20 bringing it down to just $39.99. And considering what you get with Xbox Live Gold, that's one great deal.
Amazon isn't the only retailer with deals on Live subscriptions, we've previously mentioned Gamestop's similar offer and at the time of writing it's still live. Amazon will sell you either a card or an online code to redeem on your console, but it's important to note that you have to have a U.S. billing address to take advantage.
There are currently a bunch of great deals on Xbox One and Xbox 360 games for Gold subscribers, including a free download right now of the newly released #IDARB for Xbox One.
Source: Amazon U.S. (opens in new tab) via Major Nelson
Richard Devine is an Editor at Windows Central. A former Project Manager and long-term tech addict, he joined Mobile Nations in 2011 and has been found on Android Central and iMore as well as Windows Central. Currently you'll find him covering all manner of PC hardware and gaming, and you can follow him on Twitter and Instagram.
Perfect timing! Mine expired today. Lol

Best buy has 13 month for $40

We are also running this at Gamestop. Have been for about a weekish. FYI!

I bought mine at my local Gamestop on Thursday haven't activated yet, great deal.

Yeah...I kinda mentioned that in the post!

What's the point of a gold subscription again?

Also used to play games online.

Two free games every month

You can't constantly get kicked from services, booted from parties, and lose Xbox live core services without Xbox live gold.

I've read a lot of the reviews say that the digital code did not work. Anyone else have issues with this? I really want to get one.

If you have any issues, I'm sure Amazon will fix it. Their customer service is usually pretty smooth sailing.

Make sure you have no pending payments or autorenewals active. I've been struggling with code redeeming for 20 minutes before deciding to contant Xbox Support. Turned out I had a declined payment for my Gold subscription renewal (my previous bank is about te get bankrupt and has problems with online payments). The support consultant canceled that pending payment and I redeemed my code with no problem after that.

I need to renew or drop it... what's killing me is I don't play online. I only use it for the cloud saves. I wish they offered that part for free... $40 a year is a lot for a few megabytes of storage.

Just download a couple of free games and you are covering the price.

I've had a years subscriptions worth of free games out of it in the past few months. Not to mention some of the discounts on paid for games. That alone keeps me buying it.

I would agree, but I just don't have much opportunity to play anymore... I don't even have time to play the games I've already bought. It's literally just parking my save files... I don't even bother downloading the free games anymore. I should probably just keep them on USB, but I do love having then up in the cloud.

If you can't afford approximately $3.33 per month for 12 months. Then yes, $40 is expensive.

Never said I couldn't afford it. I said it's expensive for a few megabytes of cloud storage, which is the only part of it that I use. If you'd care to disagree with that point that's fine... but I'd prefer you leave the thinly veiled insinuations out of the conversation, m'kay? Good grief.

The discounts and free games are worth it for me. But I also play online enabled games too.

Best Buy (US) has it for $40 this week as well.

I found out from my local Gamestop that their deal is ending on Feb 3.

Great mine auto renewed a month before all these sales.

That's why you don't use auto renew

Cant you get it and use it next year? But there are likely to be other sales...

I'm loving #IDARB. So far it's my favorite of the free games.

It is a blast, just wish they would update matchmaking so I can play with more than just 1vs1!

thank the gods, a non-superbowl article. i'll be so glad when that whole superbowl thing is over.

www.cdkeys.com I bought mine off here in November last year. 14 months (12+2 free) £29.99... A bit cheaper than what it is through MS

They also have a selection of games for download as well. Pretty cheap as well.. I've bought Forza 5 (goty) and assassins creed black flag for a lot cheaper than what they are instore.. You get the download code straight away in your email.. And its all legit.

Something seems a bit odd about this, Why would Major Nelson advertise another website where you can get cheaper Live subscription? I wouldnt be surprised if Microsoft is stopping production on these codes.

It's not odd. They've been doing this regularly, for years.

That's good to know then, Thanks.

Yep. And they know there may be some console owners from the holidays that may have been holding out on Gold because of the cost. This is their last attempt at catching those potential subscribers.

Got one as well...mine expires March 1 so good timing.

Another United Syria only deal...

You have to be a prime member

im waiting on my bing reward amazon gc to come in my email. one came really quickly but the others are still processing...will just wait until tomorrow.

My Xbox One is telling me I don't have gold... Just got a 12 month subscription in December! What is this nonsense?! I just wanna play some Battlefield 4. Network says all is good. Anyone else having issues?

my friends told me he got this gold membership at www.w8games.com he said it's cheaper than other website. i also want to buy this there, but i haven't seen this product, so pity.
Windows Central Newsletter
Get the best of Windows Central in in your inbox, every day!
Thank you for signing up to Windows Central. You will receive a verification email shortly.
There was a problem. Please refresh the page and try again.