Gratitude Journal, an easy way to keep track of your daily thoughts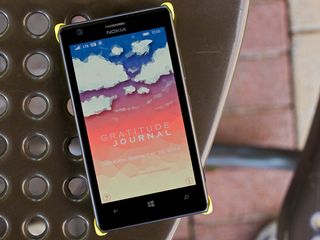 Gratitude Journal is a Windows Phone app that is designed to make it easy to record daily journal entries and in the traditional sense of the title, remind ourselves what we are grateful for. However, there is no rule you can use it as journal for just about anything.
Gratitude Journal takes advantage of gesture based controls and voice dictations to help you document your entries. Add OneDrive support along with location based weather information that is automatically added to your entries and I can see Gratitude Journal appealing to many Windows Phone users.
The layout for Gratitude Journal isn't very complicated. Your opening page greets you with today's date, a weather icon illustrating the current conditions for your location, a button to pull up the About Screen and a help button that pulls up an overlay pointing to what everything is. This help button is present throughout the app and does a nice job of showing the features each page possesses.
To get started recording your journal entries, swipe to the left or tap on the screen to pull up a monthly calendar. From there, pick a date and your journal page will appear. Any date with a journal entry already in place will have a check mark besides it.
Journal entries can be entered the old fashion way with the Windows Phone keyboard or you can tap the microphone at the bottom of the page to audibly record your entry. The voice recognition isn't too bad with respects to accuracy. Every now and then it had trouble picking apart my Southern accent but you can say that about any other voice recognition software.
Across the bottom of the screen, you will see the time of your entry along with the weather conditions at that time. The time will be reflective of your first entry and will not change should you come back and add to the entry. If the time and date are key to any subsequent entry, you'll have to add it to the text of your journal entry.
Your help button sits in the bottom left corner and your OneDrive backup/restore controls sit in the bottom right corner. While entries are automatically saved, there is no provision to automatically back them up.
Overall Impressions
Gratitude Journal is a clean looking, easy to use journal app for documenting what you are grateful for, how you're feeling or any other thought you want to record for posterity. The app has a very inviting appearance and the voice command feature makes it easy to jot down your thoughts while on the go.
While I can see the attractiveness of Gratitude Journal, there are a few items I would toss into the developer's suggestion box that I wouldn't mind changing. For starters, it would be nice if you tapped on the date from the main menu and go directly to that date's journal page. It just seemed a little cumbersome to have to go through the calendar view to create an entry.
Next up is the font. I'm not exactly sure exactly what font it being used but I can imagine it won't appeal to everyone. Lastly, the app needs a setting to automatically backup the journal to OneDrive. Maybe on every third opening of the app to avoid needing it to run in the background?
Still, while there is room for improvement what is in place with Gratitude Journal is nice and should appeal to anyone looking for an easy to use Windows Phone journal app. Gratitude Journal is currently rated at 5 Stars in the Windows Phone Store and while we like the app, we'd score it slightly lower.
Gratitude Journal - Windows Phone 8.x - 6MB - Free - Store Link
Windows Central Newsletter
Get the best of Windows Central in in your inbox, every day!
George is the Reviews Editor at Windows Central, concentrating on Windows 10 PC and Mobile apps. He's been a supporter of the platform since the days of Windows CE and uses his current Windows 10 Mobile phone daily to keep up with life and enjoy a game during down time.
I had it but then I forgot about it

I definitely love it if the app can do what the writer mentioned

I will work on it so that you will love it.

Also add password protection to this app. Then I will surely use this instead of dear diary.

I just journaled that I liked your article.

Will try it, but not liking the fonts somehow.

Developer here. Thanks for trying the app! I'm going to work on an update for more font support. Expect to see it soon.

Thank you so much! I just think the fonts are a little too girly (no offense). And I'll look forward to seeing the update. Thanks once again! :)

I'll give it a try, but I have to agree that the font is a huge turn off. I find it hard to read. The built-in fonts work well for readability.

Great. I'd also vote to get rid of that paper background. It looks tacky (no offense). BTW, any chance of supporting Day One import? Its a really REALLY popular iOS journaling app. I've literally got years worth of entries in there.

Hey peestandingup, Support for importing Day One entries sounds like an interesting challenge to tackle. I've gotten a couple requests so far for this. Right now, it's not a priority, but after I've sorted out all the basic functions, I may give it a shot! Cindy

Thank you, Cindy! Yeah, please let us know if you end up doing this. Unfortunately I (like many others) have been using Day One for years now & would hate to lose all of those entries. Of course your app would eventually have to support photos & tags (weather & location is already there) in order to do a proper Day One import, so hopefully these things are on your road map. BTW, if you need to see how some apps do this, I believe there's a couple Android journal apps that already do DO imports. Journey journal by 2appstudio is one. Narrate by datonicgroup is another.

Thanks for naming those Android apps that already have Day One import entries in place!! I will take a look and see how they handled importing before I start. I'll let you know when I put in this feature! I expect it won't be for many many months (busy with school right now).

Looks like there is already OneDrive support based on the latest update. Maybe you could update the article talk quick. Yeah, the fonts are not ideal. Nice app though.

Looks like there is already OneDrive support based on the latest update. Maybe you could update the article real quick. Yeah, the fonts are not ideal. Nice app though.

I downloaded and am giving it a try. I found a couple of things that are annoying and here they are. I'm an older guy so the more contrast the better for me. These pastel colors are so faint that I have a lot of problems seeing the settings (I assume there are settings, I didnt see any) or much of anything on the start screen. I tried to set up my OneDrive auto upload but kept getting an error saying the web link was not correct. I use my MSN account for OneDrive but it would not recognize it here. I'll give it some time and see how I like it.

Hi aximtreo, Thanks for your thoughts! I understand that the pastel color scheme is not for everyone. There is no settings button right now on the main page -- it'll be added as the app grows with more options/features. Feel free to contacct me at Cindy.WP at outlook.com or here on WPCentral if you keep encountering the OneDrive error. It's the first time I've heard of it. Cheers! Cindy

Hi George, Developer here! I really appreciate your thoughts for improvements. I love your suggestion about tapping on today's date to write an entry for today's date. To be honest, that thought never even crossed my mind. Font support is planned right after I finish adding in more functionality for OneDrive (ie, backup all entries in a month/to-date at once). Again, thanks for taking the time to write a review! I'll work on implementing all your suggestions ASAP.

Five star for you Cindy! Looking forward for your updates. Cheers!

Thank you for your support!! It helps keep me motivated!

Very glad to see the dev so responsive here. That goes a long way toward selling me on any app.

Thanks wpguy! Myself, I'm really grateful for the support and encouragement of the WP community.

Very nice app. I won't use it to express my gratitude though, but it is perfect for capturing thoughts on my several projects on a daily basis.
No major complaints, beside the ones already mentioned like different fonts or tapping the current date on the start page to make an entry. But those are all more or less subjective issues. I will give it a test run for a week and then write my review and give a rating. So far, I haven't seen anything not leading to 5 stars. Very nicely done.

Thank you Leo -- I hope you will find the journal useful for your purpose!

Cindy, Any chances of adding password protection? I don't want others to read my entries either by accidentally or incidentally by others?

Hi Lumio, I am planning to add in this feature after I've sorted out font choices and backup/restore multiple entries from OneDrive. Cheers! Cindy
Windows Central Newsletter
Thank you for signing up to Windows Central. You will receive a verification email shortly.
There was a problem. Please refresh the page and try again.