Greed City, the location-based Windows Phone game gets more social with new update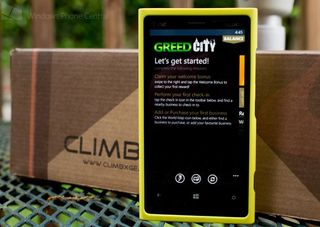 Lighthouse Game Studio's follow-up to Torchbear, the location-based game Greed City has been out on Windows Phone 8 for something like two months now. And in that time, the developer has released its fair share of updates. Each one of these makes the free game a little more rounded and more worthy of players' time.
Today's update, version 1.1.7 adds an exciting new feature: the ability to comment on other users' actions, plus a few more minor features and bug fixes.
Greed City version 1.1.7 release notes:
Overall performance improvements
My empire now includes a sort by LEVEL and also shows the remaining purchase freeze time
Complete redesign of the news feed
News feed now shows more than just the last 20 items
Nearby Screen now displays business category as well
Ability to comment on news feed items
Notification Center (lets you know when someone comments on one of your items, or replies to a thread you've commented on)
Delete a business (only if you added it and are still the owner)
Bug Fixed: using the search feature to add a business caused the location to reset to your current location.
Comment city
When I first played Greed City, one of my chief complaints was the lack of socialization in a game that's supposed to be social. Well, that complaint has just greatly dwindled because users can now comment on the items in their news feed.
The news feed is sort of like a general Facebook wall that displays the recent check-ins, acquisitions, and the like of all players. Now if you see someone check into your one of your properties or say they steal a property away by buying it, you can say something about it. Just tap the plus icon next to the item and leave a comment. If an item already has comments, the number of comments replaces the plus sign.
Besides scanning the news feed, players can view comment threads they're involved in from the new Notification Center. That feature still needs some work though. I could see quite a few users overlooking the tiny envelope button that leads to the notification center. It really should have been listed verbally next to leaderboards, add business, and search.
Room for improvement
Speaking of doing things differently, I confess I'm disappointed to see that the planned Live tile feature didn't make it into this update. Greed City follows the "formerly known as Metro" design principles very well overall. And yet for some reason, its tile does not display relevant information to the player as you'd expect. You generally want a game like this to be pinned to the Start screen and ping users with relevant updates throughout the day. Lighthouse does plan to incorporate a proper tile eventually, so hopefully we'll see that feature sooner than later.
Update: Err, the tile does seem to display a number now that either represents a business having been purchased or a new comment. This change was not described in the release notes and differs from the feature we were told to expect.
Welcome to the city
Notice the envelope button at top-left.
In Greed City, players purchase and manage real life businesses at the locations of their choosing. In-game business owners then earn credits when other players check into their businesses, as do the visitors. The goal is to build as vast an empire as possible. If you're new to the game, check out our quick start guide to learn the ropes in a hurry.
Greed City is a free game and a light 2 MB download. Windows Phone 8 users can grab it here from the Store. Don't forget to follow yours truly, EastX within the game! Just head to your profile page, tap Search, and then swipe over to Player.
Windows Central Newsletter
Get the best of Windows Central in your inbox, every day!
Paul Acevedo is the Games Editor at Windows Central. A lifelong gamer, he has written about videogames for over 15 years and reviewed over 350 games for our site. Follow him on Twitter @PaulRAcevedo. Don't hate. Appreciate!
I have to admit i thought this game was lame at first.... and then i got hooked!

This game is awesomely addictive!

This is not todays update. It was out yesterday if not the day before. EDIT: All updates/Revs have a release date. You don't have to guess when it came out.

Downloading this right now..

If it shows up for me today, I call it today's update, darn it. And the comment system keeps putting this comment below Winphonehub instead of Sholokov's comment! Weirdness.

Same thing happened to me when I tried to tell him he should have tipped if he got it a day or two ago! I ended up just deleting it so I wouldn't target the wrong commenter though...lol

I send tips almost every few days, and I see my name appear every couple of months or so. You don't need to tell me what I should or shouldn't do. I only mentioned that it was old because it WAS. You can check the date on the update to see when it really came out.

There are endless bits of news and updates. If they miss one the day it comes out, are they supposed to ignore it because you'll take issue with the fact that you already knew about it? Ugh.

I really want to buy the stadiums and Space Needle in Seattle, that's what I'm working on. Addicting game!

I haVent really started it, but will now. :D

I remembered it not working so well in Canada. Any Canadians play this??

My problem with this game right now is that I am running out of places to check in. People are not refreshing stock or upgrading their business. Also seems very slanted to people willing to spend 5 bucks in the game.

To be fair, it is free otherwise so a few bucks isn't too much to ask. Not done so myself yet, but sure I will

I don't mind micro transactions, when they have minimum impact. But I could spend money and be at the top forever.

With the next update we will have a bargain bin section which makes it easy for people to find businesses out of stock, so hopefully that will sort out your issue.
At the end of the day we do need to make money to pay for the hosting fees as well as development costs. We are working towards new things that will make the leaderboards less slanted towards people spending money.

Add me guys!! Socialdanny123

Umm..., can't you just use the correct "Windows Phone 8" name in the title instead of the more general "Windows Phone" term when it turns out that the games and apps in these articles are NOT available for WP7...? Please...

I really want to play this game, but I'm still on WP7....I need to hit up ebay for a new phone...

I have trouble upgrading, ut lists as an update, then I push update, but it doesn't install. I believe it downloaded on the first try, but didn't install. Now it goes directly to the "no downloads" screen.

this appears to be a Microsoft issue, if you still having issues I would recommend the following steps:
1 - uninstall Greed City
2 - Restart your phone
3 - Re-install Greed City

Thanks, tried multiple times yesterday, no luck. Today it's ok. Normally my phone boots annoyingly often, but it has been a couple of days now. I intentionally rebooted it today before trying again, and it works :-)

Phone's rockin' the yellow CC-1043 case in that picture. Looks good.

Yeah , this game was good at first but the top 2 guys gang up and buy peoples businesses forcing you to spend. Something really shady here.

Getting a bit dull, same businesses to check in each time. Most ofthem out of stock. I made a few businesses (one at level 10) but no one checks in to them. Any tips?