Welcome to Greed City, an exclusive Windows Phone 8 location-based game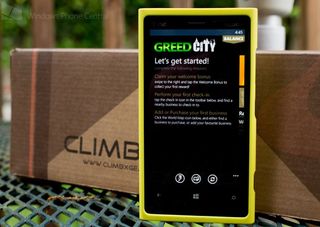 Remember the location-based social interaction game Torchbear? The creators of Torchbear, Lighthouse Games Studio, are back within another location-based game – this time exclusively for Windows Phone 8. Their new title Greed City combines the property and wealth acquisition elements of Monopoly with the real-world location and GPS elements of Four Square. It's much more game-like than Torchbear and costs nothing to download, so Windows Phone 8 users should definitely give it a look.
We've got a quick-start guide and more impressons to share, so read on!
How to become a tycoon
Greed City starts out with a three-step tutorial that you'll want to follow in order to avoid getting lost. First, swipe over to your profile and collect the welcome reward of Credits and Diamonds, the two in-game currencies. Next, check into five local businesses. You don't have to actually visit those locations; the game lets you choose from the ten nearest businesses, no matter where you are.
Finally, head to the world map (provided by Nokia HERE) and start your first business. The idea is to create real-life businesses within the game and then profit from them whenever players check into them. You can select from a vast array of business types, each of which costs a specific combination of Credits and Diamonds to create. At first you're pretty much only Able to afford restaurants or retail stores, so why not start with one of those?
Once you've selected a category, scroll to its actual location on the map. You can toggle between road view and aerial photos in order to find exactly the right place to create the business. Having placed it, you'll then need to buy some stock for the business to sell. As long as it has stock, other players receive Credits every time they visit and you'll take in some Credits as well.
Big businesses and IAPs
Players can check into five businesses every four hours, which you'll want to do throughout the day in order to keep the Credits coming in. Larger businesses like airports, colleges, and movie theaters cost a lot of funds to create, but they also pay out more to owner and visitors alike.
If you're interested in creating a costly business right from the get-go, you can opt to purchase a Credits and Diamonds package with real money via In-App Purchase. The prices are fairly reasonable, with the larger packages representing a better value than the smaller ones.
Room to grow
I like Greed City more than Torchbear because the gameplay and goals are more concrete. Buying new businesses to flesh out the area where you live within the game itself, seeing who visits your businesses, and watching new businesses spring up is a clever and appealing gameplay foundation.
By its very nature, Greed City is a game that becomes more enjoyable as more players sign on and start playing it. There is also plenty of room for improvement, as right now users can't directly interact with each other for the most part. But we've discussed a number of changes and new features with Lighthouse Games Studio. As long as they make good on those plans, Greed City will blossom into a truly standout location-based game within the coming weeks.
Greed City is a free game and a light 2 MB download. Windows Phone 8 users can grab it here from the Store. Don't forget to follow yours truly, EastX within the game! Just head to your profile page, tap Search, and then swipe over to Player.
Paul Acevedo is the Games Editor at Windows Central. A lifelong gamer, he has written about videogames for over 15 years and reviewed over 350 games for our site. Follow him on Twitter @PaulRAcevedo. Don't hate. Appreciate!
Is not available here in Brazil...

I'll put you in touch with the devs so they can fix that. :)

Hi,
we tried submitting to Brazil but for some reason it was declined this first time.
We are currently in every available WP8 marketplace except Brazil & South Korea, we working on trying to get them approved as well.


Hey Edward, how about giving us tasks to EARN diamonds so we are not forced to buy $5 worth of diamonds every month. Once a year is probably okay. But giving out ONE diamond after 250 check-ins with a limit of 5 check-ins every 4 hours is ridiculous.

Hi, thanks for the feedback,
we are constantly monitoring this and trying to find the best middle ground. We have made many changes since launching, and we always push in favour of the players.
Obviously we can't give away too many diamonds too often as we still need to encourage players to pay (so that we can continue working on the game as well as pay for the servers) also the game is not designed for short term once off play, but rather long term play. We are releasing a fairly big update in a few weeks time that shouold help balance it further and reward players diamonds & credits more frequently.


Thank you for responding me.

This is weird! Did you triy submitting again?? I already can see the brazilian certificate in your game, but cant download it.

Haven't tried again. I followed the instructions Microsoft provided so not sure why they failed it. Will try again once the next update has been approved. I think Brazil offer two types of certifications, so will try the other option this time.


There are 2 ways to get a Brazilian certificate (DJCTQ). One is use PEGI or ESRB instead to request the Brazilian one. But, as I sayd, your game already has the certificate, I can see the certificate in the Brazilian store. You can try to resubmit the game marking Brazil again.

We have just been certified in Brazil, it should be available to download if not already then in the next 24 hours.

Paul, you can follow me for buying some of your businesses :)

What kind of case cover is that on the photo?

Looks like a original Nokia case named CC-1043, comes in various colors.

Will this ever come to WP7.5?

Hi,
unfortunately we have no immediate plans to bring it to WP7.5
WP 7.5 has no in-app purchases and therefore we have no way to monetize it (and therefore it's low priority for now)
And we don't like adverts.


Good game but needs tweeks to make it more competitive and reward strategist's

Hi, let us know what you would like to see tweaked, and we will see what we can do.

Now that it has WPC exposure, maybe I'll jump back in. It was a barren land and I got bored. Also, it was only restaurants and I'm trying to be healthy and eat out less, so I had few opportunities to check in.

You don't actually have to go somewhere to check in, you know. I do most of my check ins from home.

The term "check in" is misleading. You just check in to the 10 closest places around you. Travel if you find a place that pays out more

This Game is really confusing, We need a Video tutorial!!! I like the concept though. :)

Hi, we working on a video, but if you could please tell us what you find confusing then we can address those issues for you in future update. Thanks.

What do you need to know that the article didn't explain? There's also a Help & FAQ option within the app that explains other concepts.

Come visit my (Sholokov) businesses...in Connecticut. :)

well, its har to visit places in my case, because i live in colombia and the nearest business is about 400 km away :/

i did, ut who would check in there if no one is near? also the one i created is located in miami if you can check in ;)


build it and they will come :)

Already have this and I love it

I'm playing it. 4 place for me!

I am now ranked in the two hundreds...7 businesses.

I have privacy issues with this game... it asks me to allow it to post on my friend's pages without my permission which i cannot and will not accept.

Hi, just a note it doesn't post anything to Facebook, but you can also create an account without using Facebook if you are worried about privacy issues.

Just downloaded. Really good game and purchased some diamonds with real ££ ha ha. Hope it takes off. There seems to be some activity in my area

Could be fun, I created a business, naming it from the real name, but I spelled it wrong, can't find a way to correct it :-\

contact support, they (i.e. me) will fix it for you :)
editing will come in a future update.

Do you have any plans for multilingual support? This may attract more players from all the world. I can help you with translation, if you need.

Email support. They will fix it.

Just needs editing and report function. And preferably computer online accessibility ála Foursquare - but I'm sure everything will come in time! Otherwise great game!
http://greedcity-addicts.com

Yep, all of the above is on our to-do list :)

Just started playing. It seems fun enough.

Looks interesting. I'm giving it a try. Created a business in the Northern Virginia area.

I created a restaurant in Seattle but somehow it got created with my current location instead. Will there be a way to change locations in a future update?

Yes there will be, drop support an email and they will delete it and refund you. So you can re-add it at the correct location.

Not the sort of game I would play on my phone. But windows 8 or RT yes.

Seems pretty sweet, bought up 3 businesses that are really busy in my area, hopefully a few WP users check out this game!

interesting game... can't figure out whether it's more beneficial to buy small properties (restaurants) or save up for larger ones (stadiums). is there an advantage when starting out? what i mean, does it make more sense to spend all your money on one big property, or buy several smaller ones. i would think, as a player checking in, that you'd check in at all the high paying properties first.
thoughts?

start out small, buy a couple of restaurants and upgrade them, much less risk involved. And if you add the restaurant you won't have to pay the 30% tax so you save a few credits.
Spread out your businesses try find places with active users.
And upgrade your businesses to the max level, if a player has a choice between level 1 and level 3 check-in they will always go level 3 to get the extra rewards.
Hope that helps.

Hi. I noticed that whenever a new business is founded in my area, a business i check into becomes out of range. Does that mean at any particular time, there's a maximum of 10 options i can check into? its really annoying because the essence is to select the best when if i have many choices..

Yes, there's always a maximum of 10 businesses available to you.

Aite, thanks...... Love the game, it's the sort of game I look for.

Hi. If I report a business as fake, what'll happen to the business?
Will the owner know who did the flagging?

Can debit master carder be used to purchase apps?
Tried mine but it's not working

Why can i upgrade my bussineses to only level 3? I have seen other are level 6 or 8, 9 and so on, i can upgrade only to 3? How can i upgrade to 4?

Not sure. I haven't seen anything above level 3 myself.

Just curious. I live in Oman and the default Windows maps has nothing at all here for locations,but the nokia here maps has everything. Can I change the maps Greed city is using? If not I can't play because to the game there are no business.

Nevermind. It just glitches. I am finding stuff now. Sorry for the misinfo.
Windows Central Newsletter
Get the best of Windows Central in in your inbox, every day!
Thank you for signing up to Windows Central. You will receive a verification email shortly.
There was a problem. Please refresh the page and try again.