Groove Music for Fast Ring grabs ability to edit metadata locally and much more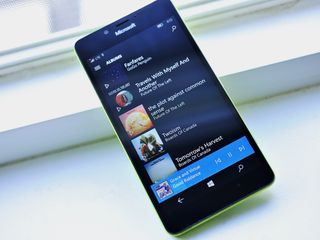 For those on the Fast Ring who love using Groove Music, you are in for a big update tonight. Version 3.6.2386.0 should be hitting the Store in a few hours and with come many features that users have been asking for in the feedback app. There should be something for everyone with this update, which is only in the Fast Ring for now before going wider in a few weeks.
The news was announced by Microsoft's Ellen Kilbourne in a forum post (opens in new tab).
Perhaps the biggest ability is users can now locally edit metadata right on their PC or phone. Metadata for albums has been a sore spot for many with users wanting to fill in the details themselves and now they can.
Other features include sorting by genre for curated playlists, top albums, and more in Explore.
Finally, there is the return of the thumbs up (or down) for Your Groove playlists and mute songs that you don't like in a generated playlist.
Here is the full changelog.
Groove Music 3.6.2386.0 (Fast Ring)
You can now edit the metadata for music saved locally! Right-click on an album or song and choose Edit Info.
You can now see curated playlists, new releases, best new songs, top albums, and top artists...all by GENRE!! It's available in US, UK, FR, CA, and DE
Radio stations show up in Recent Plays in Your Groove
You can check out which artists are included in a playlist in Explore more easily now because they are highlighted when you click on a playlist
You can give feedback on playlists in Your Groove with a thumbs up or thumbs down. You can also mute specific songs in a Your Groove playlist if you don't want to hear them anymore. Muted songs will be excluded when you play that playlist later or save a copy to your collection.
Get a Groove Music Pass (opens in new tab)
Overall, this sounds like a fantastic update to Groove Music. The update should be live in a few hours.
Download Groove from the Windows Store (opens in new tab)
Read More
Windows Central Newsletter
Get the best of Windows Central in in your inbox, every day!
Daniel Rubino is the Editor-in-chief of Windows Central, head reviewer, podcast co-host, and analyst. He has been covering Microsoft since 2007 when this site was called WMExperts (and later Windows Phone Central). His interests include Windows, laptops, next-gen computing, and for some reason, watches. Before all this tech stuff, he worked on a Ph.D. in linguistics, watched people sleep (for medical purposes!), and ran the projectors at movie theaters because it was fun.
WHAT?! ..... Groove Team is just killing it.

Raining updates...so hot, fires still lit.

Why is everything burning with you?!?!

And it only took four years after they killed off Zune. Now I feel like they have mostly achieved parity and are starting to pass the music capabilities that they had with the old Zune player.

I just need wireless sync now.

there should be a duplicate file warning in a playlist whenever i try to add a song in a playlist if it's already there...its tiring to search in a playlist whether or not a particular file is there..that wud a great addition!!

I just want play to!!;;; seriously, this is so basic, I don't want to use bluetooth to stream to my speakers... dlna all the way!! Suddenly the app becomes grown up..

Groove surpassed capabilities of Zune long ago. Stability is another topic, which now, looks good enough.

Really? So how do I make my smartplaylists? The artist and song banner for screen saver? Oh, it can't? That's because it is still significantly behind Zune.

no. where is the now playing animation?

"aceoforder WHAT?! ..... Groove Team is just killing it."

This is satire, right? RIGHT??? Microsoft is re-refilling the holes it keeps re-digging everytime it thinks it needs to differentiate by gutting what already just works. As it still has so many holes to fill, Microsoft will have many more opportunities to make the sheep believe it is "killing it". This won't be the last time.

A life? Why? Everything he said is the truth. They destroyed a great program that they have spent year after year just trying to duplicate and still haven't.

Because that great program will not flexible if it is present in the OS as default. It will perform better, can have n number of features but it will not be a UWP if it stays with the OS. What Microsoft did is not a popular decision(pulling it from OS and making it a store app) and I cursed them for doing just that for many a times. But once the Groove became stable, I could clearly see the advantages this UWP will have over the app embedded with the OS.

They killed Zune for all these other messes long before UWP. So that has NOTHING to do with that idiotic reasoning to kill it. Also, if it is so easy to move over to UWP like they claim, they could have just done that.

Sure, another hole they have to fill is FM radio recently dug, these features were there on nokia phones, they should have carried them over from symbian to windows phone long time ago!

Microsoft is refilling the holes. But before that, Xbox music was an app that is tied with the OS and can be updated only along with the OS. Microsoft pulled the app from the OS, made it stable with continuous updates, and now since it gets to a certain point of stability, adding the features back. I guess you are not aware of any of these? You wanted a different set of music player for each and every form factor?

Now I'm signing back to be an insider.....

Yeah! The #Outlook and #Cortana teams need to take notice!!!!

Outlook is light years behind. Reminder jumps from 1 hour to 12 hours. No custom colors for separate inboxes, no 30 minute snooze for calendar. It's quite embarrassing really.

WHAT?! Just killing it? The ability to edit metadata, one of the most fundamental requirements of any audio cataloging software has arrived and people are applauding. I haven't seen it yet and I bet there is no tag to filename, no filename to tag, no editing of multiple file tags. Microsoft should have bought mp3tag several years ago as I commented and integrated it, I'm pretty sure it would come quite a bit cheaper than LinkedIn...

love mp3tag! but at least we can now do the minor edits on our phones! for some reason i have some odd artwork on some of my albums and 3rd party editing apps see original artwork, but if anything is changed in the 3rd party app it ruins it and causes groove to see chinese symbols! so this is a god send for me to update the album art for the ones that are wrong!

It happened to me, too! Suddenly, Tina Turner turned into Chinese woman, and I don't know what to do with it! The whole album! ☹

Bringing back some of the great Zune features we've needed this for a long time.

Feels like it's now about the right time for another music app reboot.

Awesome....i have been waiting for metadata feature

:o that's great! The only thing missing for me is the ability to move songs around while on Now Playing section.

This would be great! I'd also like the option to "add to now playing" and add a song to play after the current song in the current list of tracks
Feedback submitted and upvoted of course

That is a actually there already. Just press and hold on a song.

No. That would be playlists not now playing.

no again - I do this all the time when driving with the Mrs. Whoever is the passenger will play a song and ask the other for the next pick. Just long press a song > Add to > Now Playing Passenger then picks the next track and back and forth. In that way we create on-the-fly playlists as we are listening to it.

I want to create new playlist but I cannot add song over one thousand. To do that I have to subscribe to music pass, but the price is so scary. hahaha good bye.

you cant do it, even with a groove music pass. The Groove service has a hard limit of 100 playlists, for syncing between devices. The local machine can have more playlists, but these do not propagate across devices. And inside each playlist, there is a hard song number limit of 1,000

This is plenty enough though! Who has a hundred playlists anyways??!

I agree, but back in my old Zune days, I had about 150 playlists. I also had a favourites playlist that had nothing but 5 and 4 star rated music (my personal rating), and that had over 4,000 songs. I had to forego those things moving to Groove. I am not complaining. I am loving Groove and my Groove Pass

I want a list with the same song 1000 times.

Thanks, I just want to specify the playlist, such as English playlist for English song, Thai playlist for Thai song and Korean playlist for Korean song, I have more than one thousand song per language and I cannot add them in new playlist.

Use multiple playlists until they decide to remove the limitation.

Which should be enough for everyone! Posted via the Windows Central App for Android

The pink accent color evokes Zune.

Wish you could set that without interfering with your overall theme color

Submit the feedback for it! The groove team is on feedback hub all the time and use their telemetry a lot

How about launching Groove Music in the Latin Americas and Caribbean? Itunes is here already. I never understood the red tape with digital content and regions. There's paying customers waiting for these services.. ahem. anyways.. Cool update. lol

Well I live in Dominican Republic and I have Groove Pass. The only thing that you need is a international debit or credit card.

I'm in between PR/STX/STL and I've been using XBox and now Groove for most of my music purchases.

Not only that, the Spotify family plan in Latin america is $9 a month.

This is great. I absolutely enjoy what Groove Music Pass has to offer for synchronization between my Lumia, Surface, OneDrive Music, Xbox, and the web app (whenever I'm on someone else's computer). Groove has come a long way and is finally getting features we've all been requesting. Zune lives on within Groove!! SN: I can't figure out how to remove songs from the now playing list on W10Mobile.

I think that's not possible yet.

I've been wanting to do this for a LONG time, hopefully they add that in the future.

Will OneDrive re-upload your songs to the cloud each time you make a metadata change? Right now if I edit the Tags of my songs even though its only a few bytes of change, it will reupload the entire thing

As it says, looks like it's a local change.

Wow. Just WOW! You ask, you get. Team working hard.

I gotta ask this on every update... Does this fix the Now Playing screen crashing (most of the time) when re-opening the app?

There is no such issue for me on mobile and PC

Never had this issue. What phone are you using? Maybe start a thread on the forums so everyone can discuss this problem with you.

This has been an issue for me since the dawn of Windows 10 Mobile for any phone I've used. I would open Groove, choose a song which brings up the Now Playing screen with the album art and song controls, right. I lock the phone (or press start to go do something else), then come back to Groove and it will not open in Now Playing about 70% of the time. It crashes back to the artist list.

Wow...I just try that 10 times and twice it didn't return to now playing. So you're right. Never happened enough to notice it before, but you are correct, it does happen.

Its happens to me many times, when there are about 5-6 apps open in the background. Memory issues may be.

I close out all apps im not using, so it's definitely not that. And even if I didn't, I don't think a phone with 3 GB of ram (950 XL) should have any problem with 5 apps open, to be honest.

Right. I don't think it's a memory issue either. It's an issue related to app resuming services, where it fails to continue in the state it left.

I have more than one thousand songs that I want to add in one playlist.

You will have to make multiple playlists. I have Faves Pt1 and Faves Pt2 etc

Ratings and playlists larger than 1,000 subs next please! Posted via the Windows Central App for Android

wow that's very useful... never though I'd see this on Groove. Really looking forward to it.

Will that include the main 'artist' picture it uses? I've got extremely well known Artists in my collection and Groove apparently has no clue who they are, so I get a blank placeholder I can't change :/ Either that or it chooses a picture that makes no sense, like only one member of a band.

Upload the tracks to OneDrive and the artist picture will magically show up in Groove.

do i have to upload all the songs of an artist to onedrive or just any of them for that to work??

Yes, i realize this..and mine are on OneDrive. I was curious if you could edit the Artist picture it automatically pulls down and sometimes (not often) leaves blank, or just selects a bad picture. Got the update now, and the answer it seems is..no, you can't, sadly. Maybe in the future.

Excellent, now I can mute those damn Justin Bieber songs

A) THANK GOD. FINALLY B) Where is this in the Movie & TV ap already???

Hopefully the ability to stream FLAC music from OneDrive comes soon!

They're doing an awesome job now please add ability to view and save lyrics in the app...... Pleaaaase

can you add artists background when you edit ?

But the music files do have thier meta data, the groove app on pc and mobile are unable to read it, other apps read it totally fine, how about fixing that.

Workaround: Upload the tracks to Onedrive and Groove will start to display their metadata

Here's one that's odd: A couple days ago, I purchased 5 hi res albums via Acoustic Sounds (www.acousticsounds.com for my fellow audiophiles looking for hi res music), and downloaded to my Dell on .10. Groove imported everything fine. But when I transferred those same albums to my Lumia 1520.2, also on .10, none of the metadata imported. Anyone have any ideas as to how to get this to work?

Read my previous comment... It's the only way to force Grove to read metadata

Yes. This is great. Now I can finally ditch iTunes.

For organising my collection, and occasionally gifting albums

The people behind Groove Music should get canonized.
The app is not only the best native player for Windows (bye Zune), it's the best compared to any other native player like iTunes and Google Play Music.
Xbox Music days are over. Thank God!

I hope that you are being sarcastic.

Hell no. Play Music is awful. In Android I use to install Phonograph ou Poweramp to run away of this mess. And iTunes? Seriously? Doesn't have half of the features Groove does.

Yeah! Its better than itunes or google play music. And if you don't think so, just wait for the last update when it will have a transparent effect.

I am so happy. Just one last thing, that translucid effect on the background and I will be happy.

Now that the app is in order (nice job!), how about doing some marketing and getting artists (like Metallica) to bring back their songs? And when will we get family sharing like the competition? Or is this one more service that Microsoft will leave to wither on the vine with no promotion until Satya and the beancounters kill it...

Family sharing? Me and my wife have both shared the onedrive music folders, so I can hear her music, and she can hear mine.

Wireless sync everything will be nice, unfortunately we are saving everything in the cloud nowadays. So I think they so over wireless sync.

Hey WC people, please fix your app. It keeps crashing while scrolling through the comments. I'm using it with my 950xl. Anyone having this issue?

Yes I am! Had to reinstall this app once again last night because I was getting sick of all the crashes trying to read comments. About to go back to the much better 8.1 version of the app!!

I'm back on the 8.1 version also. But this one apparently hasn't been updated in over a year. Still has broken links for the past year and a half or so, even to items they're trying to sell which really makes it pathetic.

Negative, have a 950xl and no crashes. Comments page or otherwise.

Yeeeeeees this is awesome. Unfortunately I just moved my laptop to Release Preview (I always do to avoid getting the buggy first releases that come first in Fast Ring) so I won't see this for a while.

I am insider on fast ring, but there is not any update

Cool, perhaps it is already time to go back to the fast ring. Anyone knows what the advanced options are? I listen to classic music and, thus, a composer field is essential to sort out my stuff.

I'm on the fast ring too and don't see the update

Tired of all this fast ring slow ring BS! Just release the updates to everyone by now for crying out loud!!!!!

It's released to the Insiders first to ensure that by the time the feature is released to the public, there would be no bugs.

Yeah well there's plenty of bugs in non-insider builds and non-beta apps too! The Windows Central app is a good example of that. Still crashes all the time. And Release Preview W10M builds still have issues!!

Your tune will change if the new update makes things worse.

All these updates but they still can't change the name.

I'm on the fast ring, but I still don't see the update here (Malaysia). :(

Can't the update appear already !

It's officially Zune again...now, stfu please thanks lol =P

Until they lift off country limitations, this music player is a garbage anyway. For most people on the planet.

Because since when you use to download one player, and then listen on the other? I'll be fine with Deezer. Groove is useful only when downloading music from torrent websites...

This is spot on. Groove is **** on my XBox (region not supported), **** on my 950XL (takes ten seconds to start playing a track from a fresh start) and **** on my laptop (advertises Music Pass but its not available in my region a$#holes).
FOH with all the Groove fellating, I'm keeping my Google Music sub.

I think this has more to do with licensing which is not entirely on MS.

Still, so hated here Google and Apple don't have any problems with that.

Really?! In 2016? What took them so long? And people really use Groove? I could understood mobile, cause other players sux, but Groove, really?

ITunes stinks compared to Groove

iTunes has one thing that I want, in Groove, equalizer settings in the metadata.

That is..... 'uuuuuuuuuuuge! Hopefully next up is star rating and smart playlist.

Wow this app, is becoming the best I have seen, Windows 10 is really kicking off, or should I say has already kicked off

Wow this app, is becoming the best I have seen, Windows 10 is really kicking off, or should I say has already kicked off

Finally... What took you so long ☺ Posted via the Windows Central App for Android

Now THAT'S impressive. Not sure if I'll get another Windows Phone (maybe the HP Elite) but this will definitely make the desktop experience Zunish. They definitely appear to be reading fedback and people have been crying for wireless sync for years so hopefully that makes it through too.

Nothing showing up yet for me.

When do we get FM radio in India

You don't have FM radio in India?

This is great work goodbye iTunes lol

Finally a feature I have been asking for ages

When will they add an EQ? I really need that and the ability to send and manage songs on external devices (like flash) for me to leave winamp.

If your sound card supports it, you can get a software eq.

It is not that. My set up I have my sound card/system eq set, but for music o have a winamp eq with pre-amp to make my music pop. So with grove not having it's own eq, I can't get the sound that I love

Oops sorry it does include album art editing :)

It crashes when loaded on a Lumia 950

Doesn't let me edit every track sometimes I have to restart the app in order to see the option to edit some tracks

My phone just updated the app in US, excited to try it out.

Close every time I open the app. At lest background music still work.

Groove cant even properly read already tagged tracks.

Still not in denmark.. What the hell is the difference uk vs dk? Groove is available in both countrys, always has been.. Why are the curated playlists cripled here in denmark, when our neighbors in germany gets it all?!?
I really can't see any good explanation for this! I even tried cancelling my music pass to resign up with a us payment option, but it tells me that I need to hard reset my phone for groove to work then? This is becoming frustrating..... Really! Frustrating....

what the hell is the difference uk vs dk? I asked the same question when I was watching hamlet as a kid.

Nice additions. We just need the ability to convert local music files and the support for external storage for the library :)

One thing is still missing though, a right click on an mp3 and "add to current playlist" or a drag and drop playlist. Windows Media Player still does this though

Does this mean it will pick up existing metadata? I sync my phone with Media Player, as I rip my CD's with the lossless format and then convert it down during the sync process, so it takes up less space space on my phone. The worked a treat with 8.1's player, as all the album information was picked up in the music player. With Groove on W10M, all the tracks get lumped under "Uknown Artist" and "Unknown Album" and it drives me mad.

Now, if they add equalizer settings to songs, i will be happy.

Don't need one, some phones already have sound enhancement settings

About time now continuing to add the remaining features from Windows Media Player and along with enhance scrolling speed and having the app from crashing then it can replace Windows Media Player for good

Now I just need wireless sync. Missing this since my Lumia 900 :-(

is anyone is able to change the tag on songs located in OneDrive? It looks like we cannot do that, even if the song is stored offline.

Downloaded, but I don't see "thumbs up / thumbs down", nor can I edit meta data. On 640XL in Guatemala.

Microsoft should buy Tidal before Apple does and make a deal for the owners to promote Groove Music. Just thinking outside the box here.

I just downloaded this update today, but I still can't edit the metadata. What gives? Is it because the songs are also stored on OneDrive?
​The other new features work, so it's the right version

My Groove has updated, but I do not see that option. I've tried editing OneDrive music and music on my laptop.

Well not all countries gets it im afraid.. Not seeing the update here in denmark either..

I'm In the US. When I opened Groove a message was there telling me of the new feature. I just don't see that feature.

Same here in denmark.. Dont get it really..? I guess it must be hiring of people in each country to make the playlists maybe? Or maybe a licensing issue, which really shouldn't be a problem when the music licensing is already taken care of in these countries.. With the full explore experience and music videos, there really is no other product better than groove Imo... So get your fingers out of your *** groove and gives us theese features :)

Still behind the original Zune. When are they going to put the now playing animation back?

Not bad. Add the ability to rip music in Groove along with edit album art and I'm in heaven.

The Artist images are seen only for a few artists. Anyone having the same problem? Any solution?

God heard our prayers! Now what they need to do is stop limiting the volume power ò.ó Just listen to the same music in my SD on another music player and it sounds louder

I have no such problems here. Check the Voluem Mixer perhaps?

Finally! It only took 4 years and 3 complete overhauls to get the music experience close to what it was with Zune. Keep it up Groove team!

The groove music pass ads in the app are very annoying. I don't mind those, but they are everywhere.

You could just hide features related to music pass from the settings.

thanks, just found the setting

Hello Dan, sorry since that topic is getting old I know but how to get that famous update of groove music? I'm on the latest mobile fast build but I can't get that update. Probably a big bug because my friend on one build before got it days ago. It's frustrating as it has a long waited feature. Help!

Hello Dan, sorry since that topic is getting old I know but how to get that famous update of groove music? I'm on the latest mobile build but I can't get that update. Probably a big bug because my friend on one build before got it days ago. It's frustrating as it has a long waited feature. Help!

Hey!!! This feature just rolled out to non insiders!!! Sad but I've been playing around with it and still can't figure out how to update metadata on groove :( Windows Central " Zac " please make a video tutorial showcasing this feature!!! I've searched all over for one and I'm out of luck, this would be awesome!!! Thanks!!!
Windows Central Newsletter
Thank you for signing up to Windows Central. You will receive a verification email shortly.
There was a problem. Please refresh the page and try again.