How to use Explore and Your Groove in Microsoft Groove
Microsoft's music service, Groove, has picked up a few awesome features as part of the Windows 10 Anniversary Update wave.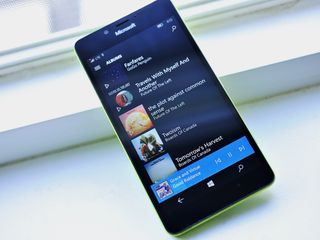 The most prominent highlight is undoubtedly Your Groove, which automatically generates playlists based on your listening habits, collection content and more. The Explore tab also got a makeover delivering handmade playlists for all sorts of moods, activities and other categories.
Here's how to get the most out the new features in Groove on both PC and mobile!
Your Groove
When you load up the latest Windows 10 versions of Groove, you'll see a new tab at the top of the hamburger menu called Your Groove. Selecting this will bring you a library of curated playlists based on your preferences and the size of your collection. It appears to be powered by Gracenote and Rovi's music metadata recognition platforms, and Microsoft has leveraged it to produce a pretty impressive array of nuanced content lists.
I have 268 albums in my collection, and Your Groove produced 50 playlists based on all sorts of categorizations. When you select curated playlists which seem to have an average length of around one and a half hours each, it'll take you to the track list in a similar fashion to any album that currently exists in your music collection. From here you can set it to play by hitting "Play All" at the top.
If you want to queue up the tracks into your "Now Playing" playlist, click on the ellipses menu and select "Add to", then "Now Playing." You can also use this menu to add the playlist to existing playlists, or even set it to a new playlist of its own.
You can't set Your Groove playlists to play offline automatically. You'll first have to save the playlist by selecting "Save a Copy", and then using the "Available offline" toggle to download the tracks. If you sync your entire collection for offline play, you'll be able to skip this step.
At present, there doesn't seem to be a way to remove existing custom playlists in Your Groove, or generate new ones, but these features might come in future updates. Your Groove also replaces the "Recent Plays" tab on the live version of Groove while retaining the functionality.
Explore
The new Explore tab functions similarly to the previous one, advertising major new releases at the top in a slide show. Music Pass subscribers will now see editor-created playlists based on all sorts of categories beneath.
Beyond featured playlists, which are usually genre based, Groove also curates playlists for different activities and moods. At present, Groove has several playlists for the following Activities and Moods:
Focus - For studying, meditating or working.
Workout - For exercising sessions.
Party - For different types of celebratory occasions, based on musical tastes and events, like Halloween. There's no metal, though, sadly.
Celebration - Some of these overlap with the party section, but include things like romantic dates and Christmas.
Dinner Party - Popular songs to suit lots of occasions and tastes.
Driving - Popular songs based on different genres and artists.
Travel - Featuring musicians from various countries around the world.
Family Listening - Friendly pop songs for kids, mainly.
Wake Up - Motivational upbeat songs to help you start the day.
Happy - More motivational pop songs from easy going artists.
Chill - Relaxing tracks for different genres, features lots of Hip-Hop, EDM, Post-Rock, Downtempo, and Ambient. There's also a Netflix and Chill playlist for you 6Tin fans out there.
Throwback - Retro classics from decades gone by, plenty of cheese in here.
Energetic - Lots of energizing overlap with the Happy and Workout activity playlists above.
Romantic - Lovey-dovey playlists for couples.
Melancholy - Moody playlists for bad times, often rock music, with some break-up themed pop tracks for good measure.
Sleepy - Downtempo tracks designed to make you sleep, combined with energetic tracks designed to help wake you up.
Rage - Metal, rock and other aggressive tunes for angry moments.
When you click on any of the playlists, they function similarly to Your Groove, allowing you to export them into their own playlists in your app for offline listening or editing.
Beneath these new segments features the typical Explore functions we're used to on the previous versions. The top trending artists, albums, and tracks are still listed prominently, in addition to the latest albums added to Groove. Below that you can still easily access specific genres, and even drive down into sub-genres via filters at the top of the sections.
Groove availability by country
Grove Music Store is available in Argentina, Australia, Austria, Belgium, Brazil, Canada, Denmark, Finland, France, Germany, Ireland, Italy, Japan, Mexico, the Netherlands, New Zealand, Norway, Portugal, Spain, Sweden, Switzerland, the United Kingdom, and the United States.
Groove Music Pass is available in Argentina, Australia, Austria, Belgium, Brazil, Canada, Denmark, Finland, France, Germany, Ireland, Italy, Mexico, the Netherlands, New Zealand, Norway, Portugal, Spain, Sweden, Switzerland, the United Kingdom and the United States.
Groovy future
Groove has come a long way since its post-Xbox Music relaunch. The UWP version of the app had a lot of kinks to work through, but now the team is diligently plowing ahead with new features and polish, having eliminated the vast majority of the bugs. Hopefully one day we'll see proper MP3 tagging and more social features filter down into the system, but until then, Groove remains one of the best music services available on the Windows 10 Store.
If you'd like to know more about Groove or pick up a Groove Music Pass (with a free trial), check out the links below. Purchasing a Groove Music Pass nets you 100GB of OneDrive storage so that you can stream your MP3 collection from the cloud, in addition to millions upon millions of tracks from artists both popular and obscure. We can only expect that Groove Music will also appear on Xbox One as a UWP in the near future, replacing the current Windows 8.1 version of the app for use with the console's upcoming background music feature.
Do you use Groove? Do you prefer a competing service? Let us know why in the comments!
Get the Windows Central Newsletter
All the latest news, reviews, and guides for Windows and Xbox diehards.
Jez Corden a Managing Editor at Windows Central, focusing primarily on all things Xbox and gaming. Jez is known for breaking exclusive news and analysis as relates to the Microsoft ecosystem while being powered by caffeine. Follow on Twitter @JezCorden and listen to his Xbox Two podcast, all about, you guessed it, Xbox!
Asking weekly for a hot tracks (location based popular tracks) playlist on twitter

How good you possibly thumb down this?

The curated Explore playlists are US only? I'm not seeing this here in Brazil.

Curated Explore playlists are Pass-only, but not US-only, as I am seeing them in Germany.

I have a Music Pass for abou 5 years and I'm not seeing...

Hmm. Maybe slow roll-out?

I don't see them on my phone US-Pass subscriber. The screenshots seem to be on the desktop. Has this feature not rolled out to mobile?

Not seeing them in Australia, I signed up to check this feature out so I could compare it with Spotify.

Same here. Also changed my region to be US. Tried the direct link, the search in store and store update. No dice.

Yeah I am on insider slow ring mobile. Don't have insider builds on PC so can't check it out there.

People complaining about Groove and missing features,please provide feedback through this app or windows feedback hub.
Microsoft is working on improving Groove and there is nowhere they said they won't add more features. So stop complaining to windows central,channel your complains to ellenment and the team!

What is silly however, is this is all features that Zune had years ago. Way before Spotify or Pandora, Zune had Channels (generated playlist), social music sharing, and a much, much nicer now playing screen saver that has yet to make it back in or even be mimicked elsewhere for God knows what reason. Playing Zune on my Plasma was a safe experience with my Xbox. Playing Xbox Music/Groove on my Plasma is asking for burn in as the now playing and time remaining text doesn't move. Sigh. It's nice to see "new" features though.

Indeed! Zune existence is already a living example what should Groove must be then improve it from that. There are tons of great things about Zune and it was ahead of it's time with tons of features and great services that predates popular modern music services. It was even often compared to iTunes to be a great alternative if Zune services is available on your country. Glad that they did try to improve Groove overtime though, it was no doubt started as a really awful which this Groove brand at the moment is getting a slow start for mainstream users. Especially how unpopular W10M is and their iOS and Android apps are forgettable. That nice Now Playing screen of Zune is definitely what I'm really waiting for to come back, hopefully. It was so nice despite Zune's age, it's really timeless and well designed. It works perfectly for big screens like desktop, laptop, tablets, and especially TVs. Even phone should have this no problem like the old retired Zune Players. Apps like Artist Info able to replicate this, sadly MS doesn't seem to know the existence of such app, I wish they could hire that developer to help Groove team to make bring that Zune Now Playing animations back.

Microsoft needs to read Windows Central.
They can't ignore it any longer.

Windows central can help Microsoft in "DO GREAT THINGS"

Do I prefer a competing service? Yes for streaming: Spotify. It has a wider collection, and songs from my country, South Korea, are in it. Otherwise, I prefer Groove for offline playing on my phone.

Any word when they are actually going to do something with the Movies & TV app? That was part of the Zune and Xbox Media. Since we moved to this, the video portion has been just thrown together in an evening and is just sitting there like a giant ****.

Groove has come a long way. It's initial appeal for me was the ability to play my huge private collection stored on OneDrive. Then "radio" came along and made really good playlists, from their vast 40 million catalog (Spotify is something like 30 million). With "My Groove" it probably has surpassed Spotify, my former "go to" streamer/player. Well done Microsoft. I surprising success in the consumer market. Keep going!

Groove is still a crappy music player. Still full of bugs and stubbornly refuses to index my music library on my NAS. This really shouldn't be a hard thing to do, but they just can't seem to get it right. I'd love to use Groove on my desktop and phone rather than a third party app, but they just can't seem to get it right.

Your Groove is kind of pointless when it only makes playlists based off of newly added music. I have over 10,000 tracks in my collection and 90% if them were released before 2000.

It does it from all music. Not just newly added

I don't think so, maybe I'm wrong. It gives me two options, add new music or add songs too OneDrive for Your Groove playlists.

What options are you talking about? After the app updated all I did was open it and go to Your Groove and a bunch of playlists were there from my existing collection. I cant even find any options.

Do you have your music in Onedrive or from a Groove music pass? Because it won't make playlists based on your local collection. But mine definitely makes playlists from my 80s and 90s music.

I love using groove on my surface and Xbox, but the android app is atrocious. Really needs updating

Then switch to Windows Phone.

Man, people are harsh! :) - but good to see a little fanboism around here. I will give you this: First of all, you are absolutely correct of course and you can throw in the iOS version as well to what needs fixing. They have updated neither for I don't know how long... But anyway, if and when they do fix those other versions, it will help more people think positively about Microsoft from a consumer standpoint. Microsoft has 350 million potential customers for Groove and 349 million of those own devices that run either iOS and/or Android. Just like Apple brought iTunes to Windows, because the majority of their iPod customers owned PC's, so should Microsoft improve the Android/iOS versions of Groove. I know the situation is not quite the same, but still...

I'm guessing that iTunes and Google Play Music are firmly entrenched on their home platforms and Microsoft isn't seeing the adoption rates they thought they would. "Potential" maybe, but reasonable or likely potential for customers on the other platforms isn't realistic.

@dalydose Well, they have come this far with the UAP app now. If they want to be serious, they need to step it up with the other versions. That's my point of view. And up until now, there hasn't really been any incentive to switch to Groove, but if they improve the Android and iOS versions, then from a technical standpoint, at least they stand a chance. Branding and otherwise, that's another ballgame though... Posted via the Windows Central App for Android

whatever you do, don't switch to windows phone. it's so beta and will be beta for years to come

Why on you on this site, curious

Then switch to Windows Phone

I cant see these mood based curated playlists.. Where are they? Im on latest fast ring and geoove is updated to newest version?!?!? I really want this but how?
Is it maybe only on the pc version or?

Under the "hamburger menu" pulldown in the upper left corner, click on "explore," scroll below to "Activities" and "Moods," under which are many curated playlists. Hope that helps.

Thanks for the map! :) I hope this isn't a feature that people won't find and thus it gets removed for lack of interest from users.

Big improvements, nice... Only waiting for play by folder and equalizer.

we need sleep timer and equalizer inside the app.

How do I activate the feautured playlist? Explore only shows new albums, top list songs, best albums and best artists.

Exactly! Anybody know this?? Really really want that feature..

I don't get it. The most asked feauture are the playlists. "Your Groove" is not that, it only make categories from your music, what's the point? Is the same thing if I play my music by gender.

According to the article, the currated playlist that they talk about, is made by someone "editor-created playlists"..
So yes I'm totally expecting some of the playlists to not have been made by a simple algorithm.. If that's the case however, then yea it is absolutely not the thing I'm interested in :)

I use Groove Music as my main player. I also use Windows Media Player as my library editor ​

You should check out a few other programs. I personally wasn't too fond of WMP for library management. Zune was better. However, the best I've run across so far is MusicBee (which I need to reinstall on my new SSD, actually). It has some really good online tagging features with easy editing offline (or during the automated offline process). IT definitely does a better job with things like record labels and genres.

Wow, some dumb labeling there from MS, not that I'm surprised. They only seem to note heavy music in a "rage" playlist, because they apparently think people who listen to that music are angry people. Weird. I won't be bothering with this though. It's a long-term means to shove paying for cloud storage on us, and I don't want to go that route. I'll stick to manually building playlists I actually like of my local music because $10/month to rent music isn't appealing to me.

Yeah I raised an eyebrow at that rage thing. lol. I pay for Groove, I like the 100gb storage that comes with it, I have a huge music collection, often CDs you can't even torrent, so it helps being able to store a copy online for streaming.

Yeah, I have a few things you can't torrent either. I prefer to buy CDs anyway. I don't like the streaming options because of data caps (I listen to music at least 30 minutes/day because of my work commute), battery consumption (local means I can have the WiFi/cellular off), and the fact that Groove PAss means I never actually get to own my music. Also, did they ever even give FLAC support to streaming? I rip all of my CDs in FLAC format, which would be add to thte data consumption and suck for online storage reasons. I figure it's $120/year for Groove. I usually pay $8 or less for the CDs I buy. So, for the price of Groove, I can buy 15 CDs/year. There aren't 15+ CDs I want to buy in a year, so CD purchases end up cheaper, and I keep the music. Heck, with Facedown Records, I was able to get 30 CDs for $30 near the end of last year. Much better than $10/month to stream them, haha. I've got a friend who does the streaming stuff. To be honest, I don't get it, unless your phone doesn't have microSD support. I'm a bit puzzled at the love for renting music for more than the price of a CD, which then leads to having to pay for more data, for some people. Throw in the way people then want to add all kinds of other streaming services (Pandora, Netflix, Hulu, etc.), and it's really confusing to see people find that to be the preferable route.

I don't think I've ever paid $120/year for Groove. I usually purchase it on an annual basis when they throw out a deal. The deals have been significant. I teach a fitness class and there is a LOT of stuff that I use for that purpose that I don't listen to anywhere else. I also have eclectic tastes and I'll download a ton of stuff just to try it out or I'll download something that I would have been on the fence about if I had to purchase. I don't want a bunch of physical media in CD, DVD, book, or any other form. So having that isn't a benefit for all. Please note that it's not all "streaming". I download albums and playlists and individual songs to my phone for OFFLINE use. I know what I'm spending and if I find something new that I like, I can go ahead and download their entire collection. If I tire of it, I can just delete it. I have loads of old CDs and DVDs that occupy the interior space of boxes in storage. Some things I listen to forever. Some things I thought I'd like, but I was mistaken. Some things I like for a bit. If I indulged all of the pulls, I'd spend a mint. As for Netflix/Hulu that is really just displacing cable for a cheaper, more customizable experience, isn't it? It's confusing to see people NOT find that to be the preferable route. Ahhhhhhhh, choices! :)


If it works for you, fine. Personally, I listen to a lot of stuff as well, and I'm fien with my getting a record lable to send me 30 CDs for $30, like I did last year. Spending $50-60/year and getting 40-ish CDs is plenty fine with me, because that's quite a lot of musiuc for me to pick up on. It's $5 or less/CD and I get to keep it. If you want to listen to that new CD again, you;'re paying Spofity/Microsoft/Pandora/etc. every month. I pay $2-8 once, and I listen to it forever. Even as someone who listens to loads of music, I find buying CDs to be the cheaper colution. You can say it's not a benefit TO YOU, but to say there's no benefit to permanently owning your media? That's just overstating ridiculous things. You could easily buy the CD, put it on your PC, and toss the thing, and it would be the same effect, but saving money and letting you keep the license. Does the Your Groove work without the streaming connection though? I don't have it to answer that, but SmartDJ on Zune seemed to always want an Internet connection to pull stuff. I'm not someone who buys things without knowing aobut it first, so there's rarely buyer's remorse on music for me, if ever. No, Netflix and Hulu aren't more customizable. You can get a bunch of mostly old stuff and watch whenever. With Comcast's X1, I can get new stuff. I can DVR it and watch it at work or whatever. I'm not limited to what Netflix wants me to have in a given month. I can't watch the Cubs game on in the living room on Netflix or Hulu. To carry all of the content I want (mostly sports), I'd be spending just as much in streaming as I would in Cable costs, since the NBA and NFL are costly services (MLB, my favorite sports league, is cheaper for streaming, but doesn't have a W10M app to use anyway). No, I don't find it preferable to pay $10/month to watch stuff I don't want to watch. I don't see how you can see it as preferable to only have access to the ings you don't want, but I'm not about forcing my opinions and making assumptions on the habits of everyone.

I don't think your 30 for 30 deal is one that most of can get. I get new stuff with Netflix and Hulu. I also get stuff wtih Netflix and Hulu that I can't get with cable. On my TV, I use Roku. I'm not sure if the sports leagues are on there or not. I do get ESPN/ESPN2/WatchESPN with my SlingTV package. Also, lots of the local stuff can be watched over the air, with better HD than cable. I also live up the hill from a great sports bar where I tend to watch football, even the games I can watch on my TV. Still, I agree that sports is the last stand for cable. Groove lets you download for offline. The playlists will have songs that aren't in your collection, so those will need to be streamed if you don't download the playlists ahead of time. I did say that owning physical media had no benefit to ME. I'm always very clear that I think choices live on because humans are infinitely varied. So we have the same rationale. I wouldn't pay $150/month for stuff that I don't watch and you wouldn't pay $10/month for stuff you don't watch. The thing is that I'm overwhelmed with things to watch just with Netflix/Hulu/AmazonPrime and HBONow (during Game of Thrones season only).

In WMP I can view my music collection by using search terms and sorting columns. One often used example is where I look for all music that features a certain songwriter, and then I play just those songs returned in my search. Can that be done with groove? If not, what are my options besides wmp which can't play groove pass downloads I don't own?

What sort of search terms? You can search for song names, albums, that sort of thing in Groove, it's very intuitive. I used to use WMP for my music collection, fully switched over to Groove and never looked back.

I search by composer on a regular basis. Is that field in groove?

You can search by artist, not specifically by composer

Groove is not available in India ☹ . please make it available.

nah, you're right it doesn't make a great deal of sense when you weigh it up like that... I'm paying for convenience/laziness, lol. I don't have to rip my entire collection this way, which would take over 9000 years. Also, sometimes I just like trying new stuff (I do that a lot), and Groove is easier than hunting down a YouTube vid that isn't awful quality. all about prefs.

I'm still waiting/hoping for folder playing... I'm tired of having my audio books mixed with my offline music collection, pop and classical. PLEASE: FOLDER PLAYING! Keep the screen on all time if i want to, specially if connected to charger! I'm using my cellphone as a music player at work, always charging.
Until then, Loco music player...

I hope it produces Songza like playlists: I loved and really miss that app.

Me too. Songza was great.

How often do the playlists change in my groove and the explore tab?

welcome back, Zune features

That's true, come to think of it, I left Spotify to Xbox music because they wont built a native app for my Xbox and surface pro on window 8.
They advertised Xbox music as an app that works on all platforms and that was the main reason I made the switch.
I'm not planning to leave groove/Xbox music any time soon because its still the only app you can find on most platforms, but just imagine if they did a decent job on their apps on both their apple and android. That would mean more happy customers.

So you think LOTS of people would abandon iTunes and Google Music on those platforms??

+1 for future of the left on your phone!

-1 for your horrible taste in music

Anybody with a fix for the features playlist under explorer not showing? I can't find any official information on why I can't see them.. My explore tab is the old one, but I do have the your groove tab..

There are zero curated playlists under "explore" in the mobile app. Zero.

Alright so the mobile app has only the limited "your groove" feature?

Hey can somebody help me. I'm not on the anniversary update, but i have problem with groove. Wherever i make playlists from local songs, after two or three plays, some songs grey out, and there comes an exclamation mark, which says this song is not available on this device and cannot be streamed, which is not true as I have the songs available locally. This happens both on pc and mobile!!

For the love of God can they please add the ability to sync our PC playlist to our phones through a USB cable? I don't want to use OneDrive and my library is way too big to add it all to my phone through explorer. I just want my playlist on my phone without having to use OneDrive. Sigh......

I've used Media Monkey to sync a playlist. It will recognize iTunes playlists and sync them to a Windows phone too.

If you want mp3 tagging, use an app called 'Tag Editor'. It's the best in the store!

It's surprising that Microsoft prefers this service of Groove music pass in only a few countries and excludes countries like UAE and INDIA....