Groove Music now officially supported on Sonos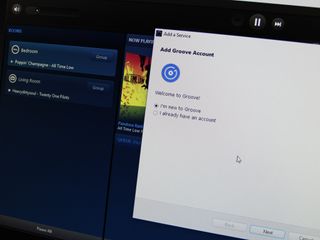 Groove Music is now officially supported by Sonos, meaning you can now listen to your favorite artists and albums right through your existing set up. Sonos is a smart speaker system that uses your Wi-Fi to stream music from a variety of sources to speakers throughout your home. Back in July, support started as a beta, and now it is officially available for everyone.
With the Groove Music support, you'll be able to create custom radio stations based on your favorite songs, albums and artists, as well as play music from your own personal collection with ease. To play your own music, simply add the MP3 files to your OneDrive, then select Groove from within the Sonos app to have all of your music right there. If you own a Sonos system, and want to get started with Groove Music, you can sign up for a free 30-day trial now.
Sign up for 30-day free trial of Groove Music (opens in new tab)
Source: Windows Blog
Jared started off writing about mobile phones back when BlackBerry ruled the market, and Windows Mobile was kinda cool. Now, with a family, mortgage and other responsibilities he has no choice but to look for the best deals, and he's here to share them with you.
A Sonos Universal app would complete the icing on this cake, a decent groove app would be the cherry on top :P.

Not only do I agree, I actually think it would be a bit of a stepping stone for WP. I know a lot of people that really like their Sonos systems and wouldn't consider WP because of the lack of an app. Hell, I might get a Sonos set up or 2 if they make an app for WP.

I use Phonos, does the job.

Ya...i appreciate the gap Phonos has filled. Updated often enough too. However, Sonos had confirmed a WP8 app in the works at one point. Wonder if Win10 universal apps and/or astoria or islandwood changed their plans a bit. Guessing/hoping it is still coming.

But Groove on Phonos has been broken since jsut after the initial beta was available. They need an update from Sonos or MS to get integration working.

Does anyone realize that groove music on W10 mobile build 10536 is not syncing with OneDrive? Or is it just me? I also did a factory reset so my Lumia 625 so it doesn't have any upgrade issues.

Yes. Syncing has been a problem for a few builds among other issues with Groove for mobile.

Thanks for the reply. I sincerely hope they'll be able to fix all these issues before the new Lumia's release. W10 mobile features looks great, they just need to polish it up now :)

It works fine for me in my 640 xl

You have to sync onedrive music to your pc locally, before showing up in groove.

It's in private beta right now.

Phone or Universal? I'm aware of a phone app (8.1), hope your refering to a universal app :).

Just can't wait till Windows 10 Mobile releases for my 535

Do you have an app yet for Windows Phone?

Not official but Phonos works great for me... UI isn't the greatest but app does what it needs to...

How about a SmartTv app? I hate that I have to use Spotify on my livingroom tv. Do it allready MS.

How about a PC stick? Further advantage is that your TV manufacturer does not get your usage data.

Windows 10 mobile really sucks. I will goto iPhone 6s unless business supports it more with apps etc

Yeah...ultimatums work great. Good luck with that.

They work daily worldwide, of course this guy has no leverage on a billion dollar company.

There was talk of a sonos app in beta 6 months ago

There is one, its just in private beta.

I find it kind of hard to believe Sonos are still testing it at this point. I'm hoping that they've switched to work on a W10 universal app.

I still can't use my subscription on my wp. Can't stream store content like WP 8.1 used to and also can't sync one drive.

Yep, Groove music pass has been busted on Win 10 mobile for a while. A real pain in the ass

Yea man i had to get Spotify. How hard is it to fix the damn thing, IOS and Android have there music steaming. We went from Zune to none.

Would love for Gramofon support as well

Blackberry 10 support would be nice.. Don't laugh peeps

Do they have a windows phone app?

Would be nice if Groove supported its own music pass. Still waiting on that. Not sure why it doesn't seem to be addressed more. I most certainly cannot be the only one. Well, maybe I am.

Nope, I'm with you :P. It's very surprising that "Explore" works great in PC and not at all in mobile, given that it's the same app and updates at the same time. But oh well, can't complain on previews I guess.

You are not the only one. Makes no sense what so ever.

Nope, I'm straight up pissed that they haven't made the mobile app able to "explore" yet.

Groove Music I used ones and NEVER looked back! It sucks!

If we get a universal Sonos app, I will absolutely give Groove a try.
Windows Central Newsletter
Thank you for signing up to Windows Central. You will receive a verification email shortly.
There was a problem. Please refresh the page and try again.