Groove Music Windows 10 and Xbox One Insider update adds new voice controls and more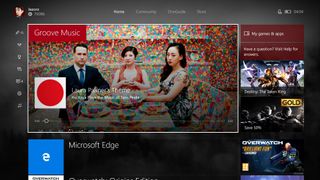 Microsoft is rolling out a new update for the Groove Music app for Windows 10 and Xbox One for members of the Insider program. It adds a number of new features and improvements, including voice controls on the Xbox One version.
Here's what's new and improved (opens in new tab) in the app, which has the version number of 10.16092.1022:
There are a few UX updates throughout the app…see if you can spot them all!
You can use your voice to navigate the app on Xbox One consoles.
You can select items in the app with a single click now.
Sign in will work more reliability because we changed the way we check your region.
We did work to ensure the correct track title and album title are displayed in playlists you follow.
The Navigation Pane in Groove Music on Xbox One console has been resized to fit better on average sized screens.
You can give detailed feedback in the Groove Music app. This change makes it easier for us to triage incoming feedback! Check the settings page for these new options.
We updated the way we create version numbers so that it's easier for us to tell when a version was produced just by looking at the version number – this one was built in the second half of September 2016 so 16092.
Let us know what you think of this new Groove Music app update in the comments!
The update is now live as of 3:40PM ET for Mobile
Download Groove Music from the Windows Store (opens in new tab)
Windows Central Newsletter
Get the best of Windows Central in in your inbox, every day!
Voice commands...I can't wait to test them out. Biggest missing functionality when they moved to UWP version. Netflix better be next.

Yeah, I 'm interested too, but I miss videos. Either way, I'm lovin the preview program.

They did say the videos were returning at some point, right? I thought I read that. I sure hope I read that.

You read that they were bringing old features back, a nd assumed they meant videos. I assumed the same because It's the biggest omission. Im sure it'll come back

They said videos will come back.

Ok, I swore there was a specific article about videos. Thanks for helping me confirm! :)

They are definitely coming back. :)

Well, it finaly isn't version 3.6 anymore... :/

I wonder what the voice commands entail, if theres one to skip tracks whilst its in teh background that'd be great

Jesus! I'm still waiting for the music videos! Posted via the Windows Central App for Android

Hovering over albums on windows 10 now has a different animation which shows a shade of the most common color of that album

also when playing a song the bottom bar changes colour too according to the song played (previously it was the accent colour). Personally I really don't like this change, the whole point of accent colours was that the applications can have the colour you want. At least it should have an option to set it back to the accent colour. (Search for "Bottom bar accent color setting" on the feedback hub and upvote if you aggree). WindowsCentral: Is there a way that you could allow to copy Feedback hub link into the comment section? I've tried to create a link to: "feedback-hub:?contextid=293&feedbackid=9af16d9e-bf8a-445c-b54a-1adc65edad73&form=1&src=1" but I couldn't.

Hey Cortana, snap Groove Music :(

That's great and all, but when are we having a Family Pass? THAT"s the deal breaker for me!

That would be really great! In addition to a discounted student pass, like the other music services do.

Once again, the stupidity of Microsoft reigns. I defy you to control the Xbox when music (or the TV, for that matter) is blasting through your house. IT DOESN"T WORK. It was completely idiotic of them to kill gesture control with the Kinect. Gestures work VERY well when room noise levels are high. Idiots at Microsoft.

Mine works fine at loud volumes. When you perform the calibration for the Kinect you turned the volume at ear splitting levels?

Yeah, we know how you feel. I get it, I wish you had gestures back. But, I used voice with groove/xbm quite often and it worked well for me. I for one am thankful for its return.

Mine works fine as well. No problem asking forms to turn volume up our down while volume is at a "high" level.

In the new Windows 10 Insider build, you can apparently uninstall this thing straight from the UI instead of resorting to PowerShell commands. :)

Love Groove, but would be so much better with built in EQ like media player.

Why does every Genre station Icon look 100xs better than the ugly Groove Icon. It still looks like a fish to me. It's plain and doesn't conjure up any thing related to music. They can say it's a turn table but it looks like an eye in the middle and a mouth open looking for food. :)

Hi, this update is only available for fast ring? Bcoz, i belonged to reease preview ring.

Never said what ring this is
Available for? There's insiders on release, slow, and fast rings...

I'm guessing these updates are part of a Redstone 2 build, but I'm not certain.

Mine music app is crashing since this update...i can't play songs anymore..fix it..lumia 640xl

Am I the only one excited about Microsoft explaining how their odd versioning works xD?
Windows Central Newsletter
Thank you for signing up to Windows Central. You will receive a verification email shortly.
There was a problem. Please refresh the page and try again.