GroupMe bumped to 4.8 with video messages and more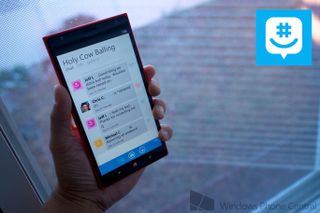 GroupMe is a popular group-messaging app from Microsoft, enables you to communicate with multiple contacts at once in chatrooms. We previously covered version 4.7 back in December, which introduced a new group design. Today we'll be checking out the recently released 4.8 update, enabling users to record up to 30 seconds worth of video and more.
As well as the added functionality to record some footage for sending in group chat, version 4.8 also brings:
See content shared from YouTube, Vimeo, Twitter, Vine and Instagram URLs displayed in the chat
Unhide chats and rejoin groups from your archive
Remove attached images before sending
A sweet update and we're sure many will enjoy the sharing of video URLs. If you require a service to serve as a communication tool for a group to converse amongst one another, we recommend you give GroupMe a shot.
Windows Central Newsletter
Get the best of Windows Central in in your inbox, every day!
Rich Edmonds was formerly a Senior Editor of PC hardware at Windows Central, covering everything related to PC components and NAS. He's been involved in technology for more than a decade and knows a thing or two about the magic inside a PC chassis. You can follow him on Twitter at @RichEdmonds.
I'm going to check this out now.

The registration code over the sms is not received for registering the app. Seems like MS made this app for US users only.

Hi there, Binnyandrews! Did you try using the option for GroupMe to call you with your PIN instead? If that didn't work, or if you just need some more assistance, please email us at support@groupme.zendesk.com – we're more than happy to help you finish registration #)

Thanks. That worked well.

worked for me as well, thanks - Frank, from UK

Facebook beta and adobe reader just got updated too.

Yeah... But I am still wondering what new features are added in new version of Adobe Reader..

What Microsoft want to do, it is really very confusing. Group Me is such a bad app and still not mature as WhatsApp or Skype. I think Microsoft need to enable more features on Skype and to make it a powerful app. They should work on Skype instead of GroupMe. I think Skype has so much potential but Microsoft isn't doing right with it...

Yep. Maybe the two Apps need to merge together

Yeah, I really dont understand why this exists when MS owns Skype. And why is Skype so stagnet.

Hi are there any new update on Windows phone 8.1 today ?????

I got my update yest. for a an update try I bet there is something waiting for you ;-)

I update my windows phone 8.1 to 8.10.12393.890 are any one else has this update??????

I'm not seeing the update yet. About a week ago a friend sent me a youtube video in a group chat on GroupMe. I haven't been able to open the chat since then. The app closes every time I try. I'm hoping this update fixes that...

Please email us at support@groupme.zendesk.com if you are still having trouble with your app!

I uninstalled the app and then reinstalled with 4.8. Still having trouble. I'll shoot you guys an email. Thanks!

I'm having the same problem

Not good enough! I'm pleased to see development as i use this everyday, but its a battery killer! Half hour on groupme will completely drain my 920.

This guy speaks the truth

I've been using it on a 920, 925, and 1020 for nearly 2 years and have had no such experience. Check your other apps man and don't rush judgement

I'm not rushing judgement. I stand by my original comment. If I stay off groupme my battery lasts all day, as soon as I check into groupme my battery drains. If it was another app then I would of left my comments elsewhere. I have also been using groupme for two years on two 920's.

It has a bug. Anytime a video posted in a chat, that chat crashes over n over

Please email us at support@Groupme.zendesk.com so we can get more info from you to track this down. Thanks! #)

I'm alone to see that the splash screen when you open GroupMe isn't fitting with my screen ?

Nope, it's been happening to me as well. I think it started after the update before this one.

Seems like merging this and Skype together would be the way to go, instead of multiple overlapping apps.

I don't think you understand what this app does

This morning I update my windows phone 8.1 to 8.10.12393.890 are any one else has this update??????

They posted a story on this yesterday.

They still haven't fixed the UI. Using this GroupMe app on a high-resolution device makes me feel blind. The "like" bugs still exist too. The font needs to be smaller since messages seem too long. This app is just so annoying to use. It lacks a fluidity and isn't easy on the eyes. Please GroupMe, update the UI.

This my god, and they update like once a month sometimes once every two months. Why does @ small 3.5 inch screen iPhone 4 see more messages on the screen than my Lumia 920 with a bigger screen and higher resolution? GroupMe help me understand.

Let me register with my mail again and I'm in.

Group ME is amazing!!!! fast and useful! HIGHLY RECOMENDED! + So.cl social app

Groupme even works with those that don't use the app and they'll get SMS. Nice app.

I wasn't much into groupme as push notifications were very unreliable, never had an issue with it since 8.1 though. Best way to communicate with my colleagues across the pond when I'm (or they're) out and about.

Cool story, bro but this app still sucks compared to iOS and Android and it's a MS product. They should just start over from scratch. Do any of the people over @ GroupMe use WP? Huge missed opportunity here for Microsoft and the WP platform. GroupMe is loved by users of all platforms. iOS is adding much of the functionality of GroupMe to it's messaging app which will create some redundancy. Why not encorporate GroupMe into the WP messaging app and create an 'iMessage' type feature for WP since there's obviously no urgency to develop a quality standalone app?

Still shit compared to iPhone/pad groupme

It would be nice if the app would let you use it in landscape mode instead of portrait mode all the time.
Windows Central Newsletter
Thank you for signing up to Windows Central. You will receive a verification email shortly.
There was a problem. Please refresh the page and try again.