GroupMe updated with improved message delivery, faster start up and much more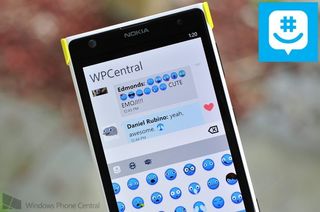 One of our favorite apps at events, like this past Nokia World 2013 or //Build/, is GroupMe for Windows Phone. The app allows those of us covering the event to stay in communication with the rest of the Windows Phone Central team. It's great because it works on nearly every phone, either via push notifications in the app or SMS. GroupMe was also just updated for Windows Phone. Let's see what's new in this latest update.
The last update for GroupMe came out back in August. That update was notable for including new emoji and fixing some issues for the previous update. Today we're looking at version 4.6.4.0 in the Windows Phone Store. Here's what is new with it:
Copy messages
Improved message delivery
View previously sent messages while offline
See muted group members
Faster app start up
Bug fixes
This is actually a pretty nice update. The app will now let you see previously sent messages even if you're offline. You can also copy messages, which is always handy when needing to look up directions.
The app is also looking at general performance improvements and bug fixes. For example, it's pretty fast at start up now. Overall, a solid update to a great app.
Want GroupMe? It's free for Windows Phone 7.x and 8. Grab it in the Windows Phone Store, use the QR code below, or swipe to the right in our app.
Thanks for the tip @wpscoops!
Flixster Updated The new update for the Flixter app allows you to set movie posters as your lock screen background, along with the ability to use voice command features. For example, you can control the Flixter app from your Start screen by saying "Flixter show me top movies."

The lock screen movie poster feature has been available for a while now dude...

Lol so have the voice commands

I find group texting to not work very well on WP8 (920, Bell). What are people's experience with GroupMe? I have several friends that use group iMessage (or is it iChat?) and because of that, my wife and I get left out. Would GroupMe be a good option if I could get some iUsers to make the switch to GroupMe?

We use groupme in both personal and work. It is awesome.

yes groupme works very well, even works with non-smartphones

I have actually had a great group experience as long as the person/people are not VZW. Group me is nice, I use it daily. Sometime messages are delayed or not alerted. Hope today's update fixes that.

GroupMe is an app, irrespective of a carrier.

I love groupme though there is significant lag to it. It seems to work much better for IOS.

How much is significant lag? Are we talking a few minutes or a few hours or worse?

I think by lag he means general app sluggishness, not receiving messages which is very quick. We'll see how much this update improves it...

I play in an online football LG for madden. We use groupme and with 20+ members, it worked great during a 2hr draft. We transitioned from Skype which is horrid for large group chats, but group me performed great. Didn't hear any issues afterwards.

If Groupme would pretty plz add the location feature from Nokia Pulse, that would make it my official favorite app.

I use GroupMe every day, works great! Nice update, but when can we post animated gifs and make memes as in the recent ipad/iphone update?

Also, does anyone know if
Split" (payments) is a US only feature? /920, Sweden

It isn't on the WP app at all. GroupMe on WP is way behind ios and android.

Uninstalled this yesterday..

Sorry I'm new to this, but how is GroupMe different from group chats in other apps like WhatsApp and Viber?

It really isn't... Eliminates SMS and uses data(unless you use SMS group me). The benefits being that it is cross platform and eliminates the problems with groups seen on some phones and or carriers. Some carries don't support group so when someone replies it just goes to original sender and not the group. But, if your group messaging works as it is designed, I don't see a need for this. Unfortunately groups do not all work as they should....

Thanks! Using WhatsApp for practically every cross-platform group chat now so I just want to know how is GroupMe better than them :)

GroupMe is very feature rich, just all of those features aren't on the WP8 version. Its a lot quicker and faster than group SMS

Thank goodness. It was always annoying getting delayed notifications compared to my android / ios. I have them on and they both get notifications simutaneously (and opens quicker) and i'm always like :|

I was hoping for custom notification sound.

Best use of Groupme? Chat to your Legion Teamates in Qonqr. Download app and use code Hectorivan.

NO! Use it to chat with with Swarm on Qonqr! Join Swarm with Aonach as referral. GO SWARM!

Love this app. Much less buggy than nearly everything else out there

Not available in India for Lumia 720, don't know why?

Its not available for Lumia 925, any idea why

Why GroupMe is not available in INDIA???

Hi there — I work at GroupMe. This release should be available in India! Can you try one more time? If it still doesn't show up, please email us at support @ groupme.com and we'll see what we can do to get it fixed. Thanks!

Group me vs WeChat?
Any advantages/disadvantages?

why i cant download groupme in my l820 (india) :(

People hub that is already on WP does the same thing you can create groups and send mass message.
Windows Central Newsletter
Thank you for signing up to Windows Central. You will receive a verification email shortly.
There was a problem. Please refresh the page and try again.