Updated Groupon app now available for all Windows Phone handsets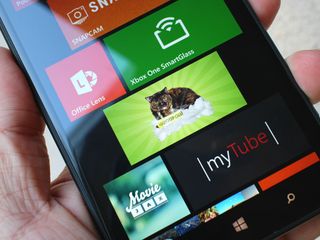 Yesterday Groupon was updated for Windows Phone, but only if you didn't have a Lumia handset. Today that non-Lumia, non-Nokia Collection version of Groupon is now available to those with a Lumia handset. Which is a big deal since over 90 percent of all Windows Phones are a Lumia. Grab the download link below.
Version 4.0.0.1813 of Groupon is in the Windows Phone Store with the following changes:
Groupon now allows you to add goods to your cart and continue shopping!
You can search for deals from anywhere in our app!
Find nearby deals easily with the nearby tab!
If you see an update for the Nokia Collection of Groupon you might want to ignore it. We're getting an error code (81030131) when trying to update. But that doesn't really matter since the newer version of Groupon is the non-Nokia Collection one. You grab that with the download link below. Take it for a spin and let us know what you think!
Thanks for the tip Greg G!
Windows Central Newsletter
Get the best of Windows Central in your inbox, every day!
Just what my moms needs for her 520

I would imagine that the Nokia Collection version will go away soon.

Saying, not available for your device. Is it also for groupon India?

The Nokia collection app was "updated" today if that's what you call it. No double wide tile, not able to use Nokia maps etc. Looks like a back slide to a wp7 version. Had to uninstall just to force a reinstall as well.

Got it earlier and it's quite the update.
The new Groupon is much cleaner, with a higher quality and with way more details.

That was quick. I just tipped that an hour ago. Greg

They have made a mess of this update. First my phone attempted to update the app itself but ran into troubles. Then I download from the link provided here and install. Now the new app won't open cause its saying a network is unavailable :S

Not working for my HTC 8X

Yesterdays update to the non-Lumia version worked fine on my 8x. This is the Lumia version

Won't update on my end...

Haha. Everyone was freaking out about this not being available for Lumias. They got out the pitchforks and torches to march on Grouponlandia. But I figured if we gave it a few days we'd be fine.

Awesome news! It's been kinda gloomy lately

Yep. I share deals with people, all the time. I'm going to try to get the old Nokia Collection version back.

Anything more than that last Groupon app would be an update. Thanks for this tip and look forward to using this app very much

Cannot download in lumia 520. Says not available for ur device

Crashing when scrolling through the "nearby" page, on my Lumia 520

Not available for 520 in India

By the way not interested too

Thanks for sharing that you're not interested, even after attempting to install.

Update fails to install :(

Available in Canada without having to change region, nice change.

so these days "all Windows Phone handsets" does not include wp7.8 any more? sad.

Using the link that was posted at the bottom I've managed to update/install the Groupon app on my Lumia 920 to find it said that the publisher was Groupon inc. However I've just checked and discovered that I can't find the one in Nokia collection or when searching for Groupon. So now I have two official apps for Groupon but only one listed in the store.

The update is great. Glad they updated across windows phone. Now we need a windows app