GTA Trilogy PC modders have already fixed its biggest issues — and the game isn't out yet
Making the definitive edition truly definitive.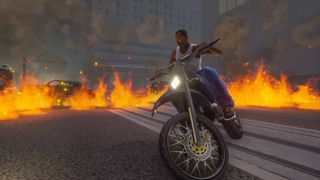 (Image credit: Rockstar Games)
What you need to know
Grand Theft Auto Trilogy Definitive Edition launched on Nov. 11, plagued with a number of bugs, glitches, and other problems.
The title has been delisted from the Rockstar Launcher on PC, the only online marketplace where the game was available for purchase.
PC modders are fixing up some of the biggest fan complaints, already making significant progress.
It's no secret that the recent Grand Theft Auto remastered trilogy has had less than a spectacular launch. Ignoring the massive number of technical issues, fans have also voiced concerns over drastic changes to overall visuals. Texture glitches, poor character design, subpar environmental effects are all among launch issues, while the PC version remains unavailable as of publication.
Poor rain effects are also among the most egregious across all three games, with PC modders already implementing temporary fixes. One user on the newly-formed /r/GTATrilogyMods subreddit has already solved the harsh rain effects, making it easier on the eyes without impeding your progress.
In addition to the subreddit, GTAForums, one of the top resources for GTA discussion, also hosts a dedicated thread for discussing and sharing mods progress. One video already demonstrates the progress made only days following launch.
The thread on GTAForums already includes fans replacing textures with a myriad of options, ranging from new characters to tweaked weapons. The latest games, like the original three PC releases, have already proven great modding potential.
The first wave of mods comes as a result of Rockstar Games' use of Unreal Engine 4, which makes the process a breeze compared to some new releases. The modding community is already working on a plethora of other projects for the title, despite the PC version remaining offline, following a rough debut on Thursday.
Unfortunately, the mods are going to be a PC-exclusive bonus that can't be replicated on consoles. Console players will have to wait on official fixes from Rockstar Games, if those come, over the weeks ahead.
Three iconic titles
Grand Theft Auto: The Trilogy — The Definitive Edition
Three games, better than ever

With Grand Theft Auto: The Trilogy — The Definitive Edition, players can revisit three games that helped shape Rockstar Games and the GTA franchise as a whole: GTA 3, Vice City, and San Andreas.
Get the Windows Central Newsletter
All the latest news, reviews, and guides for Windows and Xbox diehards.