GTA 5 fans voice disappointment over PS5 and Xbox Series X upgrades
The latest GTA V trailer has spurred anger and disappointment among the GTA V community, amid frequent takedowns of popular mods from Rockstar Games parent, Take-Two Interactive.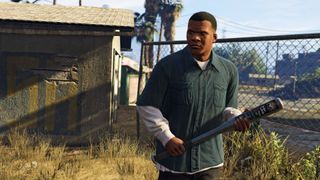 (Image credit: Rockstar Games)
What you need to know
Rockstar Games debuted on its latest trailer for GTA V on PlayStation 5 and Xbox Series X at the PlayStation Showcase on September 9, now targeting a March 2022 release window.
The latest footage has prompted further backlash from the GTA V community, panning the re-release for similarities to the existing game, and remaining coy on specific graphical and performance improvements.
It follows a string of takedown notices targeting GTA mods from Rockstar Games parent, Take-Two Interactive, including graphical mods and other unofficial upgrades for GTA V on PC.
Take-Two Interactive debuted its latest trailer for the upcoming Grand Theft Auto V remaster during Thursday's PlayStation Showcase event, but fans aren't happy. The re-release aims to deliver upgrades to the eight-year-old title on PlayStation 5 and Xbox Series X, leveraging the latest hardware advancements over previous consoles. GTA V continues to draw millions with its open-world action, but players have voiced concerns over minimal changes in its next version.
Grand Theft Auto V has evolved into an unstoppable juggernaut over its years on the market, selling over 150 million copies as of August 2021. The title first debuted on Xbox 360 and PlayStation 3 in 2013, delivering open-ended sandbox mirroring Los Angeles, among the highest-rated video games in modern history. The series has also seen long-term momentum through its online multiplayer component, GTA Online, with regular free updates pinning the game at the top of global video game sales charts for over half a decade.
GTA V now sits among the best-selling games of all time, with its upcoming re-release on PS5 and Xbox Series X expected to bolster further sales for months to come. The re-release, framed as "expanded and enhanced" by developer Rockstar Games, serves as an attempt to retain its enormous install base with the release of new consoles.
The newest GTA V trailer has caught widespread backlash following its appearance at the PlayStation Showcase on September 9. The trailer posted to the PlayStation YouTube channel has received over 20,000 dislikes as of publication, overshadowing its 13,000 likes. The same video posted to the Rockstar Games YouTube channel has also faced negative reception with over 50% dislikes.
The overwhelming consensus among engaged GTA V players pans the trailer for its similarities to the existing game, previously upgraded for Xbox One and PlayStation 4 in 2014, and again in 2015 for PC. Fans have also raised concerns over pricing, expected to follow other GTA V re-releases as a full-priced title, with no upgrade path for existing players. Take-Two Interactive is also among the first video game publishers to raise PlayStation and Xbox Series X titles to $70.
The backlash follows continued pushback against Grand Theft Auto mods from Take-Two Interactive, regularly shuttering prominent community projects. Mods for GTA V on PC have helped sustain the title as of late, including major graphical upgrades, far outpacing Rockstar Games' upcoming console remaster.
The popularity of GTA V and past GTA titles have sprouted sizeable modding communities, albeit with Take-Two Interactive regularly issuing takedown notices in the space. Several established GTA V creators saw themselves as the target of the Rockstar Games parent through 2021, including popular mod sites and projects.
One of the largest GTA San Andreas mods, GTA Underground, also recently ceased development citing "increasing hostility" from Take-Two, with "imminent danger to our mental and financial well-being."
Rockstar Games remains coy on changes to GTA V on PS5 and Xbox Series X|S, with its latest blog post touting a vague "range of technical and graphical improvements" and performance gains in some vehicles. The new trailer also references seamless character switching, an improvement on the existing solution in GTA V, an upshot of faster solid-state drive (SSD) storage in new consoles.
GTA V is now slated to launch on PS5, Xbox Series X, and Xbox Series S consoles in March 2022.
Matt Brown is Windows Central's Senior Editor, Xbox & PC, at Future. Following over seven years of professional consumer technology and gaming coverage, he's focused on the world of Microsoft's gaming efforts. You can follow him on Twitter @mattjbrown.
I really wish Microsoft had stuck to their guns about not allowing Xbox One games to be re-released specifically targeting Series X. It should be free (or max $10) Smart-Delivery upgrade or whole new game.

Many, if not most, developers have done just that on their own.
Plus MS BC helps others.
But actively updating a game for the current gen isn't free so MS can't rationally mandate free updates. It's not a hill they'll willingly die on when Sony's practices make them look better anyway.

I think they said from the beginning that this was optional for devs and publishers. I think they learned lessons by trying to force people to do things.

At least all your progress carries over, right?

Bethesda Softworks: Watch us re-release Skyrim over and over again until you stop buying it.
Rockstar Games: Write that down, write that down!

How many times are they gonna re release this ancient game?Ppl need to stop buying it so they get to work on GTA6!

I just want to be done with this game and Skyrim already. I never want to hear about these games again but yet they keep getting pushed down our throats. I guess I am in the minority though because, like the article says, GTAV is still super popular.

As long as people keep buying remakes developers will keep on making them. Not everybody gaming now was gaming when games like Skyrim and GTA first released or chose to buy them since. Another point to consider is that developing games for the newer hardware is increasingly harder and more expensive, which is why new releases are scarce early in a console generation. Remakes are an affordable way to feed "new" content to the small market while waiting for the installed base to grow big enough to justify an all-new game. Finally, some of the games being remade were recently out on high end PCs which helps drive down even more the cost of a remake. Low production cost reduces the risk even if the reward turns out to be low. Basically remakes are the next best thing to found money. 😉

I can understand about the pricing and what not. But, take down of mods? Seriously? Mods prolonged the life of every GTA game and made free money plus advertising for Rockstar and Take Two. Ungrateful ingrates.

They sell them again at full price? What if people just don't buy this crap?
70 bucks for a barely reworked game you own already console is the very definition of a rip off. Now, I know this is part of how Sony like to treat their customers, but this is not a free upgrade for Series X???
Windows Central Newsletter
Thank you for signing up to Windows Central. You will receive a verification email shortly.
There was a problem. Please refresh the page and try again.