GTA V: Manual now on the Windows Phone Store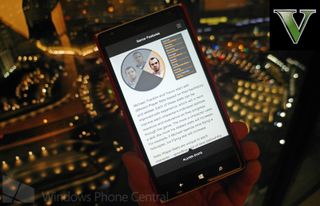 The official manual app for Grand Theft Auto V is now available at the Windows Phone Store. The manual has over 100 pages covering everything from game controls and features a tour through the local neighborhoods and activities across Los Santos and Blaine County.
We're glad that the GTA V manual has made its way to Windows Phone, but we're more eager about Grand Theft Auto: San Andreas. It has already arrived at iOS and Android last December, but Windows Phone fans are still eagerly waiting. Officially, the last thing we've heard from Rockstar Games is to stay tuned for the Windows Phone version release coming soon. All we can do right now is wait.
GTAV: The Manual includes a special interactive version of the game map to zoom in and explore. It's a free download from the Windows Phone Store. Check out the manual and share your thoughts in the comments!
Thanks, Josh H., for the tip
Get the Windows Central Newsletter
All the latest news, reviews, and guides for Windows and Xbox diehards.
How about San Andreas on W8? So I can use a controller.

It was already released on Windows years ago around the time it first came out on consoles.

Ok, Games for Windows Live? Not just Steam? Plus RT could use some love.

https://www.windowscentral.com/e?link=https2F%2Fclick.linksynergy.co...
So GFWL was four.
I just really want to like this series but the only rockstar game I like is RDR, but I want more support for W8 and WP8 because I'm pretty well invested, but damn I hate touch screen 3D games.

Have you played The Warriors? Great rockstar game. Played on ps2.

Nope, best rock star game was Max Pain!

Agreed! Just not Max Payne 3. That one was okay. But the original two were great!

Because the original two were made by Remedy, not by Rockstar. Rockstar was publisher, now publisher for Remedy is Microsoft(Alan Wake and etc...)

Oops! I knew that, too. Coffee levels must be running low.

I actually really enjoyed the last one. Nice and fast paced, and thr music and atmosphere really appealed to me.

Ok,and GTA San Andreas for wp8?

Did you read beyond the headline?

If its that much of a chore, use weave and have the articles read to you. There's usually a bunch of information in these articles, cool right?

I've been eagerly awaiting the release of San Andreas on WP, but Rockstar's delay and lack of communication has me considering not buying it ... if it ever is released.
...
The map feature in this app sounds cool though.

I'm guessing the delay is because of Xbox certification if it is really an Xbox game

Dayum, first I thought is San Andreas Available

SS will come in Feb. No news about tr2 (512mb ram)

Nobody knows what you are talking about.

LOL
I assume TR2 is Temple Run 2, but SS? Who knows.

I was hoping for Super Saiyan.

Injustice:Gods among us waiting for that game to launch in WP

Too late for us early buyers, the game is great (one of the best ever) but I never finish the same game twice. And I will sell my 360 anyway, so...
But kudos to Rockstar for their support!

Really? I'm finishing the game for the the second time even though I have my Xbox One sitting there. Heist are the most fun when you choose someone with no experience and compare it to someone with high experience.
This is probably going to be my last 360 game...

If you connect a Bluetooth keyboard and type pc cheats then it'll work I tried it on android but I'm waiting for SA on WP so I can try

Wait wait so there is actually cheats coded in the mobile version? O.O Please say yes =D

Yes they're the same as the PC codes but you need a Bluetooth keyboard

Lol, all these comments and not one about this app

what interests me is gtav gets xbox live or not? if not forget about me paying for it

What is he saying??? GTA V?
Xbox Live? Sir! do you own a 360 or PS3? Because we're uncertain if you truly know what you are saying.

We need fukin san andreas not a manual

While this is a mostly useless app for me, more WP8 apps from larger developers like Rockstar in any form are always a good sign. I think Rockstar most likely released this as a way of saying "Windows Phone users waiting on GTASA, we haven't forgotten you!" without making the commitment of actually announcing that.

Not interested not unless GTA will be released on WP.

Can't wait for the GTA 512mb ram and xbox live whining

Lol i hate comments like that too

I remember when a bought, played and completed this game months ago........

a billion dollars made in the first few days of launch...and we get a manual 2 months too late. at least it's something!

What about Gta 5 for pc :( !!!!!

Funny, I just got started on this game Wednesday.

Started about 3 weeks ago and I'm finishing the game for the second time... Doing everything different. Hated Trevor in the beginning but now he's one of my favorites characters of all GTA

Played GTA SA what, 10 years ago? Don't see the appeal of playing it on a phone. Finished GTA V weeks ago. A little late on arrival.

Yeah, I'm with you on that. Me getting SA on WP8 will depend on price and Xbox-Live features. If it comes without Xbox-Live features and at a price above 2.99 I'm not buying it. I have the game for PC. I'm not paying 6.99 for a mobile game when the PC version now costs exactly the same. I'm still playing GTA V though. I gave priority to AC IV since I was hopping GTA V for PC wouldn't take ages to be released.

It'd be cool(er) if this was on W8.1.

Wait! I take that back! It's already available! http://www.rockstargames.com/newswire/article/51371/the-free-gtav-ifruit-and-game-manual-companion-apps.html Unfortunately it only works in desktop mode (on the Surface Pro 2), and I had to turn it to portrait so I could see everything.
But hey, at least it's available.

I got 100% on GTA5 about 2 hours before this was posted.

I stopped the game when I gave away my 360 to my nice and nephew for Christmas. Xbox one is what I have now.

Also instead of an app. Make the game support Xbox smart glass! A manual and map could have been easily implemented!!!