Guacamelee, Gotham City Imposters, and BattleBlock Theater are July's Games with Gold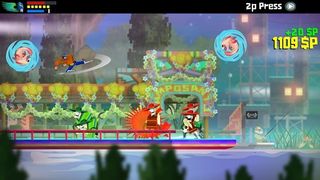 Microsoft has unveiled July's Games with Gold for the Xbox One and Xbox 360. Xbox One players will be able to grab Guacamelee! Super Turbo Championship Edition, while Max: The Curse of Brotherhood will be remaining free for Gold members. Xbox 360 owners will have access to Gotham City Imposters and BattleBlock Theater.
Guacamelee! Super Turbo Championship Edition is a platformer that puts you in the role of Juan Aguacate, a Mexican wrestler attempting to save the President's daughter from the villanous Carlos Calaca. You'll fight your way through a wide variety of colorful levels built around the Land of the Dead. There are a number of powers and abilities at your disposal to aid you in your quest. Guacamelee! will be available on Games with Gold starting July 2, the same day it releases on Xbox One, where the normal retail price will be $14.99. It will replace Halo: Spartan Assault in the lineup.
Gotham City Imposters is a first-person shooter based in Batman's Gotham City. Two teams of six players fight each other across the city. The weapons in the game are themed after Batman and the Joker, with each side donning costumes reminiscent of either iconic character. Normally available for $14.99, Gotham City Imposters will be available for free to Gold members with an Xbox 360 from July 1-15.
From July 16-31, Xbox Live Gold members will be able to get BattleBlock Theater. Featuring single-player and cooperative modes, BattleBlock Theater is a platformer that has you climb higher and higher with each level, on a mission to save your friends, along with Hatty Hattington. BattleBlock Theater normally retails for $14.99 on the Xbox 360.
What do you think of July's Games with Gold? Will you be picking any of them up? Tell us in the comments below.
Source: Xbox Wire (opens in new tab), Major Nelson
2 arcade games on the 360? First time happening. Also this confirms that there'll be only one game for the xbox one.....Max the cures of the brotherhood is a 3 month gift for all. Thanks Xbox....happy moments ;)

Hmm, I've been tempted in the past to get both the 360 ones. Looks like patience has paid off for once. Although I am sure there will be people coming along shortly to whine that they are both XBLA games.

Awful games. Come on....i was hopping something more like the games of PSN, i mean AAA games (most of them).

You forgot this: "in my opinion".
I happen to think there are some awesome games in here

I believe Battleblock Theater is a superb game

Not one of those games is awful. You should broaden your gaming tastes, Vansiv.

Of course, one could easily say that people need to get some standards to those of you who like all of these highly-redundant indie platformers.

You're dead to me, Keith. Dead like Lincoln! *joking

These are all absolutely amazing games (Gotham City Imposters being the weakest of the bunch). I've enjoyed playing Guacamelee far more than any recent AAA title.

Guacamelee is amazing. I played it multiple times on PS3 and Vita. Very happy it is coming to Xbox One for yet another play through

Do you not own a windows phone?

doesnt play xbox arcade games or a version of a console game, i think that is the point. Mobile games =/= xbox games

MS will probably never invest the R&D into a mobile dedicated Xbox. Not with the Surface 3 out. A high end phone could match the specs of Xbox, meaning the only limitation is the developers not willing to make a game that will only run on a certain phone. And the surface 3 supports Xbox controllers,I believe.

An Xbox controller that holds a Lumia is all that's needed.

Since when is the Surface 3 out? I only know about the Surface Pro 3.

I'm the kind of person that can play anything. I'm easily entertained xD but it has given me an appreciation for older games. But anyways, yeah I'm picking them up.

While they sound fun cone on hit a big bad AAA for us on the one but really pleased I get Gotham City Imposters on 360 been wanting to play that for forever just never got round to grabbing it.

Gotham City Imposters is an odd one. While an enjoyable game, it went F2P last year on PC due to the retail release having a pretty small player base and when I last checked, even the F2P version had this same problem. Maybe this is just an issue for PC players while the 360 version still has some community behind it. Even Titanfall had a pretty rapid player drop off after the first month.

It's because they play a game for a little while then realize "Hey, this isn't CoD!" Then their eyes roll back in their head and they start mindlessly playing CoD again. It is a blight on video games.

I think we can blame archam asylum for that flop as details for that game grew gci started to look like a smaller release as details grew scarce about it & the mmo idea just made it less a selling point

Gotham City Imposters is a ridiculously fun game.

What the F.uck ??? No Games on Demand for July..... They better bring 3 Games on Demand for August... <Rages MODE>

What no discount for gci's pathetic dlc

Are xb1 games free to keep (like the 360) or just playable during the month they're free?

Exactly my question. It certainly has not been made clear.

Its clear as day. They even explained it. On Xbox One Games for Gold once you download it, you can play it as long as your Gold subscription is valid. Once you lose Gold, you are unable to play the games. EDIT: 360 Games for Gold is free no matter if your Gold subscription isn't renewed.

I hear what you say Mac, however, the bit you mention was always my understanding. The bit I wanted clarity on is that I still have access to the games once they cease to be in the Games With Gold availability window. So, I assume I can play Spartan Assault for free, even after it is removed from the promotion. Assuming I have a Gold membership.

If you downloaded the game during the promotional period, it is on your profile that you own the game. As long as you are using the same profiel, so if your sub runs out for a month and lose access to spartan assault. When you reactivate, it is yours to play again because the game is tied to your profile. Unless they changed it, this is how it is as long as you downloaded the game.

They are free to keep, but you can only play them if you have an active Xbox Live Gold Membership, just like PSN. On 360 however, you own them and can play them regardless of having Gold, as long as you had gold when you downloaded them.

Not quite like PSN, on the x1 if you renew your sub again later on you have access to those free games again, on PSN if you end your ps+ sub then the games are gone forever (from what I understand at least)

If your subscription lapses you don't lose access to any of the games you associated/downloaded to your account on PSN. I have both. That's the truth.

Well PSN website says if you dont have active PSN+, you cant play any of the Instant Games Collection. However, if you downloaded before, you will alwaysw have access, as long as you sub is active.

Thanks for the clarification.

Very disappointed give us some decent games

Have to agree. Disappointing games. And the fact that only one game is free for XB1 per month is lame. It appears they will have each game free for 2 months. And then roll one new one in and one old one out per month.

To me the most disappointing part is that they are repeating one of the Games. Microsoft, tsk, tsk, tsk.

I want far cry 3 blood dragon on Xbox one

To all the people complaining... They're FREE games. Where I come from if someone gives you anything you say thank you and you take the gift.

That right there is a burn ladies and gentlemen!!!!

I was unaware that Xbox Live Gold membership was free.

membership is not free, the free games are free.

Well I was told two free games not the same recylced game I don't want max again give me something else

As an Xbox Gold member I can care less if they give us free games or not. If I want something I will buy it. But, what upsets me is when they advertise someting and then proceed not to deliver. Case in point here is they say two free games for the Xbox One but, really the are just carrying over one of the games from last month (kind of cheesy reason for it). If they only plan on really providing one game tell us only one free game a month. If then they let people continue to get the game from the previous month, in this case Max, then it would be a bonus for new subscribers. It is not even about quality as Gaucamelee looks like a fun game (probably something I would not have bought - and, I had already purchased last months Max and Halo Assault so they weren't free for me either :( ). As an example and keeping with the Microsoft theme, I assume if you bought an Office 365 subscription and was promised 60 minutes a month of Skype and they suddenly only gave you 5 minutes a month it might piss you off if you were a Skype user and expected 60 minutes. I mean it was free minutes right, who cares. It is all about promising and not delivering. I don't think most people feel entitled (some do). It is all about providing services you sell as part of the package. I understand Microsoft's Xbox One has a limited catalog right now. But, this being only the second month of free games with Gold you would think with all this new found gamers first attitude they are trying to present (better sales for Gold, free monthly games, better user interaction via usevoice, etc..) they would at least try to keep up the illusion for the first couple of months. The funny thing is they haven't and that is what bothers me. Another example, look at the digital sales for Gold members. They think 17% off of Ryse is a sale. It has been 25% off on Amazon forever and better deals for disc versions for this game can be had at mutiple places. They regularly have sales for items at their Microsoft store that are better then anything they provide for Gold members. Once again if they promise as part of this Gold Membership package that you will get great sales on games or two free games, you should feel (partially) ripped off if they don't deliver. I truly believe if they promised something yesterday and but they can't deliver today on that promise, what won't they be able to deliver tomorrow?

I'd rather have nothing. Shitty GwG month.

So, the all-new Games with Gold features amazing things like: --Half the number of games as its predecessor --Indie titles only, as opposed to the 360's offering of an indie title and a big-studio release --Rentals, as opposed to allowing people to keep games like on the 360 Excellent progress, Microsoft! Oh, and thanks for $10 off of the launch title Ryse as the Deal with Gold for this week! /facepalm

There just aren't that many games for Microsoft to choose from yet. If they give away a retail title that only came out seven months ago, they suddenly kill that title's chance at future sales. Retail games will definitely come, but we have to be patient.

I would have thought this would be common sense. Its not like the Xbone has hundreds of games to choose from like the 360

While I don't care too much for Gotham Impostors (I am not a PvP person. I'm PvE or CoOp player) BattleBlock IS a really tempting offer. Still, not sure if I'll renew subscription for the month just because BattleBlock. Latelly, I've have been feeling disappointed with the games in GwG. (Except for Dark Souls. I had it on PC and damn, I downloaded it on my xbox too jaja)

You can also add the Xbox One games to your account via the Xbox website, and then you'll have access to them if you ever get an Xbox One.

I do like free games and I'll probably pick up all the games listed, BUT, why keep Max; curse of brotherhood another month? It was a fun game, but it has already been free for one month. Would've liked to see another arcade game instead of Max.

because they likely had nothing else to give out.

Seems rubbish this month.

Guacamelee! I will definitely be getting this game, already own it on PC.

BattleBlock Theater is a really fun game.

WOW!!! I cannot wait to get guacamole for my XBox1. I have the original Guacamole for the PS3/PSVita... I just played max for the first time yesterday and yawned as I said i would rather be playing Guacamole... Then here comes the news!!! Too bad I will be on Vacay the day after it comes out and will not be able to play it for a while... Well... I guess I will play the PS Vita version... I wish this game would come to the windows store...

Okay, but stop spelling Guacamelee wrong. :P

What if he wants to dip his Xbox One in guacamole and eat it?

Yum... Yeah my controller will be green... Then brown from the guac and chips, lol

Wtf, i guess i should try before i say they suck, plz b good games.

Nvm about complaining the Gotham city impostors anymore it looks awesome. Cant wait till July.

Not complaining, I now have 5 free games waiting in the dl queue (2 from another offer) when I get my hands on an Xbox one in September. Yay.

I was about to buy Guacamelee and Battleblock Theater in the Steam Summer sale. Now I'm going to spend the money elsewhere. Thanks Xbox Live!

I've paid for only one game on my xbox one bf4 but i have killer instinct,max,Spartan assault,fifa 14 bundled,powerstar golf,project spark,xbox fitness so im happy enough. Curse of the modern gamer "whinge whinge" its free "whinge whinge" its not good enough even though its free "whinge whinge" pay for gold "whinge whinge" M$suxx" whinge whinge i want more stuff for free but i will still "whinge whinge". The ign site awaits you

Curse of the internet generation - wants everything to be free but still complains
Windows Central Newsletter
Get the best of Windows Central in in your inbox, every day!
Thank you for signing up to Windows Central. You will receive a verification email shortly.
There was a problem. Please refresh the page and try again.