Guitar Hero Live will offer a first-person rock experience for Xbox One and Xbox 360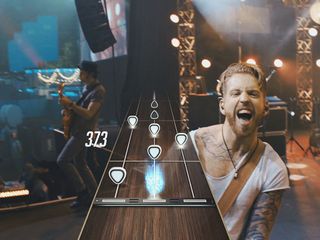 Activision has officially revealed Guitar Hero Live, the first game in its music rhythm series in five years. The game will be released later this fall for the Xbox One and Xbox 360 consoles, among other platforms, and will give players a first-person viewpoint on playing in a music band.
Activision says:
Guitar Hero Live, which is being developed by the DJ Hero team at FreeStyleGames, will also have another feature called GHTV:
There's also a new guitar controller that's being made for the game which will have two rows of three buttons, instead of just one row of four buttons as found on previous models. Activision says it will make it easier for beginners to learn while also offering experienced Guitar Hero fans ways to create more complex finger combinations.
Guitar Hero Live will have a variety of licensed songs from rock, folk, EDM, hip-hop, country and pop artists like the Black Keys, Fall Out Boy, My Chemical Romance, Gary Clark, Jr., Green Day, Ed Sheeran, The War on Drugs, The Killers, Skrillex, The Rolling Stones, The Lumineers, Carrie Underwood, Pierce the Veil and Blitz Kids.
If you happen to be in New York City today, you can go to the Best Buy Theatre in Times Square from 6-9 pm to play an early version of the game. It will also be available to play April 18 at the Best Buy Store in New York City at Union Square from 1-5 pm and at the Best Buy Store at Torrance, California, also from 1-5 pm.
Source: Activision, Guitar Hero
Is it illegal to say it's available on XOne and PS4? I mean.. other platforms.. you can specify. People who come here are Xbox fans anyways so it won't change anything.

PS4 is considered a bad word here

Lol. Maybe it violates man law. The implication is there. Unless a Xbox story says "exclusively" just assume its "other platforms" that shall not be named. On topic, glad to see this back. Had a couple of great parties with the older installments.

It's not relevant to the site audience. It's like if your local town paper announced that a blizzard hit your state and then named every closed school in the state.

they try to keep the content directly related to Microsoft, PS4 news are unrelated. it won't matter to X1 owners if it's released on PS4 or not

True but a lot of Microsoft fans own PS4s instead. It doesn't hurt to mention it. All it takes is two words: "and PS4"

No it's not illegal. Just a majority of people here are Xbox fans, not all, but most. I for one, like Xbox more but I don't hate the ps4.

I love you guys. Everywhere I post, someone automatically starts dissing me. You guys all had very civilized answers!

Other platforms include PS3 and Wii U too, not just PS4.


Rock band Beatles did the audience and gig things too. It was by far the best incarnation

Speaking of rb hope they drop the 4 from the name if their trying to present it like a platform

"Quantum leap" has been used incorrectly again. :'(

Would you prefer Quantum Break?

Sweeeeet!! So excited my friends!

I though it was an Xbox exclusive =(

5* buttons on previous guitars...

When this kind of game started I preferred Guitar Hero over Rock Band. However as time went on my preference switched and I started liking Rock Band better so right now that's the one I would get.

My feelings exactly. However, I only own a a Wii U; GH is releasing there while Rock Band isn't, so I'll go GH.

That makes perfect sense Soypan. I would do the same.

You have a Wii U? :D +520 +520 +520 :D :D :D

Yup and it's pretty awesome (Xbox One and PC are awesome as well, before I get any hate haha)

Not sure I could go back to GH after Rocksmith...

Ditto. I loved GH and RB. Moved on and can't/won't look back.

So much guitar in Skrillex songs. Makes sense. Or is one of the six buttons a "wub wub" button.

OMG, I would love to play this game when it cones out!

DJ Hero... I hope that comes back.

They waited five years and couldn't find any good new music?

What an amazing observation. lol

That's because there has been no good music made in the last five years.

In world of scremo and death metal, no. EDM is blowing up tho

I haven't a clue what EDM is
Windows Central Newsletter
Thank you for signing up to Windows Central. You will receive a verification email shortly.
There was a problem. Please refresh the page and try again.