HADES brings out the absolute best in Xbox Game Pass cloud gaming
Hades brings out the best in Xbox Game Pass' cloud gaming.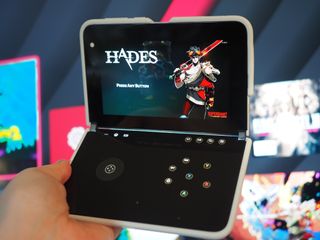 (Image credit: Windows Central)
It was only a few days ago that I wrote an article about how Microsoft should look at acquiring a mobile game studio for Xbox — not necessarily to build native mobile games either. My argument is that a developer with expertise in mobility could enhance and up-level existing Xbox Game Pass titles for smaller screens, tweaking the UI, adding unique touch controls, and so on. Only a couple of days later, a game hit Xbox Game Pass cloud gaming that really reiterated the central point I was trying to make in that article.
Hades is an action dungeon-crawler roguelike which really brings out the best in Xbox Game Pass, and showcases the opportunity Microsoft and Xbox developers alike have in the cloud.
Slick gameplay meets slick controls
Hades has been around for a while on Nintendo Switch and PC, but this week marks the game's first outing on Xbox, dropping right into Game Pass.
For those who don't know, Hades is a dungeon crawler at its core, set in the depths of the underworld. You play as Hades' belligerent son, Zagreus, who is hell-bent (literally) on escaping his father's domain up to the surface.
Hades features mountains of chaotic procedurally-generated dungeon arenas, with stacking gameplay difficulty. To offset the challenge, on each run you're granted permanent upgrades that help you progress further and further towards Zagreus' goal. Hades sets itself apart from other similar games by having very strong characters and a compelling story, alongside vibrant art, anime-style characterizations, and great sound.
I knew Hades on Xbox was going to be a big hit when it finally came to the platform. What I didn't know, or expect, was how well it would perform on Xbox Game Pass' cloud platform.
Hades joins Minecraft Dungeons as the second game on the platform with a custom design UI interface for touch. There are other games that use the default button iconography and have custom controls, such as Streets of Rage 4. Other games however just default to a regular Xbox gamepad converted into touch buttons, and don't really offer a good experience.
For many titles on Xbox Game Pass, you need one of the Xbox controller mobile clips coupled with a gamepad to get the most out of the cloud, but more and more games are looking to touch controls instead. Supergiant and Microsoft worked to create a version of the control schemes that prioritize the most important actions. Buttons you don't need for combat are shoved into the corner, while the main combat actions are spread neatly in a radial plume, as you might expect from a native mobile title. Since Hades is a fixed camera perspective game, you only need one joystick too, freeing up more screen real estate for those more crucial attack buttons.
Hades is all about movement and dodging. Enemies attack in aggressive patterns. Arenas have large traps and pitfalls. You'd think that combining touch gameplay with the added latency of cloud streaming from Microsoft's servers would heap difficulty on what is already a pretty difficult game. However, I didn't really find that to be the case here.
Hades just feels great to play on Xbox Game Pass' cloud platform. The fixed camera perspective seems to help Xbox Cloud Gaming's video encoder remain consistent, I barely noticed a single shred of artifacting while playing. I noted in another recent article that my current location doesn't provide ideal internet conditions. I tried Shadow's streaming platform recently for a gameplay preview event, and found that it was just impossible on my home WiFi, even at 5GHz with 100MB down. Xbox Cloud Gaming absolutely crushed this, though. Hades feels utterly native even on my modest domestic network. This is exactly what Xbox Cloud Gaming is supposed to be.
A huge opportunity
Hades joins the likes of Streets of Rage 4 and Minecraft Dungeons in one of the few Xbox Cloud Gaming titles that offer a truly great experience ono a smaller screen. Minimal need for complex user interfaces, simple controls, a capacity for shorter gameplay sessions, while also remaining incredibly fun represents the very ideal type of game Xbox Game Pass should be gunning for on mobile devices. I can only hope this is the first of many, many more.
If you haven't played Hades yet, regardless of the platform you're on, I cannot recommend it enough. Hades is available now on every major platform, and is included in Xbox Game Pass for console, PC, and of course, cloud.
Battle the afterlife
(opens in new tab)
Escape the underworld

Guide Zagreus on his personal rebellion against the steward of the afterlife, as you attempt (over and over) to escape the depths of hell.
Windows Central Newsletter
Get the best of Windows Central in your inbox, every day!
Jez Corden a Managing Editor at Windows Central, focusing primarily on all things Xbox and gaming. Jez is known for breaking exclusive news and analysis as relates to the Microsoft ecosystem while being powered by caffeine. Follow on Twitter @JezCorden and listen to his Xbox Two podcast, all about, you guessed it, Xbox!
I was really surprised to see this game launching into Game Pass with streaming and touch controls.

Valid points, but you don't need smaller studio's or mobile centric ones to bring that value. Take League of Legends Wild Rift for example. Massive studio and probably the #1 eSports title today (PC version). Their mobile version is so polished and well made that the first time I played it, I couldn't even believe it. Felt as good or better than the PC version. Sure, certain level of moves and combo's one can perform, but extremely hard to master at higher levels of play with skill shots, etc. How they've adopted it to mobile is nothing short of astounding. Seriously, its probably the best game ever created for mobile thus far, and it ain't close... Basically, every dev can learn from this one example. (at least from a netcode & touch control perspective)

It has terrible controls for keyboard and mouse, they didn't even try. I gave up after 15 minutes.

Is it not the same as steam?

The game isn't really built for KBM even though it launched first on PC. It's definitely playable, but it's not great. Works much better with a controller.

What is this folding device being featured to play the game on? I can't find that anywhere.

Surface Duo with a case is what I'm thinking.

having played it, i can't imaging using a touch screen controller instead of physical buttons.
does it actually work well?