Microsoft recently treated Halo fans to a real-life Halo Wars 2 simulation, with exciting results!
Fans of the Halo franchise were recently invited to an event in London, featuring quite a surprise.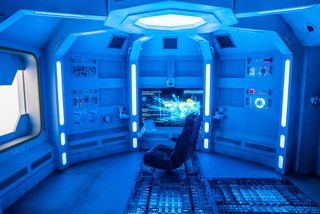 The unsuspecting fans and industry figures were brought into a command centre in London that closely resembled UNSC ships from the Halo universe, where the game itself was playing on a screen. This certainly wasn't your average simulation, however!
The room featured a very immersive simulation of an actual war in the Halo universe, with actors playing as different characters and chaotic effects everywhere. The simulation was recorded and released by the official Xbox On channel on YouTube, showcasing the simulation.
This whole thing was organised in collaboration between Xbox, Creative Assembly, and 343 Industries, in order to celebrate the release of Halo Wars 2 Beta. The simulation was designed to showcase the game's intensity and frenetic warfare theme. Judging by the video and the people in it, they definitely succeeded with their goals, as the simulation looked rather exciting.
The Halo Wars 2 Beta was released for Xbox and Windows 10 a while ago, featuring the unique RTS gameplay that the Halo Wars series are known for, as well as many enhancements over the original game. It also happens to be the first true Halo game released for Windows running on personal computers which make this a huge release definitely worth the effort to properly advertise.
343i and Creative Assembly may have more up their sleeve so make sure to keep an eye out for more. Maybe they'll be able to bring this experience to other countries. What do you think? Discuss it in the comments!
Pre-order Halo Wars 2 on the Windows Store (opens in new tab)
Windows Central Newsletter
Get the best of Windows Central in your inbox, every day!
Dennis Bednarz is a former writer for Windows Central and the guy behind ModMy. He has been a recognised member of the Microsoft community for years and owns everything from Lumia phones to Surface PCs. He occasionally likes to rant about Windows Phone and drink tea. You can go ahead and follow him on Twitter at @DennisBednarz
They will never forget that, great job!

First Halo for personal computers? Halo 2 came out for Windows Vista. And then Halo Spartan Assault, and later Spartan Strike, came out for Windows 8.

Emphasis on the word "true" in "first true Halo..."

Dennis you write for Windows Central now?

Aye, I do :) Was revealed on my twitter a few days ago

Congrats! Sorry that I wasn't paying attention on Twitter.