Halo Infinite has a hacking problem and players are paying the price
More hackers, more problems.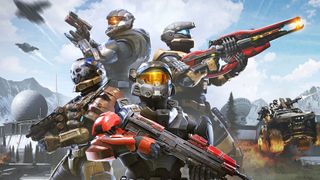 (Image credit: Xbox Game Studios)
What you need to know
Halo Infinite players have raised concerns over a growing number of hackers, enabled by its recent PC release, with cross-play also bringing Xbox console players along for the ride.
The game prevents players from disabling cross-play, except in Arena Ranked, but still allows PC players to play via a controller.
With no rigorous anti-cheat measures and no option to disable cross-play, those on Xbox One and Xbox Series X|S have voiced frustration over the growing epidemic.
Halo Infinite multiplayer is already off to a strong start, drawing millions with its free-to-play offerings, now available on Xbox consoles and PC. Unfortunately, as common with any multiplayer game on PC, it was bound to get its fair share of hackers, especially as a free experience. Even more so, the lack of an anti-cheat is allowing the menace to spread, and with no option to disable crossplay on Xbox, players aren't happy.
According to numerous reports on Reddit and Twitter, some players are not regularly encountering hackers across its multiplayer on Xbox and PC. Players have taken online to share their experiences with hackers in the game.
There is currently no way of disabling crossplay within the game itself, a point of frustration, for some.
Developer 343 Industries has stressed players are being "being heard loud and clear," although new problems continue to arise throughout the Thanksgiving break. While cheating remains a hot topic for players, fans are still upset about the tedious and slow progression system in the game, coupled with expensive cosmetics.
The hacker problem has done little to deter the fanbase, however, as Steam is still reporting players peaking at 140,000+ on a near-daily basis, and is not showing any signs of decreasing. Halo Infinite campaign launches on Dec. 8, and will launch for the PC, Xbox One, and Xbox Series X|S and will be free to all Xbox Game Pass subscribers. The multiplayer is currently free on console and PC.
The next adventure in the saga
A new Great Journey awaits

Halo Infinite's campaign is sure to be an incredible game filled with wonder, adventure, and more. Based on what was seen at E3 2021 and in recent previews, we can't wait to play it at launch.
Windows Central Newsletter
Get the best of Windows Central in in your inbox, every day!
I don't understand the point of cheating, especially in a free to play game.

it's the saddest thing i can imagine lol

Wait, campaign is still on for December 8? I thought it was pushed back more until 2022, or is that just co-op campaign and forge?

Just the Co-Op and Forge.

And just like that Halo Multiplayer goes into the pile with all the other games flooded with cheaters....
Back to RPGs for me...

I haven't seen any obvious cheaters in my time with Infinite. Might be due to my region (Australia).

I haven't experienced any myself that I remember but It was a given that they were coming along with the PC release. I'm playing Mouse and KB on Xbox but I believe players should have the option of selecting to be paired with console only or cross play and it crossplay should be off by default.

Did anyone honestly expect any different, if it's a shooter in PC there are going to be cheaters, this is a constant in life and will never change.
Windows Central Newsletter
Thank you for signing up to Windows Central. You will receive a verification email shortly.
There was a problem. Please refresh the page and try again.