Watch the replay of our second Halo: the Master Chief Collection preview stream!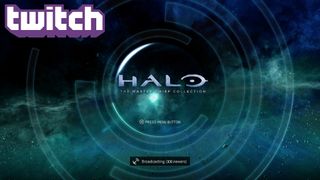 Last night we hosted one of our most exciting Twitch streams yet. Hundreds of viewers tuned in to get an early look at Halo: the Master Chief Collection for Xbox One. Yours truly played through one mission each from Halo: Combat Evolved Anniversary and Halo 2: Anniversary.
I absolutely didn't remember where to go in either mission, and sometimes I struggled against the Covenant hordes (especially the Hunters in Halo: CE). But we all had a great time, met some new readers and viewers, and maybe even learned a little something about life. See yesterday's post for archive videos of both games.
Tonight's stream focused on Halo 3 and 4. These two games haven't received the same level of enhancement as Halo and Halo 2, but they still look and run better than ever on Xbox One – especially Halo 4. The stream has now ended and prizes have been awarded. Check out our replay videos to see both games in action!
Watch live video from EastXTwitch on Twitch
Halo 3 (audio unjustly muted by Twitch)
Watch live video from EastXTwitch on Twitch
Halo 4
Tonight's Halo: the Master Chief Collection broadcast
Halo: the Master Chief Collection is a collection of all four Halo games that starred the Master Chief, now remastered for Xbox One.
Tonight's event features the following missions (and no others):
Halo 3 – Sierra 117
Halo 4 – Infinity
Join us for this stream and you can win some tasty prizes. We'll be giving out three codes for $10 of Xbox Live credit as well as a grand prize code for a 3-month Xbox Live Gold subscription.
Halo: the Master Chief Collection – Xbox One – ~65 GB – $59.99 – Amazon Link

(opens in new tab)

– Xbox.com Link

(opens in new tab)
How to view the stream and enter the contest
To enter, just follow me at Twitch.tv/Eastxtwitch and tune in during the stream. You can watch the stream right here in this post, but you need to actually participate in the stream chat to have a chance at winning. We'll deliver codes to the winners via Twitch message (PM) during the stream. No code begging!
What's the best way to experience Twitch? If you don't have a PC, you can get the Xbox One or Xbox 360 Twitch app and watch from the comfort of your couch. Or grab the unofficial app Livegaming for Windows Phone. It has plenty of great features, including the ability to chat along with your fellow viewers. Annoyingly, you'll have to add our channel to your favorites from the Twitch website, outside of the app.
Feel free to show up a few minutes before the stream starts to help with testing. We'll be stopping the stream precisely after one hour and 45 minutes tonight, otherwise I'd stick around and chat. Let's make the most of the time we have and meet up again during future streams. And don't forget to leave a comment on this and all of our Xbox One gaming stories!
More streams to come this week and beyond
This Saturday, we'll also stream an indie Xbox One game called Another World: 20th Anniversary Edition. It might not be as flashy as Halo, but smaller games make for great viewing while you chat with your fellow viewers. We'll be giving away Xbox One, Playstation 4, and WiiU codes, and the odds of winning are fantastic.
Join us and see why this classic game is so fondly remembered more than 20 years after its first release!
Another World: 20th Anniversary Edition – Xbox One – 268 MB – $7.99 – Xbox.com Link

(opens in new tab)
Stay tuned for our November Twitch streaming schedule.
Winners
Congratulations to the following lucky viewers. Heck, everybody who watched the stream is a winner in my book!
$10 Xbox Live credit
Trhodes93
Kenzibit
Chiefediri
3 month Xbox Live Gold subscription
Get the Windows Central Newsletter
All the latest news, reviews, and guides for Windows and Xbox diehards.
Paul Acevedo is the Games Editor at Windows Central. A lifelong gamer, he has written about videogames for over 15 years and reviewed over 350 games for our site. Follow him on Twitter @PaulRAcevedo. Don't hate. Appreciate!
I'm already waiting...some gift card codes won't be bad at all. Wanna buy Nutjitsu...heard it's fun.

I'll be here for round 2. Stayed up late for the stream yesterday.

Our favorite 18 year-old viewer! :-D

No multiplayer action tonight planned for tonight?

We're only allowed to show the specific campaign missions and nothing else, until Microsoft tells us otherwise. If they let us stream multiplayer before release, we'll be all over that.

Okay cool. You too bad I missed last night's stream. I'm really looking forward to playing Halo 2 anniversary Make sure you plan it on legendary tonight man! PS the WPCentral app on Android is pretty shoddy.

Actually I need to keep the difficulty down because people get impatient with me dying too much. Watching me on Easy or Normal is like watching a more avid player on Legendary though! Sorry to hear that our Android app is lacking. Too bad Jay couldn't develop them all.

What are you giving away?

Listed under the Halo: MCC section of the story.

No I want a phone on that list. Put a 930 on there and I will talk to you about global economy and legalizing drugs and even SpongeBob! Il even sing you a song Paul if that means a 930 will be my way ;)

Ha, we do phone contests sometimes too. I have to pick smaller prizes for my streams because we do a lot of streams.

Still trying to install this. Got stuck at 35% last time. Uninstalled/cancelled it and stuck at 41% this time. I can't afford the 45gb to try that again.

Aww, man. You should contact Xbox support via Twitter, phone, or chat. Hopefully you can get it straightened out before release!

I've been having the same problem

Anyone going to the Microsoft Store midnight release? I am!

Mine is downloaded, installed, and ready to go at midnight! =D

Waiting for the Sunset Overdrive white Xbox as they were out at the Cincinnati store. And I'm getting the physical copy of MCC which I preordered. Seems silly because the update is as big as the disc....

Bum bum bum bummmmmmm
Bum bum bum bummmmmmm
Bum bum bum BUM
Bum bum bum bum bum

I'll try and see some... can't wait to buy the game.

I'll be there!!! Can't wait for this release! Was playing the original two on PC, and just the comparison in graphics.....

I beat Another World (Out of This World as it was called on the Genesis) when I was 10 years old. That game was brutal, but it taught me to be patient and slow down! That was a big preparation for Enemy Zero!

Is it normal I can't see Twitch videos on my Windows phone?

Skie77 you have to use an app that can play them on Windows Phone, as described in the article.

Oh no,I have to leave for college in 30 mins and I have a Maths test. :(
Sorry, but I'll be there for Sunday's streaming :)

No worries. Will be great to see you on Saturday/Sunday!

Man, I wish I was able to watch the last two nights. =/

I really enjoyed it and thanks for he follow! I'm Jamaican 117

I'm always working when these things are on, only managed to be available for one so far. Sucks to be me.

I miss it. But I'm buying the game..

More preview streams coming Thursday and Friday!

Gutted I missed this, I bloody love the origins of halo. Congratulations winners!
Will have to watch the stream when I get home.

Talk about a blast from the past!

I have this, but barely played. My favorite was ODST and now ota been added. Looking forward to it big time.