The Halo TV series will premiere March 24 on Paramount Plus
We finally have a premiere date for the long-awaited Halo TV show.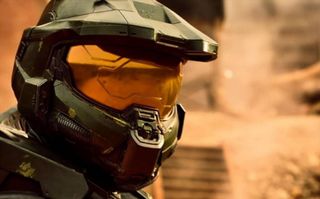 (Image credit: Microsoft / Paramount+)
What you need to know
The Halo TV series will premiere on Mar. 24, 2022 according to a video posted by the show's official Twitter account.
Additionally, the show's official trailer will debut during the CBS broadcast of the AFC Championship football game at halftime.
The show will be exclusively available to watch on the Paramount+ streaming service.
A new video posted by the official Halo TV show Twitter account has confirmed that the Halo TV series will officially premiere on Mar. 24, 2022, and will be exclusively available on the Paramount+ streaming service. Many fans were expecting a release later in the year, so the show's March release date is a pleasant surprise.
This news precedes the debut of the show's official trailer, which is slated to air later today, Jan. 30, at halftime during the CBS broadcast of the AFC Championship football game. The trailer is expected to give fans a closer look at the show's major characters, plot threads, production value, and more.
Details about the series have been fairly scarce so far overall, but there are some things we do know. Pablo Schreiber has been cast as the Master Chief, and Jen Taylor has returned from the Halo video games to play Cortana. The show will also take place during the Human-Covenant War, and Master Chief will be working closely with a group of Spartans. Additionally, the show will also feature a human being raised by the Covenant, which is an interesting plot concept that hasn't appeared in the Halo franchise before. The series is also taking place in its own "Silver Timeline", which is similar to the main Halo canon but will deviate in various ways, both large and small.
Overall, it's very exciting that the Halo TV series is almost here, especially since it was announced way back in 2013 and has changed producers several times since then. Many suspect that the show went through "development hell" for several years, so it's great that it's finally premiering soon. While you wait for it, we recommend checking out the excellent Halo Infinite campaign. It has a great story and excellent gameplay, making it one of the best Xbox shooters.
Master Chief's next adventure
A new Great Journey awaits

Halo Infinite's campaign has a great story, incredible gameplay, and breathtaking presentation. It's everything a Halo fan could want, and we can't recommend it enough.
Windows Central Newsletter
Get the best of Windows Central in in your inbox, every day!
Brendan Lowry is a Windows Central writer and Oakland University graduate with a burning passion for video games, of which he's been an avid fan since childhood. You'll find him doing reviews, editorials, and general coverage on everything Xbox and PC. Follow him on Twitter.
Awesome! Much sooner than expected! Really looking forward to the trailer today Any word on which services/platforms it will be available on outside the States?

Paramount+ is a part of Amazon Prime so if you have access to Prime in your country you will be able to add a Paramount subscription ( or just wait until the whole thing is available and watch it with a 7 day trial).

Cool thanks, I'll try that!

No it isn't.
Paramount Plus is a separate subscription service.
Some ISPs (like AT&T or Verizon) may bundle it with a Prime subscription (belonging to Amazon) but it's not affiliated with them as Paramount Plus is
owned by CBS/Viacom.
I highly recommend Paramount Plus as it has ALL of the Star Trek shows from TOS all the way up to the new Prodigy Series (meh) and everything in between; Discovery (great), Picard (great), Below Decks (great), Voyager (meh), DS9 (great), TNG (duh), TOS (double-duh), even the old 1960's animated series.
It also has lots of really good movies, documentaries, TV Series, and stuff (especially the older movies, going all the way back to the 1920s silent films.) Their selection of old cheesy monster-movies is unsurpassed and me and mine love to MST3K on them.
I especially love the great British shows they include.

This was said in the original comment you are trying to correct. Keyword ADD to their subscription.

No. It isn't. Amazon has their own. Paramount Plus is its own independent service. Might want to research before misinforming someone and making them waste their money.

Might want to actually read the comment before telling someone to research. The statement was made to ADD to their Prime subscription.

As of Dec 2021, Paramount+ was in United States, Canada - since March 4th, 2021. In addition to those countries, Paramount Plus has recently become available across Nordic countries (Sweden, Norway, Denmark, and Finland). Australia was promised by March. Other places, TBD.

I hope it doesn't become a separate thing in March, I'm quite happy with it being an extension of Prime. But then again, I wish I could marry all my streaming services into a single app, it would be much more convenient.

Paramount+ isn't an extension of PRIME anymore than Nextflix or Disney+.
All Amazon does is manage payments and take a cut for hosting the app.
Servers and content are all CBS. If it were a Prime extension it would be a global player from day one, like PRIME.
And Paramount+ is *old*. 8 years old, just renamed.
They just can't afford to go global. Don't have the infrastructure or the money to pay AZURE, AKAMAI, or AWS to go global. As CBS ALL ACCESS they launched in 2014 and never made it to even 10M paying subscribers.
These days they claim 36M users *globally* by adding up Showtime and CBS.COM, their free web and app service.
Similarly, they claim 19M in the US combined.
By contrast, Disney+ hit 150M global in one year.
NBCuniversal's PEACOCK stands at over 60M and along the more expensive HBOMAX.
Netflix has around 300M subscribers and Prime 250M. MS got bait-n-switched: when Halo moved to Paramount+ from Showtime they lost about 2/3 their potential audience.

Paramount Plus is easily my favorite streaming service. I'm hoping to see a huge growth increase this year.

First they have to *offer* it to more people.
Then they have to keep them paying year round.
Churn is the enemy of video subscriptions.

He means it's just built into the Prime app, there isn't a dedicated presence in Australia, it's usually bundled. EDIT. I just saw your other post, good to see they're increasingly standing on their own 2 legs, but a shame MS isn't launching this on Netflix or Prime, instead of Paramount+.

Finally. I am looking forward to this.
Windows Central Newsletter
Thank you for signing up to Windows Central. You will receive a verification email shortly.
There was a problem. Please refresh the page and try again.