Halo Wars 2 buyer's guide – which version is best for you?
By Matt Brown published
Ready to pre-order Halo Wars 2? Here's which version is best for you!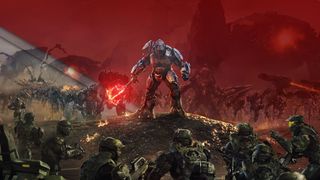 (Image credit: 343 Industries)
Halo Wars 2 is the second iteration in Microsoft's real-time strategy Halo Was series – an offshoot of their globally renowned shooter franchise. Following up from the first Halo Wars game back in 2009, the game moves from behind the eyes of the Master Chief to offer a fast-paced RTS experience on both console and PC.
With the game's release just around the corner, we've brought together each of the available editions into a single location. Considering the benefits between retailers and various options, here's a breakdown of which edition suits you.
Release date
Halo Wars 2 officially launches worldwide on Tuesday, February 21 for Xbox One and Windows 10. However, for owners of the game's higher-tier Ultimate Edition, four-day early access is available. This earlier release date of Friday, February 17 applies to both physical and digital versions of the game.
Preorder bonuses
| | Isabel Pack | Atriox Pack | Decimus Pack | Captain Cutter Pack | Professor Anders Pack | Physical Pin Pack | Merciless Variant Atriox Figure |
| --- | --- | --- | --- | --- | --- | --- | --- |
| Amazon | | | | ✓ | | | |
| Microsoft Store | | | | | ✓ | | |
| Xbox Store | ✓ | | | | | | |
| GameStop | | ✓ | | | | ✓ | |
| Best Buy | | | ✓ | | | | ✓ |
If you redeem a digital code for Halo Wars 2 from any retailer, your copy will be playable on both Xbox One and Windows 10 through Xbox Play Anywhere!
Halo Wars 2 Standard Edition (Physical)
The standard version of Halo Wars 2 is being offered for $59.99, with additional bonus content dependent on the retailer (detailed breakdown supplied above). This version of the game is most common and stocked by a majority of video game retailers.
Halo Wars 2 Standard Edition (Digital)
A digital version of Halo Wars 2 is also available, sold as a pre-paid code to be redeemed via Xbox Live. Most retailers who stock pre-paid codes will distribute the codes ahead of launch, to give players the chance to pre-load the title. Like digital copies purchased directly from the Xbox Store, these copies of the game will unlock at 12:01 in your time zone. Codes are valid for both Xbox One and Windows 10.
The following retailers stock digital copies of Halo Wars 2 for Xbox One.
Halo Wars 2 Ultimate Edition (Physical)
Stepping up from the standard version, Halo Wars 2's Ultimate Edition bundles together the base game, season pass and Halo Wars: Definitive Edition (a remastered version of the original Halo Wars). This is a great package for diehard fans of the Halo series, with four-day early access to the full game.
However, unlike previous Ultimate Editions released by Microsoft, Halo Wars 2 doesn't appear to ship with a bonus SteelBook. This version also won't support Xbox Play Anywhere, with physical versions currently excluded from the initiative. You can pick up a physical version of Halo Wars 2's Ultimate Edition for $79.99 from the following retailers.
Halo Wars 2 Ultimate Edition (Digital)
The digital version of Halo Wars 2's Ultimate Edition is arguably the most complete version of the game. Offering access to the base game, season pass and Halo Wars Definitive Edition, this bundles together all content available at launch. As a reward for going digital, this version of the game also works on both Xbox One and Windows 10 via the Play Anywhere program.
Halo Wars 2 Ultimate Edition (PC Physical)
Halo Wars 2 Ultimate Edition is also getting a physical release over on PC, in the form of a special edition release in collaboration with THQ Nordic. Although this version of the game won't be shipping in the United States, it's a great buy for any collectors willing to purchase a copy from Europe.
Inside the package, you'll be getting a digital license for the game and season pass, in conjunction with 4 installation discs. This digital license also grants Play Anywhere access between Xbox One and Windows 10. If you're looking to pick up this version of the game, you can do so via the UK-based retailers below.
Halo Wars 2 Xbox One S 1TB Console
Yet to pick up an Xbox One S? Whether you're just getting started with Xbox One or looking to upgrade your existing console, the Halo Wars 2 bundle is a great way to make the leap. Bringing together a 1TB Xbox One S and Halo Wars 2: Ultimate Edition, the bundle cuts a hefty amount off the complete package. You'll also be able to reap the benefits of HDR and 4K video, currently exclusive to this variant of Microsoft's flagship console.
Halo Wars 2 Collector's Edition Guide
Although a huge amount of merchandise isn't set to launch alongside Halo Wars 2, Prima's Collector's Edition guide delivers a slew of new content for any Halo fan. Being a game guide, the book offers tips and tricks for each of Halo Wars 2's campaign and multiplayer modes. Various bonus content is also up for grabs, included a collection of concept artwork and exclusive in-game content. If you're looking to go all out for Halo Wars 2's launch, this book is a great accompaniment to your preorder.
Still undecided?
If you're still undecided on whether to pick up Halo Wars 2, make sure to stay tuned for our upcoming review and guides on Windows Central!
Matt Brown is Windows Central's Senior Games Editor, Xbox & PC, at Future. Following over seven years of professional consumer technology and gaming coverage, he's focused on the world of Microsoft's gaming efforts. You can follow him on Twitter @mattjbrown.
The pre-order Bonus exclusivity is just ridiculous with this game. How about none at all and Microsoft can go screw themselves with this pre-order consumer abusing BS.

Sadly, if you look at my previous Buyer's Guides for various games, it's not hugely different. A lot of games spread pre-order bonuses across retailers, making it impossible to collect them all.

"Although this version of the game won't be shipping in the United States, it's a great buy for any collectors willing to purchase a copy from Europe.' Goes to Amazon UK listing... "This item does not ship to the United States."

Think he meant to say "in Europe".

Why not just sell me Halo Wars remastered? See if I like RTS games... Before I go full all out and buy one brand new??

The original 360 Halo Wars is now backwards compatible on Xbox One. Buy a cheap disc or download a copy to see if you like the game.

You either like RTS games or not. Traditionally mouse and KB is the best way to play. With that being said, Halo Wars can be considered an 'arcade' RTS game. The controls are intuititive, and the game is significantly simplified and works well with the joystick. If you played Starcraft, Command and Conquer, Supreme Commander, etc, then you will know the premice of and RTS game. Compared to those Halo Wars is 'watered down'.

The beta was awful for touch screens like the Surface Book. Has this been fixed in the retail version?

Wtf? It's not a mobile phone game. There is no way in hell a game like this can be played touchscreen. Use a mouse and keyboard. Touchscreen games that are RTS games are far more limited. This is a proper game. Not a mobile game.

This EASILY could be played on a touch screen laptop by touch. Watch your language, potty mouth

How could it ? There is way to much to do simulataneously to have touch. If they designed the game for touch it would have to be dumbed down. And PC and console players wouldn't buy it if it was dumbed down. On the swearing. Come on man, I didn't even type the word!

Dont think so. Each their own.

Considering the fact that I can play Warcraft 3 with a touch screen, one would assume this could be played with a touch screen as well. It's not perfect, but it can certainly be done.

I know. It easily could be ported. People flip out about nothing.

You can play it, but not well. You would get your backside destroyed online against a controller or mouse and keyboard. That's just a fact.

So? One could say the same about a person using keyboard and trackpad as opposed to keyboard and mouse, it's still an option though. The guy was just asking for the option and you shot him down like it was the stupidest idea in the World, I jumped in and pointed out another game, that isn't even a dumbed down RTS (and released before the advent of touchscreens so technically has no reason to work) can utilise said control scheme. Sure, you would fail online, you are correct in that regard, but it's perfectly fine for single player.

Even though I could see this working with some game modes, the intricacies of Halo Wars 2 make this suited solely to KB&M and controller.

This is probably the only game that I bought the Ultimate edition, and digital of course. Play anywhere is digital only. The Ultimate edition comes with the season pass, and probably the DLC will be sold for $10 a pop, so it pays for itself, but given that you get the remastered version of the orginal game, with new achievements to boot, makes this a no brainer. Probably they will eventually sell the remastered version at some point, and I suspect that it wil be at least $20. Given that there are no pre-oder discounts, I decided to buy from the MS store, as you get some Bing credits, and you get credits towards MS rewards and can up your 'tier'. Thus you will get some cash back depending on your tier.

Same here! For only $20 more the Ultimate Edition has the best value by including the Season Pass and Halo Wars 1 which they made a Play Anywhere title, so I can finally play that game on the PC. And good point about the MS Store, I wish that you could earn Microsoft Reward points by buying stuff from the Xbox store instead of them being separate.

Already bought the standard digital edition. As I also buying Wildlands, Yooka Laylee and Cities Skylines over the next 4 months. Great times as an Xbox gamer.
Windows Central Newsletter
Get the best of Windows Central in in your inbox, every day!
Thank you for signing up to Windows Central. You will receive a verification email shortly.
There was a problem. Please refresh the page and try again.