Sending rodents into orbit with Hamster Universe for Windows 10 and Windows 10 Mobile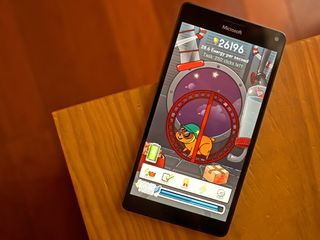 Hamster Universe is a simple and addictive Windows 10 game from the creative souls over at Game Troopers. Available for Windows 10 PC and Mobile, Hamster Universe is modeled after the hit game Make it Rain: The Love of Money, but instead of generating cash you run a hamster around a spinning wheel to generate energy.
Energy can be used to improve the hamster's performance, unlock achievements and buy costumes to customize your hamster's appearance. Hamster Universe is a Windows 10 Xbox Game, allowing your achievements to be reflected in your Xbox profile and Gamerscore.
This free game isn't very difficult to play and in many ways, mindless entertainment, but Hamster Universe has an addictive quality that keeps you coming back for more.
There is a back story to Hamster Universe where a heroic hamster is tired of his idle lifestyle and recruits like-minded hamsters to go on a trip to gather energy riches. They build a spaceship that is powered by the energy generated by their running wheels in a bid to seek the riches of outer space.
Your job in this scheme is to tap the screen of your Windows 10 device to get the hamster to run around the wheel and generate the energy units. The energy generated can then be used to buy enhancements, customizations and unlock achievements.
The primary screen for Hamster Universe has your hamster resting in the center of the screen on a running wheel with stats on your energy production displayed across the top of the screen. A navigation bar runs across the bottom of the display that provides you access to the upgrades, tasks, achievements, boosts and settings menu. There is also a status bar at the bottom of the screen that displays your progress towards entering the space mode (more on this in a minute).
The different menus for Hamster Universe breaks down as follows:
Upgrades: This menu holds customizations and enhancements for your hamster and his cage that helps generate more energy. For example, you can buy a fighting helmet that generates additional units of energy per click or enhances the hamster cage to generate additional units of energy per second. Each enhancement can be increased up to ten levels to boost its effect.
Tasks: While continuously tapping on the screen of your Windows 10 device can become monotonous, Hamster Universe includes several tasks to keep you focused on the mission. Tasks such as spending a set amount of energy on upgrades, collect a set number of energy units and more. Once you complete a task, a small reward can be collected.
Achievements: Hamster Universe includes 98 normal and Xbox achievements. These range from tapping the screen 1,000 times to collecting 100,000,000 energy units.
Boosts: This is an in-app purchase store where you can spend real cash to buy power-ups that increase your hamster's energy output. They range in price from $0.99 to $49.99.
Settings: Not much to see here other than options to mute the sound and music, along with links to visit Game Troopers' Facebook and Twitter pages.
Gameplay is not very difficult. Tap the screen repeatedly to generate energy. The faster you tap, the faster the hamster runs and the more energy generated. Along with producing energy by tapping on the screen, Hamster Universe does create energy units passively when the screen is at rest. The rate of energy generated is a lot slower but is a nice way to give your fingers a rest and continue to see the energy numbers rise.
Periodically, a mystery box appears and when tapped opens up a lottery window. You choose one of three boxes to reveal a lottery prize that can offer bonus energy units or deduct energy units. There is also a battery booster available that slowly charges over time and can provide a little extra energy when needed. The battery booster is also eligible for upgrades to increase its capacity and recharging rates.
The Space Mode meter at the bottom of the game screen is filled as you collect energy. When the meter is full, the game transitions from the hamster cage to outer space where the fleet of hamster ships are traveling. Tapping the screen continues to generate energy, but in Space Mode, you collect the energy from the entire fleet of hamsters. You only have a few seconds to take advantage of this bonus stage, and it is a great way to collect a lot of energy units quickly.
All in all, Hamster Universe is a mindless game for Windows 10 PC and Mobile that is strangely addictive. Graphics are nicely drawn up in cartoon fashion, and gameplay is not overly difficult. However, it is easy to find yourself pulled into this game to see how many units of energy you can collect to unlock upgrades. The challenge rests on a personal level to see how high your energy per second rate can be or if you can reach that 100,000,000 mark.
Hamster Universe is a free game, available for Windows 10 PC and Mobile. It may not be the most taxing game in the Windows Store, but still, it's a great option to help you pass the time.
Get the Windows Central Newsletter
All the latest news, reviews, and guides for Windows and Xbox diehards.
George is the Reviews Editor at Windows Central, concentrating on Windows 10 PC and Mobile apps. He's been a supporter of the platform since the days of Windows CE and uses his current Windows 10 Mobile phone daily to keep up with life and enjoy a game during down time.