Hands-on with the Dell Latitude 13 7000 Series Ultrabook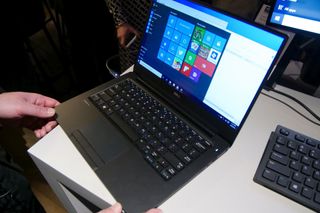 Dell revealed a number of new business notebooks during CES 2016, and we got a chance to go hands-on with one of them. The Dell Latitude 13 7000 Series Ultrabook, running on Windows 10 has some impressive features, including an InfinityEdge display similar to the one on the consumer Dell XPS 16.
This is a business notebook, however, which means the design is more rugged and less stylish than the XPS 13. The 13-inch Latitude 13 7000 Series Ultrabook weighs about 2.5 pounds and includes, among other things, a USB-C port for power and data. It also has Thunderbolt 3 support that allows the notebook to power two 4K displays at once if needed. The starting price is about $1,299 and it will be available for sale sometime in March.
What do you think of the Dell Latitude 13 7000 Series Ultrabook? Let us know in the comments!
Why not just go for a xps 13 if you are shelling out $1300...or am I missing something here?

@Aimulaidni - Business laptops tend to be a bit more rugged (I think this may have been stated in the article ???). For those of us who travel a lot, it makes more sense to have a laptop that can put up with being banged around in a luggage compartment, etc. I (personally) would rather sacrifice looks to know that my laptop has a bit of extra strength to protect it. It tends not to look too good in meetings when you're laptop has a couple of dings and dents in it. I have a Surface Pro 3 for home and office work (purely because of looks), but if I'm going to travel I tend to take my Toshiba with me. I think that by and large this has changed in recent years though. Hope that helps.

"Why not just go for a xps 13 if you are shelling out $1300...or am I missing something here?"

You're missing something here. Dell sells these cheaper, more rugged devices by the hundreds (sometimes thousands) to companies for employees. They are not consumer devices meant to compete with the XPS 13, which is also a Dell product.

I understand what @Jesusfreak420 was saying...but am confused about what you said...the more rugged part makes sense, but when you says it's cheaper, do you mean they sell it for a lower price because companies would be buying them in bulk or do you mean it's cheaper in general? Genuine question, not trying to argue

It most likely is cheaper because it is made of cheaper materials. Not as shiny, but also less prone to scratches, dents, and what have you. The XPS is more expensive because it is meant to be more aspirational. I don't know this for a fact, but that seems to have been the pattern before and most likely still is. Other advantages of Latitude have been that Dell would keep spare parts in stock and support it for longer, so that businesses could more easily consolidate on the same hardware over a longer time period, and support for the same docking stations across generations of laptops so that businesses didn't have to change those every time a new model came out. Latitudes have also been easier to take apart and swap out parts, allowing for easier repairs. Something that means a lot more when you have hundreds or thousands of laptops to support. Finally, Latitudes have often had more management and security features, such as vpro, anti-theft, tpm for encryption, etc. I haven't looked into what the deal is with the new Latitudes, whether they retain those differentiators to their consumer facing XPS brethren, but I've tried to list most of what has been the case in previous generations. May have missed a couple.

I'd go for XPS 13 instead.

You don't get it. This is meant to be bought by companies as a fleet of devices for employees. It's not a personal device. This device is not about "going for it" it's about what your company gives you to do your job. Employees don't have a say in the matter.

People and their preferences! Such idiots, eh?

On the contrary, the reason Dell made this device is in response to the popularity fo the XPS 13 and employees wanting something 'cooler'.

My wife had a Dell Latitude at her last company. I don't remember the model, but I was impressed. It was light, very well built, excellent keyboard and screen, fast, etc. I wouldn't hesitate to get one of these even for personal use.

My company right now requires TPM and fingerprint reader. Oh well, maybe the next version.

The 7000 can be docked to docking station. Have the 3years next business day warranty. And more suitable for traveling each day. If you do that with your fancy xps, they wil mot last for a year.

Really like the sound of this - especially the deeper keys, the xps 13 keyboard is shallow and not great for long term typing, week not for my paws anywhere!

Looks a lot like X1 Carbon.
Windows Central Newsletter
Get the best of Windows Central in in your inbox, every day!
Thank you for signing up to Windows Central. You will receive a verification email shortly.
There was a problem. Please refresh the page and try again.