Hands-on look at the HTC S740, Plus a full review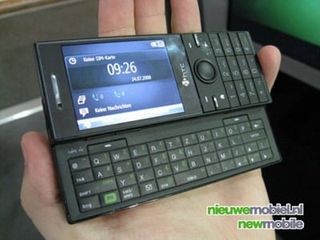 My, my. Look at that. Just as quickly as we learn of the existence of the HTC S740 - think a slightly longer Touch Pro with a numeric keypad and no touchscreen - we now get some hands-on goodness courtesy of NewMobile (opens in new tab).
Mentioned is that the screen doesn't appear to auto-rotate with the help of an accelerometer and instead only switches from portrait to landscape when the keyboard is open. Makes sense, seeing as how this is a Windows Mobile Standard device, though you might want to watch video with the keyboard closed.
Otherwise, you still pretty much get the Diamond form, complete with the multi-faced, fingerprint magnet back.
Check out the rest of the photos here (opens in new tab).
Via Engadget (opens in new tab) and Coolsmartphone (opens in new tab)
Want more? Of course you do. ce4you has a full-on review of the HTC S740 (here's a Google Translation).
My main concern is how fast the screen changes orientation when sliding out the keyboard.
Other than that it seems perfect if you like/accept the formfactor: both the CPU and RAM are above what's found in WM Pro devices.

PLEASE come out on Verizon, this thing looks cool.

What's up with the Z & Y keys?

What's up with the Z & Y keys?
German keyboard.
Surur
Windows Central Newsletter
Thank you for signing up to Windows Central. You will receive a verification email shortly.
There was a problem. Please refresh the page and try again.