Microsoft Edge has a promising future on iPad
Microsoft Edge has made its way to yet another type of device, bringing another way to connect iOS and Windows 10.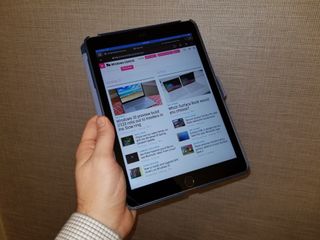 Microsoft has already rolled out Microsoft Edge to iOS and Android phones. They're a great way to continue the browsing experience across different devices. Now, that same experience is coming to the Apple iPad, so we took the preview release for a spin.
Edge on the iPad will be familiar to anyone who has downloaded Edge on an iPhone or Android phone, bringing 'Continue on PC,' synced passwords and synced favorites.
Edge on the iPad looks promising for an app in preview, but at the moment it is mostly a scaled up version of Edge's iPhone version. Here are my first impressions of the app and some ways that it could smoothly transition to being a fully-fledged iPad app.
To download Microsoft Edge for the iPad you can sign up for the preview on Microsoft's website (opens in new tab).
Must-have apps if you use iOS and Windows 10
Familiar features
When Microsoft brings Edge to platforms other than Windows 10, the company doesn't rewrite the entire browser from the ground up and uses the web rendering engine of the platform that it's on. Instead, Microsoft aims to bring the Edge experience to different devices. It accomplishes this by letting users sync passwords, favorite webpages, and letting them use the 'Continue on PC' feature to send articles from mobile devices to Windows 10 PCs. While using the preview version of Ege on the iPad, my favorites synced over perfectly but passwords did not. I'll chalk this up to the app being in preview and expect password syncing to work well when the app is finished.
While these features do a good job of connecting mobile browsing to the PC, they still fall short in one major category, tab syncing. Continue on PC is nice but I'd love to be able to continue an entire browsing session from my phone on my PC. This isn't availalbe on the iPad version of Edge but Microsoft has talked about supporting it in the past.
I think Edge will run into roadblocks when trying to convert users from Safari, Chrome, or Firefox, and if there is a feature that isn't exclusive to Edge I believe that many people won't even give it a try. It's important that Microsoft closes any feature gaps while also fleshing out other parts of its browser.
In addition to features centered around extending the browsing experience across devices, Edge also has a nice reading mode, QR reader, and support for searching the web with your voice. These round out Edge nicely.
More than just rescaling
Turning an iPhone app into an iPad app involves more than just scaling up the user interface. The iPad has significantly more screen real estate than any iPhone and many versions have support for the Apple Pencil, or Logitech's Crayon. Edge needs to take advantage of these to be more than just a rescaled iPhone app. Edge also needs to utilize features like split-screen support which is currently unavailable for Edge on the iPad. Since its in preview it's okay that some features are missing, split screen support could arrive in the future; Microsoft has done a good job of implimenting iOS features into its other apps.
In addition to adding iPad features like split-screen support, I'd also like to see Microsoft ship some features from the Windows 10 version of Edge to the iPad. Specifically, I'd love to see the inking support that's available on the Windows 10 version of Edge arrive on iPads. This would allow everyone from professionals to students to mark up webpages using Edge on one of the world's most recognizable devices that supports touch and a stylus.
Overall thoughts
Microsoft Edge for iPad looks a lot like its smaller siblings on iPhone and Android but that isn't bad. I like Edge a lot and I like that I can easily continue browsing links between devices and also sync passwords and favorites between Windows 10 PCs and other devices. It also has a nice reading view and other features that make browsing the web easier.
Before Edge is fully released on the iPad it needs to gain some more features like split screen support. I'd also like to see some of the features that are Edge for Windows 10, such as inking, come to the iPad version as well.
What would you like to see added to the iPad version of Microsoft Edge before its full release to the public? Let us know in the comments.
News Writer and apps editor
Sean Endicott brings nearly a decade of experience covering Microsoft and Windows news to Windows Central. He joined our team in 2017 as an app reviewer and now heads up our day-to-day news coverage. If you have a news tip or an app to review, hit him up at sean.endicott@futurenet.com (opens in new tab).
Don't own one single Apple product, but I'm interested in how Edge will develop for Android and Windows.

Is it as garbage as it is on every other platform? Extremely slow loading, continuously crashing, etc. Probably not since idevices get the best treatment for everything

I've used Edge on both iOS and Android. In general, it's not as good as Chrome or native browsers on these platforms. From what I see, Edge's main draw on iOS and Android is if you're a Microsoft fan and want to use their products wherever possible, or if you also use Edge on desktop and wish to sync data.

Hmm Android edge is as good as chrome for me. Stable and fast

edge it Great on my Android Phone. I have had a lot of Problems Chrome

I don't have apple products so can't speak for that platform but I use it on android and windows 10 and they work well for me. I'm generally browser neutral but I basically go between edge and chrome. Chrome actually crashes more for me than edge, especially on my work computer chrome constantly crashes completely and then I always have to restore the tabs.

Thank you for the information. I thought I was going crazy About chrome. Chrome Lily crashed on me we I was Trying Live on youtube.

I don't think Edge is a garbage app.. I found it useful in terms of a lot of stuff. And It isn't slow like Chrome on the Droid. For fact what I like is that the People and Developers of Edge in MSFT are sincere in their efforts for Edge on cross platform. We all know that they are behind than the competition but I guess they are still doing way better than before.

Hmm... https://youtu.be/hckIjL7z5z4

I'd also like to continue the other way around: From my PC to my phone.

That's a good idea, but the better solution would be to sync the navigation history between all devices. Chrome already has this feature which is nifty and works well.

lol When Chrome doesn't crash on you lol

Does it have support for Family settings, like website blocking? It doesn't on Android. Would love if it did.

I'm fully edge on all my devices now. I love it. Works great and send to my pc is a great feature

One thing we still could need are extensions.

Thats probably not going to happen on IOS since it's still based off of safari....

It is awesome on all Platforms.. I use Edge on all ... I find it better than Chrome per say

They finally added a Home Button to the Android app. Now I can dig the Edge app from the depths of my app drawer and place it on the Home screen as my default browser. Such a simple little thing I've been asking them for months but it actually makes all the difference for me.

why you have an iPod lol Just be A surface pro with LTE

because it is a better tablet than the surface.

I badly want my Edge history to sync between my Windows 10 PC and iPhone/iPad, not just bookmarks and reading lists.

First of all great review Sean. Microsoft has been doing exceptionally well in the new platforms. Especially with MS Edge browser. I have been using it on my iPad for a while now loving the experience much more than Safari or Chrome.

Me too guptabishnu. I have edge as my main browser on my iphone and ipad. Obviously I am using it on my dell computers too. I find it better for everything on my computer except for youtube. Sometimes it just shows the video and no other content on the page, and other times it shows the other content and the video is black. also, when searching for photos, the photos page in bing is very very slow. All other websites are screaming fast.
Windows Central Newsletter
Get the best of Windows Central in in your inbox, every day!
Thank you for signing up to Windows Central. You will receive a verification email shortly.
There was a problem. Please refresh the page and try again.