A closer look at Microsoft Launcher 5.1 for Android's new features
The next big feature update for Microsoft Launcher is packing lots of new changes and enhancements. Here's what to expect.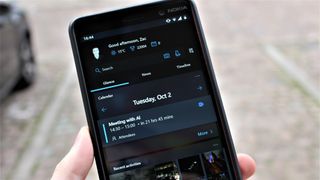 Microsoft Launcher 5.1 is the next big update for Microsoft's Android launcher that's packing several noteworthy new features and enhancements that make for a well-rounded release. The update is currently in beta testing with users now and is expected to ship officially sometime in the next few weeks. Let's go hands-on with the most notable new improvements coming in the next Microsoft Launcher update.
With Microsoft Launcher 5.1, Microsoft is finally introducing Sticky Notes sync between your PC and phone with Microsoft Launcher. You can create and edit already existing Sticky Notes with the same formatting and color options, which will then show up on your PC or phone by syncing with your Microsoft Account. It's great having all your synced Sticky Notes available in Your Feed for at a glance viewing when on the go.
In addition to the new Sticky Notes integration, Microsoft is also bringing To-Do support to the Microsoft Launcher as well. No longer is Wunderlist the only listing service that ties in with the Microsoft Launcher. You can now see all of your Microsoft To-Do tasks in Your Feed, and create or edit existing tasks with just a few taps without entering the To-Do app. If you're a Microsoft To-Do user, you'll love the integrations being made here in Microsoft Launcher.
New digital health features
Microsoft has also introduced a new Digital Health feature, built directly into the Microsoft Launcher that tracks your app usage and unlocks. Just like Google's own Digital Wellbeing or Apple's Screen Time feature, Digital Health in Microsoft Launcher gives you a day or week overview of your usage of your phone, including screen-on time, and the amount of times you open and spend in specific apps. Unfortunately, Microsoft's tracking doesn't come with any lockdown features.
The Digital Health feature also comes with a new widget that you can place on the home screen that provides you with your screen-on time at a glance. Tapping on it will take you to the dedicated Digital Health widget that offers much more detail as to how you're using your phone. I love this feature so much, but I do wish it came with the ability to lock apps after a certain amount of usage. Perhaps that'll be introduced in the next big update.
Hey Cortana is also now enabled when using the Microsoft Launcher in the United States. When on the launcher, shouting the "Hey Cortana" command will invoke the Microsoft Launcher's version of Cortana, allowing you to do things such as check the weather or turn on the lights without having to use your hands. This functionality is somewhat limited, however, as it only works when the phone is unlocked, and no apps are open. I'd love to see an always listening mode where Hey Cortana worked regardless of whether the Microsoft Launcher was on screen or not.
Useful Cortana improvements
In the United States, the Cortana card itself will now show commute and traffic information, which gives the card a little more purpose in the feed. Previously, the Cortana card would sit doing nothing unless you had an unread SMS message. It's great to see Microsoft continue to focus on Cortana across PC and phones this year, and further integration with the Microsoft Launcher is always appreciated. Fingers crossed more Cortana features begin rolling out to more markets soon.
In addition, there's also a new tips card which is excellent for those new to Microsoft Launcher. It gives you a bunch of ideas and helps towards getting Microsoft Launcher setup to your liking, including things such as enabling notification badges, customizing the feed, and more.
Unfortunately, Microsoft Launcher is still missing a nice close animation when exiting apps in the latest beta. Perhaps this will show up before the 5.1 release ships, but closing an app is very jarring and doesn't match the animation that takes place when you tap on an app icon to open it. That animation is nice and smooth, and the close animation just isn't. I've also noticed that sometimes the navigation bar area won't blur when sliding between Your Feed and home screen. This is just a minor UI bug that I'm sure will be fixed in due course.
Overall, Microsoft Launcher 5.1 is an excellent update that is packing lots of new features that are a welcomed addition to Microsoft's home screen experience on Android. If you've been holding off trying the Microsoft Launcher on your phone, we definitely recommend giving the 5.1 update a try. It's available now in beta and will likely roll out to the stable version in a few weeks.
Download Microsoft Launcher at Google Play (opens in new tab)
Get the Windows Central Newsletter
All the latest news, reviews, and guides for Windows and Xbox diehards.
Zac Bowden is a Senior Editor at Windows Central. Bringing you exclusive coverage into the world of Windows on PCs, tablets, phones, and more. Also an avid collector of rare Microsoft prototype devices! Keep in touch on Twitter: @zacbowden.
"Hey Cortana" is a nice addition, though I'd prefer screen off access to that. Also, bluetooth messaging functionality like it was on W10M would be huge. I wish they would make that happen. Google Assistant and Samsung's whatever-they-call-it-this-year just don't work as well.

I think that is Android limitation currently is why it was implemented that way. The same holds true for Alexa I believe.

Try Read It To Me on Android-reads messages etc and you can answer by voice

Thanks, I'll look for that. Does it prompt you over bluetooth and ask if you want to hear it or not, when you get a message? Cortana on W10M did that, and it is the absolute best hands-free setup I have ever used. I miss it greatly.

They need to release Cortana for non-US countries... Brazil is waiting for a long time!

If you can speak English just set you region to an English speaking country. But Cortana is available in other countries some features are just limited compared to US features.

This all looks awesome. Having sticky notes sync across devices gives me reason to stay with a Galaxy Note for my next device (even if it's $900 or whatever). And To-Do sync is a long time coming.

Love MS Launcher but it's bit buggy and laggy on my P20. Tried it couple of times but I keep coming back to Nova.

I tried Microsoft Lanucher, but the widgets seem to much bigger (as if the scaling was off) than on default Samsung Experience. Any tips?

I quite the dot notifications so I would like to see this when long press the shortcut for the notification that's available. This works well on my phone's own native launcher and on Nova Launcher but isn't there on MS Launcher which I quite like. For this reason I go back to number notifications on MS.

Try to increase row/column number in start screen. It should change the size of widgets.

It doesn't work. I maxed out the number of rows, but this setting doesn't seem to affect the widgets.

If only MS would spent similar time improving the touch experience in Windows 10

First, a launcher cannot put any restriction on the app usage. It's a homescreen, not an operating system.
Second, third party digital assistants on Android cannot be voice enabled like Google Assistant. Google just doesn't permit it.
So both your wishes cannot be fulfilled by Microsoft.

Tell that to Samsung because Bixby can do it.

Yeah, but it is different. Samsung, as a manufacturer, has native customization for the Android source code. Microsoft launcher is an app that runs on top of it. It would be like if you said LG, One Plus, etc, could install bixby and make it work just like in the Samsung phones.

That's true. I see what you're saying

Nice! But I'm no longer using it because of the Hey Cortana feature isn't available yet, the lag that plagues the Cortana search, those horrid animations and jerkyness when you close an app. Those bugs has to be fixed before I use it again, because Samsung Home is not the best but it's smoother.

What are you using because I am using a crappy BLU phone and it works fine besides the phone's RAM limitations, I am running low on storage.

I've tried it multiple times on my S8 and have had issues with lag and hang-ups. I end up going back to Samsung default.

Same on P20. Nova is much smoother.

I use a Note 8 but just did a reset on it and it's back to running like it did when I first got it. I'll try Microsoft Launcher again today to see if it's running better now.

I wish they would remake the calendar card. There is a lot of wasted space for one tiny event. That's why I ended up taking it off. Same with the full agenda page.

On one hand, they say that their main focus is enterprise business and on the other hand, they are making these insect like software on very much consumer facing Android devices.

The launcher should be more snappier and with smoother transitions. It was quite smoother in previous generation. I tried it for months but now I've returned to my phone's default Asus ZenUI launcher. Its nowhere near Microsoft launcher in features, but it's a lot smoother.

I've had performance issues with the last few updates. Battery use seems high, I loose my widgets all the time, and the launcher regularly won't register my touch. Since I've been on the Note9, I noticed the launcher will ignore my first touch, but works after a second time.

I have that problem with the stock launcher on my S7 Active. it's annoying as hell

I've been using MS launcher on my Pixel 2 for 10 of the 11 months I've had it, and I quite enjoy it and the new features (I'm a Beta tester). I've had no jerkyness or lag on my phone, and just wish I could utilize Cortana more fully ... so I just use the GA.