Hands on with Microsoft's next gen 'Project Spartan' web browser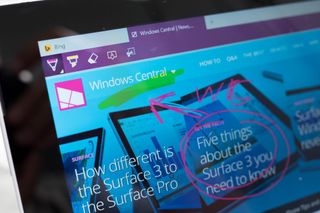 A new web browser called Project Spartan has been introduced in Windows 10 Technical Preview build 10049. It's still not finished, but Windows Insider members can start playing with it to leave some feedback.
Microsoft reminds us that this preview is not a polished, ready-for-everyone release. More features and improvements will be added before it's widely available. In the meantime, let's take a look at what's available now! Watch our hands-on video.
Cortana is built-in to Project Spartan, but it's not very obvious. There's no dedicated button for her in the toolbar. She just shows up whenever she feels like it. For example, if I start typing 'weather Barcelona' in the address bar, she pops up with weather information before I even finish typing. You can also highlight words within Project Spartan and then right click to 'Ask Cortana.' She slides in from the right with more information.
You can draw or add notes to web pages with Project Spartan. Tap the Ink button on the top right corner to reveal the marker, highlighter, text tool, and clipper. When you're done with your notes or drawings, you can share them with your friends via email, Facebook, Twitter, and more. It ends up to be an HTML file labeled as a Spartan Web Note.
If you want to take away all the distractions like ads and fancy CSS styling, Project Spartan has Reading View. It lets you focus on content. If you want to read certain pages later, you can add them to your Reading List.
Microsoft says Project Spartan has a new rendering engine that is built around the idea that the Web "just works," while being fast, more secure and more reliable. That is happening behind the scenes, so most of us won't notice.
What would we like to see next? We'd like to be able to swipe to back to a previous page. Have you tried Project Spartan yet? How do you like it so far? Sound off in the comments!
Windows Central Newsletter
Get the best of Windows Central in in your inbox, every day!
Finally at last it's been so long waiting

This is really making a worth upgrade to windows 10 .!!!

... which doesn't matter because that test is very flawed.

Excuses. Other than that, I really like Spartan. :)

well little better than IE 11 ... no ways they are going to catch up with chrome ever

Well said. I don't know why MS always said they embrace the standard but their support for standard is pathetically behind others.

I think Microsoft has the best support of all companies when it comes to non-drafts. Chrome boasts their number by going for unsupported standards which are highly experimental and not used by anybody.

thats where the chrome success is ... even firefox's html5 score is higher... forget the standards ... give users what they want.

illidanx Well said. I don't know why MS always said they embrace the standard but their support for standard is pathetically behind others.

Could you please name some

real

standards that are missing in Microsoft's browser?

Try this website in Chrome then IE/Spartan: http://www.teamliquid.net/forum/sc2-tournaments/480096-iem-season-ix-kat... There are 9 WebM videos embedded in the first post. IE11 and Spartan show nothing because it does not support WebM.

That's pretty good that you already know what the final version will support when all we have is the first preview to look at.

You really think MS will be able to improve the current score significantly when the release date is summer?

Name 3 standards IE / Spartan doesn't support. Go.

I don't agree; besides IE is not playing catch up to Chrome it's vise versa.

Are you sure. So far spartan works just as well as the latest stable release of chrome. Even compares to Canery.

Still too far from chrome and firefox

Too early in development for benchmark and scores that will be meaningful.

Cannot open Spartan? Why? Please help..

Looking at the image I think he was about to write WPC instead of WC..

This is true. I had to correct it and change to WC

But it's so different. I don't know whether to hate on it now or later.
Seriously though, I'm just waiting to hear the negativity roll in just because it's Microsoft and something different that might take some time to learn and get the most out of it.

I just hope they aren't forgetting mouse and keyboard users. The UI looks like it's only meant for touch users

Ironically touch users are saying this browser is meant for mouse and keyboard only because it removes all the gesture of metro IE.

I'm only putting up with this if enough keyboard shortcuts are included

I honestly never remember keyboard shortcuts (or else I'd probably use them a lot more), so I'd be all for more touch and gesture features.

Once you do remember them, they save you a good deal of effort

So far every one I hit is there

Is there like a shortcut cheat sheet that I could view in Windows?

Windows:
http://windows.microsoft.com/en-us/windows/keyboard-shortcuts#keyboard-s...
IE:
http://windows.microsoft.com/en-in/internet-explorer/ie-keyboard-shortcuts

Thanks! I'll take a look.

That's nice. How are the dialogues on keyboard for favorites and history?

Where's the review of the browser?

I have build 9926 install on my PC and now I'm stuck at this build because I keep getting Windows update error messages. I'm very frustrated. I look for help everywhere, but nothing helps.

ISO installation solved it for me.

Can install adblock on Spartan?

Does it work on 8.1? (moving the packages)

nope ... its not avaialble for download as well

You can swipe back and forth... Use 3 fingers at the same time. Swipe left(back) & right(forward)!

Good to know! Though I think author is looking for touch screen swipe functionality like in modern IE in windows 8.x.

I'm hoping they just build that into tablet mode. Turn it on and the entire OS goes Metro.

That's not working for me :(


Any benchmarks comparisons? Understanding its an early build, too.

http://i.imgur.com/LF2CCZ9.png

thanks mate ... really appreciate

Tried Spartan, IE11, Firefox 37 and Opera 28 on my laptop on Peacekeeper. It's Firefox > Opera > IE11 = Spartan. By all means, IE11 is using the exactly same engine as Spartan on W10 so far, because their score on Peacekeeper were identical. On my laptop with Core i3 1st Gen 2.5 Ghz, Spartan scored 1380 and Firefox scored 2670. So ... yeah.

How does it handle different inputs (finger/pen) on Surface Pro 3?

Localhost URLs doesn't work yet ):

I have only found one real bug that erks me. When you right click on and image to save it. The dialog box comes up and you exit out of it the browser throws an error. Other than that its way faster to surf on.

That's cause saving the image is technically a download and they already said downloads are broken at the moment.

The web "just works" .. I wonder how that idea works and how it's being implemented!

Just put that bar on the bottom for phones... that that's all we need!

Well said, nothing more to add

Totally agree...just make the address bar placement a choice.

Its still buggy, for example you can not watch youtube videos at full screen mode, or if you enable favorite bar, half of the bar is hidden. Also I found some performance issues, random freezes for couple of seconds and ... Overall I think its a good start and its light and fast.

preview software? buggy? call the cops

What do you mean its buggy?! Unacceptable, send hate mail!

Did you sense hate in my comment? :D

No way to open 2 instances of the browser and drag/drop tabs between windows. I don't even know if this could be implemented since this is a modern app.

You actually can open two windows, right click on a link "open in a new window"

Thanks for the tip. I thought it was not possible because I tried to do that by right click on the taskbar icon. Drag and drop between windows are still missing them.

Yes at last it is easier for research and university note taking Cortana is well used I think and not annoying as she could be if there all the time its a great start.

Can you draw on reading mode?

I'd love to see a nice detailed benchmark so that we can compare the speed of Firefox, Chrome and a Spartan. But if course, make sure to put in bold big letters that Spartan is beta software... Otherwise I can see people already bitching about it.

http://i.imgur.com/LF2CCZ9.png

Would you want your product benchmarked against full version public release software? I think not. Don't be stupid

What if my product was better or similar in its current stage than the others? Just like Cortana is beta and it's better than any other vice assistant! It would demonstrate how promising the future of that product is. Think twice before calling someone stupid.

On my laptop, on Peacekeeper, Firefox scored ~2800 and Spartan scored ~1400. There still is a lot of time for feature implementation UI tunning and performance optimization.

i've noticed that Silverlight doesn't work. already installed or IE, but Spartan won't recognise it and wants to install it but won't install as it s the same version that is installed

Better report that in the feedback.

Did you try to uninstall and install again?

Of course it doesn't becaues Spartan is a modern app. It only supports whatever MS decides to build in the browser. At the moment, no Silverlight, no Java yet.

Anyone figure out how to enable tracking protection / ad block lists?

Yeah, I was hoping for something like that too. I don't know if it's possible yet though, given that that was an add-on in IE.

Is it a Windows app or a Windows desktop application?

and honestly to me, this is the best thing about it so far. Not that the other things aren't great, but MS needs to prove that windows apps can be as powerful as desktop apps. If they can persuade developers to port their desktop apps over, one day we might actually see the legacy win32 based desktop go away... Windows apps are much more "modern" (forgive the pun) utilizing better power management, better font rendering, portability across CPU architectures, etc...

That's only if they can make modern apps as powerful as desktop apps. Otherwise, they will end up with a new browser that no one uses.

A loading screen for a browser? LOL Sad Microsoft. You better speed this up.
And webpages load slow. IE11 is faster.

I second this. Modern apps are always slow to load.

But to be honest, every other browser needs to load as well they does it in the background tho, so it's not noticable like spartan

For me, for some weird reason Opera opens instantly which means 4-5 seconds faster than firefox, chrome and IE! [and no I don't have an ssd, I have a cr*ppy samsung sata 5400rpm 80Gb, which is able to acheive mindblowing reading speeds of 18mb/s] :P

Yea why are they all so slow and with loading screens? :/

Use IE11 for now on W10. It's the same rendering engine. Only the UI differs.

And page rendering speed, memory usage, Cortana.

What about the HTML5 support? Is it better? I'd like to know it! Thanks.

Spartan: 375 Chrome: 523. Higher is better. Spartan is still very very behind.

spartan looks like wrapper on IE to improve MSFT image in web browser business

Nah. Higher means support for experimental drafts that are not used.

View this website in Chrome and Spartan/IE to see the difference: http://www.teamliquid.net/forum/sc2-tournaments/480096-iem-season-ix-kat.... The 9 webM videos are not displayed probably in IE and Spartan.

Firefox 36: 449 Opera 28: 519

IE11 on W8.1 => 348.
Spartan/IE11 on W10 => 375.

Any word on Project Spartan availability on older versions of windows? (like windows 7 and 8/8.1 ?)

spartan will be avaialble for win10 only

Does anyone elses' Project Spartan have difficulty in loading Windows Central? Mine takes an awful long time. Flipping the "Flash" swithc to 'off' in its settings helps speed it up a bit - but it still takes longer than my other browsers. I know it's a very early and rough build - and so far windowscentral.com is the ONLY site I've had difficulty with. Just wondering if others are having the same issues...

Have you tried to browse WCentral on windows phone IE11? It's unberably slow. This just feels familiar.

y, i have (had) that same problem, in the beginning i could load allot of pages but stuck on windowscentral, it was then in a frozen state but i have rebooted the pc several times for some installs and now i can load the page well but sometimes lags a bit when the page is not yet fully loaded.

Address bar on the bottom for windows phone.

I really want to try this but my Nic won't work on that new build. Guess I'll wait a bit.

Why are you guys posting bugs in here instead of telling Microsoft? Do you think Daniel Rubino will fix them?

I will say it needs some polish but it is super fast.

Two things: A key question about the Reading List feature is: Are these pages being saved for *offline* reading? Or just bookmarked? Also, you say that consumers just aren't going to notice that the rendering engine in Spartan is better. Wha?? With IE, I frequently hit sites that don't work, so I switch to Chrome and they work. If that stops happening with Spartan, consumers *are* going to notice.

Thankfully Spartan has a Smiley Face which I just used to report windowscentral.com as freezing the browser due to the millions of ads.

It looks impressive. I haven't bothered with the W10 tech preview so can't comment as to its efficacy at the moment, but that short vid looked good. Glad they included reading view, and differentiating between FAVOURITE and essentially read later is a must for me, so well done there Msft! However if this doesn't work well with mouse/keyboard I will be less impressed, not a touchscreen fan (yet) tbh. Zooming is good with a touchscreen...but everything else feels laborious.

amazing for beta version.... amazing UI

let's wait the finished version to see what's happen :)

I don't know but right now im having problem installing the 10049 build. Downloading doesn't work, I heard that others tried to have a clean 10041 so they could get through 10049?!

Anyone knows how to get my favorites and favorite bar items imported from IE to Spartan...currently it doesn't show up...

Well i'm hoping this lives up to expectations so i can't dump Chrome and go Microsoft exclusive. That would only leave Gmail, with Outlook.com being nice, but it could be so much more if they actually added some features to it. It's basically the same since launch.

rooting for automatic translation of sites and a page as good guides as the Speed Dial in Opera Browser. I hope a big support for extensions as well.

Still that anoying taskbar at the bottom that is destroying a full screen tablet experience.

Here's a website that works with Cortana: http://www.cuoco-seattle.com/ Look promising so far ! :)

Works way better than chrome and firefox.it really does

Doesn't work for me. When you open it, it just shows a web logo and then closes itself.

Same for me. I posted below. I can get it to open by going full screen on the splash window, but buttons and address bar not usable.

Just tried Spartan browser and it feels much faster than IE11, also it has greater score on html5test.com than the latest IE11 despite being still in Beta. This is great since it will probably get a better html5test scores once it is released officially. My wishes for Spartan are: 1) Support for Unity web player 2) H.265 video support for 4K movies 3) Windows Phone remote control Wi-Fi application, so that I can connect from my phone to my desktop attached to a TV and browse the web wirelessly with help of my phone.

It won't open for me. Just freezes, with address bar and all icons unusable.

Same for me. I have no trouble installing the latest build. When I click on spartan, the spartan splash screen comes up, then goes away, and does not open. If I go full screen on the splash screen, the browser opens, but you can't do anything. You can't type an address and none of the buttons work, not even the X to close. I have to close it by right clicking on the spartan icon in the taskbar. I'm trying on another machine now as soon as I update it to the latest build.


What about localhost support?
I can't surf to localhost (or 127.0.0.1) from Project Spartan while from IE it works fine.
Windows Central Newsletter
Thank you for signing up to Windows Central. You will receive a verification email shortly.
There was a problem. Please refresh the page and try again.