Sega Genesis Mini hands-on: A pint-sized nostalgia trip
Sega is gearing up to launch a miniaturized retro console to celebrate the legacy of the Sega Genesis. If you grew up gaming in the 90s, this is one hell of a nostalgia trip.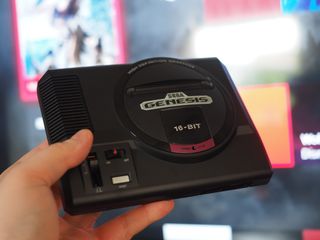 Mini retro consoles are all the rage it seems. Nintendo has made not one, but two, in the form of the NES (opens in new tab) and SNES Classic (opens in new tab) miniatures. Sony too got on the retro train with a PlayStation Classic (opens in new tab), and Xbox leverages its own backward compatibility library to sprinkle some nostalgia on Xbox One owners.
All of these systems are great, but the Sega Genesis (or Sega Mega Drive as I knew it) holds a special place in my heart. As I remember it, Super Nintendo games were simply too expensive for my family to purchase with any real regularity. For some reason it was far easier to get Sega Genesis games at a more affordable price, often second hand. Cartridges were the game delivery system du jour, before the days of DRM and the rise of digital licenses. My brother and I spend countless hours on games like Gunstar Heroes, Sonic the Hedgehog 2, and Streets of Rage 2, all of which feature in Sega's recreated Genesis Mini.
Sega hooked us up with an early look at the upcoming Genesis Mini, gunning for a September 19, 2019 launch.
Nostalgia bomb
(opens in new tab)
A trip to the 90s

The Sega Genesis Mini is a pint-sized nostalgia trip, USB-powered with 40 timeless classic games.
It's so cute!
The Genesis Mini is tiny, barely bigger than a regular Xbox controller. Beyond that, it's the same experience I enjoyed in the mid-90s, down to every detail. Sure, the headphone jack is fake, and the cartridge port is there for aesthetics only, but every angle has been painstakingly recreated with loving accuracy. It's as though the console was pulled from a time machine.
On the back of the unit, you'll get a full HDMI port as well as a USB slot for charging, complete with all the necessary cables and an A/C adapter in the box. Although, I was able to fully power mine using a USB port on my Xbox if you're running short on sockets. Sega also bundles two USB-connected Genesis controllers for good measure, so you can force your younger sibling to play Tails all over again. The controllers still feel great in hand too, complete with that hulking d-pad.
The big ol' power switch returns, the reset button takes on a slightly different functionality, though. Now, hitting the grey reset key pulls up a system menu, allowing you to back out of a game to the main menu, or create save states, which is a convenience we simply didn't have back in the day. Now I'm starting to feel old.
Retro classics
When you boot it up, you're greeted with a vast library of 40 classic titles, including personal favorites like Golden Axe, Streets of Rage 2, and Dynamite Heady. There are some note-worthy omissions, though. I would have liked to have seen Sonic 3 and Sonic & Knuckles grace the console, as well as the other Streets of Rage and Golden Axe titles. However, there's more than enough here to sink your teeth into, including classic time-sinks like Tetris.
Related: Full list of Sega Genesis Mini games
When you boot up a game, it loads in a 4:3 frame so you can bask in that cathode-ray goodness. Performance is rock solid, running games precisely as they did back in the day, albeit scaled up for modern HD screens.
Streets of Rage 2, still awesome almost 30 years later.
There's a great spread of genres available in the library. Side-scrolling shooters like Gunstar Heroes and Earthworm Jim join classic platformers like Sonic and Mickey Mouse's Castle of Illusion. Games like Columns and Robotnik's Mean Bean Machine scratch the puzzler itch, while the turn-based tactics in Shining Force and dungeon crawling in Phantasy Star IV add their RPG chops. There's something for anyone and everyone here, and many of these games are utterly timeless, enjoyable even without the nostalgia factor.
Bundle of retro joy
It's almost a little surreal sitting here writing this, as someone who grew up on these sorts of systems. Who'd have thought they'd eventually circle back around?
Even if you have reservations about the library, or simply weren't around to experience them first-time around, the Sega Genesis Mini is shaping up nicely as a great gift option for loved ones in the coming holiday season. If you are a big Sega Genesis fan, as I was, I think you should definitely keep an eye on this.
The Genesis Mini launches on September 19, 2019, and we'll have a more detailed review up shortly.
Memory lane
(opens in new tab)
Back to the past

The Sega Genesis Mini is a promising little bundle of joy, launching on September 19, 2019.
Windows Central Newsletter
Get the best of Windows Central in your inbox, every day!
Jez Corden a Managing Editor at Windows Central, focusing primarily on all things Xbox and gaming. Jez is known for breaking exclusive news and analysis as relates to the Microsoft ecosystem while being powered by caffeine. Follow on Twitter @JezCorden and listen to his Xbox Two podcast, all about, you guessed it, Xbox!
I like the lineup of games. The ps classic was a complete disappointment in comparison.

Yeah I agree, Genesis Mini seems to have the best overall quality, but it's odd how some bangers like Sonic 3 are omitted.

I'll take a Dreamcast classic please.

My problem with these consoles is that since they are so small they cannot be fitted with an actual card that can read old game cartridges. I would totally buy a modern take of old consoles that allowed us to play old games. Something with hdmi output, wireless controllers, possibility to play your old cartridges, back them up and even be able to play with bluetooth controllers.
A bit like a Retro freak or a Retron 5 but an official Sega or Nintendo one.

Is sega planning a come back?

No and not possible.
Design and manufacture your own HW, grow your own distribution network makes no sense for most company. Even arcade games use PC HW, Windows and DirectX nowadays.
And... 2020 onward, tech and game industry will change. It's not a pleasant place for Sega (or anyone else) to enter (SW reach is the key, not HW. SW, synergy between services / devices, and users' investments / involvements keep users, not HW). Besides, Sega doesn't have the brand power like Sony has.

This brings back memories! My family and I still have our first console - a Sega Master System lol. Save states bah that's for wimps! Back then what mattered was your gaming skills as once your character died it was game over. But even that pales in the comparison to the ancient games where you had to code every single move haha... my IT teacher used to tell some funny stories about gaming when he was a kid. Damn, I feel old and I only turned 31 this year...