Happy Thanksgiving from WMExperts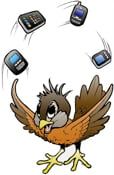 Yep, it's Turkey Day here in the US, but we figure our cute Smartphone Round Robin mascot is close enough to a turkey to count. Plus, it gives us chance to point out the great back and forth between iPhone Mike and Treo Jennifer on the venerable Treo 680.
You won't see another post up here at WMExperts until Monday - we're taking the holiday and tomorrow off and we hope y'all can do the same. Go on - turn off the RSS reader on your phone and talk to Uncle Ned, he won't bite. ...Ok, he will, so just be sure to grab his dentures first.
The point is this holiday take a moment to put down your phone - we're told that eating and interacting with people face to face is almost as satisfying as tweaking your WM registry. We don't believe it, but we're going to give it a try, we hope you can too.
For those of you heading out to brave the shopping extravaganza known as Black Friday - we wish you luck. Pick us up a Motorola Q9c from Sprint and a Samsung Blackjack II on AT&T, okay? They're both coming out tomorrow.
Have a happy, safe, and relaxing Thanksgiving, everybody!
Windows Central Newsletter
Get the best of Windows Central in your inbox, every day!
Happy Turkey Day to you WME guys also great site !!!!!!!!!!