HERE updates all their apps on Windows Phone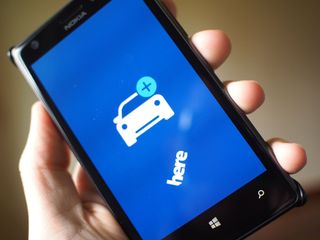 The HERE suite for Windows Phone has been updated. Head to the Windows Phone Store and you'll see new updates for HERE Maps, HERE Drive+, HERE City Lens and HERE Transit. The biggest addition to these apps is the ability to create a new account for HERE.
Correction: The HERE account support was added in a previous update. We're not sure what's new in today's round of updates. Let us know if you see anything new or notice any particular bugs being fixed.
Update: Today's update addresses some sync issues on Windows Phone. Source: @Here
HERE Drive+ version 4.2.5905.1
HERE Maps version 3.7.65.1
HERE Transit version 5.2.76.1
HERE City Lens version 2.3.61.1
Grab these new updates to the HERE suite on Windows Phone and let us know what you think. The biggest change is of course the addition of HERE account across all apps. This account allows your favorites and other things to sync across devices with HERE installed. HERE is now available on Android, so this is particularly useful if you find yourself jumping from different devices and want to keep HERE as your mapping platform.
Thanks for the tips everyone!
Windows Central Newsletter
Get the best of Windows Central in in your inbox, every day!
I lost all my favorites after I synced, so watch out.

Go to here.com using a computer, login with your new Here account and there you will have an option to import data from your old Nokia account (I think you need to open the settings and there will be this option).

Mine are intact. Just used the app. Did you create the here account with the same credentials?

One of the fixes in this update was to correct the issues with migrating favourites.

Me too, except not all of them. But after setting up an account and doing the sync thing they all reappeared. Frustrating.

What the hell happened to here explorer?

You mean HERE Explore Beta? I think they killed it.

Yea that app. I recently uninstalled it because it never receives updates anyway. Too bad, it seemed nice.

that was a really good app hope they keep developing on all operating systems.

It is now part of HERE MAPS

It was not killed it is now part of HERE MAPS

Here account support has been here since the last update #confused

That's what I was thinking.

It had sync issue, which is what these latest updates have resolved.

Wasn't this the last update from the other day? Anything new in this update?

apparently they fixed some bugs related to the account migration procedure. some people lost their favourites when migrating. maybe for that.

Has it always showed a route name next to a train line? I notice, next to Thameslink (in the UK) it say's Bedford-Brighton and the other routes which operate on the line. Not sure where they got CityMetro from though.

aaaaand transparent tile without option to turn it off... oh how i love when devs do this

Me too. It was distinctive.

I prefer transparent, but find it absolutely ridiculous when they don't give you the option to choose. Not just force it on you. Also hate when they force live tiles (again give us the option), some tiles I'd prefer to not have live. So I have to make those the smallest size tile.

Yup. I personally prefer it, but my mum and sister hate it. Especially my mum, since her eye sight isn't the greatest so having that specific style made it easier to pick out the app in her start screen.

Here drive still can't handle collections..oh boy

this happened a while back why are you just now reporting on it?

The HERE apps were updated again today. Not sure what's new though, if anything.

We did, why did you miss our article? Today a new round of updates went out with bug fixes for that syncing feature.

I apologize I must of missed it and I appreciate the correction thanks for all the things you guys do!

lol, np, even our own staff misses things ;)

About a week late.... tssk.. ;)

Actually, not at all Tssk ;)

Why cant they add ability to select among multiple routes to a destination? This would be so much of a value add to everyone who uses mobile phones for navigation.

Yes it was updated week ago, but today we've another update.

O well, updated. Why not?

Still no functionality update to here drive - this is for account only. Will they ever update the app to include traffic re-routing??! Am the only one who sees this as a major problem for windows phone with the sunset of waze? Windows phone has no decent native navigation service and Here is good only for offline use.

This is what I am waiting for. Sorely needed. The update just came out today, so I don't know why some are saying this is old news....

Indeed, but at least it has been updated at all. I was getting worried for a while there that we may have been abandoned in favour of Android.

I am in the same boat as you. Many times there is a need to select a specific route instead of the calculated one. There is just no way of doing this currently and I feel the pain everytime i use the Drive+

Yeah. This was new as of the big update last week.

Ugh, have to sign up with another account? Big problem I've had with the latest version. I have it set to read text messages when connected to headphones, so I can get texts in the car. When it reads me the text, the screen displays the text as well. When I'm done with the text (whether I reply to it or not), the screen goes back to Drive -- which then immediately crashes and sends me back to my Start screen.

Hey I got the very same, when I let the navigation run in background and I return back then it immediately terminates. Did you solved that issue? Reinstalling HERE maps didnt helped to me.

Please update Here xplore :)

Pino Bonetti in one of the forums on here conversations said traffic rerouting is coming in the "next update". That was summer/fall 2013. Where is the update? Drive is still a joke for cities or anywhere with traffic/roadblocks.

Camel trails don't count as roads.

Looks like the Indians were right for calling you out

I feel like a massive sook complaining about how some roads in Australia have incorrect speed limits listed when some countries don't have maps at all...

yes you are lucky. Google maps are very best working here showing all and full maps for Pakistan like any other countries likebut Here maps doesnt work here at all :(

For those asking : a) the HERE account update was released last week. So nothing new, BUT: b) some had difficulties to log in/get their favourites migrated. So HERE released today a bugfix (no new feature otherwise), on WP and W8.1. So no new features, but a critical bug fixed.

How many here are there. When I click the download app in wpc all the here apps say it unavailable... but when I do a search in the WP store they are available but no update......
What's going on.....

Somewhat side-tracked, but still about navigational, Garmin still refuses to update their app to allow it to be our default nav app. Their initial responce? We don't think that is possible. My responce? We'll all your competitors (including your sister company) thought I was possible and did it. From there they change stories to they aren't going to support that feature. Feature??? Most developers would love if you used their app as your primary one. Complete idiots.

Here algorithm has changed recently and is horrible more. Horrible. Takes me the longer way (the difference isn't minutes, but hours) and never accounts for traffic. I really really miss Google maps.

One of the reasons I ditched it and went with Copilot.

Yep, I'm working up to paying for Co-pilot, it's good. Here used to be fab on Symbian, but now it takes me on constant detours and loops. It's best moment was telling me I'd reached my destination, in the middle of the M6, nearly an hour from the next junction.

What I've read on twitter is that from here on in (haha) Microsoft will be taking over the app development. Here (Nokia) only providing back end data.

That's not necessarily a bad thing. Microsoft is a software company after all and most of their apps are eye candy. So, I'm looking forward to what they'll do. I'd actually welcome it.

Here drive+ has bug in display rotation.

What's the difference between Here Explore and Here City Lens?

Here Explore is abandoned.

I used Here Drive today and it took me to two places that didn't exist. I guess that's Bing's fault though since it provided the listings. It's not the first time it's happened.

here maps are slow getting directions for long distances make the app stuck, so you have to force close very disappointing

Have they fixed the incredible battery drain during turn by turn directions? Kills my battery even if it's plugged in.

I bought a different charger, 2amp or something or other. It just about keeps up now. Doesn't make Here any more reliable though!

I stopped using Here Maps a while ago, about the time that it came out Windows Phone was losing exclusivity. That wasn't the main reason, but it motivated me to check out Microsoft Maps, especially after it got reintroduced after one of the system updates. That's when I discovered that it opens almost instantly, unlike Here Maps which always takes a while, and it doesn't hide traffic on side streets when you zoom out. The only thing I miss are the on-screen zoom controls.

Can't install the new Drive+ update on my Nokia Lumia 1520 for some messed up unknown reason..

I wish that HERE would put these all into one app on Windows Phone like they do in the Android (beta) version. I also wish that they'd do live rerouting a'la Waze.

Meanwhile on Windows 10 build 9879 (and 9901), the HERE Maps app won't run at all. It just keeps crashing every time I try to launch it. -3-

I'm betting navigation over bluetooth is still broken too. On live 8.1 it makes "phone calls" to the vehicle instead of going over the streaming audio like on 8.0 but this causes the first couple seconds of the instruction to be cut off. If there's multiple instructions to relay quickly some just don't even get relayed due the the "answer" and "hang up" delay. On the updated 8.1 developer preview builds it doesn't make phone calls anymore but is just plain silent (and mutes any playing music) and you don't here anything at all. Same for Cortana asking if you want her to read a text and/or reply to it.

Go to Settings > Bluetooth > Advanced check Use an alternate Bluetooth audio connection ... How does it work out?

I haven't updated and I still have here explorer beta app in my phone..!!

I can download HERE Transit in Brazil. That's new.

Does anybody else have an issue with here drive voice volume? Its so loud and can't be adjusted so when I'm listening to music I have to keep it real low.

HERE DRIVE+ is not going to the update screen ..... plz fix it.........

Not "all" HERE apps actually, anyone knows there is an apps names HERE Explore BETA. That one can sort your favorites. Hopefully it will go official version

So HERE apps don't sync with Microsoft maps favorites? Or why do I need another account???

My wife lost all favorites... 3 years... Waiting for HERE...

Drive crashing and here map not opening after update

Updated last week. No problems and created my Here account. Updated yesterday and my commutes have all gone. No option when I log into here.com on the web to transfer back from my Nokia account. Seems that's it. Very disappointed. ​
Windows Central Newsletter
Thank you for signing up to Windows Central. You will receive a verification email shortly.
There was a problem. Please refresh the page and try again.