Here are all the achievements available in Quantum Break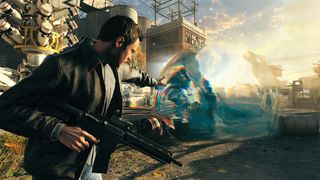 Quantum Break releases on Xbox One and Windows 10 next week, offering a gripping narrative, innovative gameplay and unique integrated TV show.
With the game's release just around the corner, a final list of achievements obtainable in Quantum Break has surfaced online via the site True Achievements. The game now offers 42 achievements across the board, totaling 1000 Gamerscore. To prevent narrative spoilers, 22 secret achievements are on the list, assumedly obtained while progressing through the main story.
Below we've included the entire Quantum Break achievement list, apart from those redacted to prevent spoilers:
| Achievement Name | Achievement Desc. | Gamerscore |
| --- | --- | --- |
| Spreading Ripples | Watch a show episode with all of the Quantum Ripples unlocked. | 10G |
| Everybody Gather Around | Kill 3 enemies with a single Time Blast. | 30G |
| Focus. Aim. Pull. | Get 10 headshots while using Dodge Focus. | 30G |
| One Foot in Front of Another | Time Rush for a total of 100 meters. | 30G |
| Personal Space | Deflect 200 bullets with the Time Shield. | 30G |
| Frozen Lead | Use Time Stop to stack a total of 1000 bullets. | 30G |
| Break All Their Toys | Destroy 15 enemy chronon harnesses. | 20G |
| Area Effect | Kill 15 enemies with environmental explosions. | 15G |
| Chronon Surge | Upgrade a time power. | 15G |
| Maximum Effort | Fully upgrade all your time powers. | 20G |
| Stop and Go | Fully upgrade Time Stop or Time Dodge. | 20G |
| A Link To The Future | Locate one Quantum Ripple and one Intel Item. | 20G |
| Knowledge Is Power | Locate all of the Intel Items. | 20G |
| Time Master | Complete all of Quantum Break. | 30G |
| Daylight Saving Time | Time Stop five minutes worth of accumulated time. | 30G |
| Tossing Stones in a Pond | You need to trigger all Quantum Ripples | 20G |
| Media Baron | You need to find all Emails, presentations, TV Shows, Radios And Posters. | 20G |
| Time Bandit | You need to complete the game on Easy Difficulty. | 25G |
| Time Cop | You need to complete the game on Normal Difficulty. | 40G |
| Time Lord | You need to complete the game on Hard Difficulty. | 50G |
From what we've seen, a majority of Quantum Break's achievements can be unlocked through a single playthrough of the title. However, due to the nature of a branching storyline, a second playthrough of the game may be best to experience its full potential.
If you're yet to pre-order your copy of Quantum Break, make sure to take a look at our Ultimate Buyer's Guide and our full review of the game!
Thanks, Dave, for the heads up!
Matt Brown is Windows Central's Senior Games Editor, Xbox & PC, at Future. Following over seven years of professional consumer technology and gaming coverage, he's focused on the world of Microsoft's gaming efforts. You can follow him on Twitter @mattjbrown.
This game is 100% doable. Another 100% completion to your collection. Pretty straight forward achievements. Good job done Remedy. BioResearch & Games.

Cant wait for this. I pre ordered but I didnt get the 10$ gift card code, just AWN on 360, oh well...

Yeah I also got only the American Nightmare, what happened to Alan Wake and the PC version?

I bet the PC version code will come after launch day, I didnt know that AW was part of it, I already had it anyways tho.

Different age ratings so they couldn't ship them together, legal reasons.

No, that was in regards to AW:American Nightmare in the UK. The Alan Wake, the Signal and the Writer codes will be sent as an XBL message within a week or so of release day. Same goes for the PC version I believe. Posted from Windows Central for Windows 10

Alan Wake and the DLCs will be included in the box if you went with a physical copy!

Ok. I was wondering..I ordered from Amazon and only got Nightmare. Posted via the Samsung Galaxy Note 5

Truch Achievements... I think you'll find you mean True Achievements ☺ Posted from Windows Central for Windows 10

Good spot fellow unpaid proof reader

I'm sad, i'll not be able to play that game for a year.. My girlfreend let me buy my surface Pro 4 but she make me sign a contract saing i will not buy any game for a year... I think it will ba one of the best game if not the best this year... have fun averyone...

Get another girlfriend, if my wife told me that we would be in divorce court. I don't tell her what to buy and she doesn't me. We both have a spending allowance each month that we have to stay within but other then that we don't dictate what the other can buy within those limits.

My wife doesn't tell me what to buy. However she has her ways of making me regret things. So I know ways around things. Lol.
Buy it anyways and mask the purchase as a gift from a friend or a purchase from a gift card you 'won' from work. There are many creative ways about this.

Bing Rewards. 465 and your 5$ richer in the MS account... Save em up... I bought many a game that way..

Unless she's paying your bills, she does NOT sound like wife material. Take your nuts outta her purse and find a new girl.

LOL, but why the girls have to break ours b***s? Oh, wait a minute, she's not a gamer i think...

Not all girls are like that. As you said she probably doesn't game. If you don't game, you just don't get it.

Right. Not all girls are like that. Some of us are married to our video games. Posted via the Samsung Galaxy Note 5
Windows Central Newsletter
Get the best of Windows Central in in your inbox, every day!
Thank you for signing up to Windows Central. You will receive a verification email shortly.
There was a problem. Please refresh the page and try again.