Here are the latest Hidden Gems sweepstakes winners!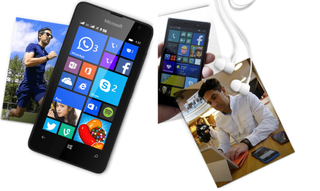 Starting back in early June we kicked off the latest chapter of our Hidden Gems series. Done in cooperation with Microsoft, we highlighted under-appreciated and high-quality apps on Windows Phone and Windows 8.1. This time around we decided to add a theme: What apps does Daniel like to use in his daily life?
And what would Hidden Gems be without the chance to win amazing prizes? We had lots to give away each day, from FitBits to HP 7 Stream tablets to Amazon gift cards. There was truly something for everyone. We've kept you in suspense long enough. Let's see who the winners are!
FitBit Charge HR
Callie1981
Mike Hillyer
pjhenry1216
Thomas De Long
TrophyNostalgia
TYLT Energi battery backpacks
cincykid76
jabtano
onthethreshold
Rebeccaoak
snapper922
GoPro Here3 White action cameras
Brenda Penton
neelagopi
qwe123878
sherwin892
HP Stream 7 Windows 8.1 tablets
azwcjoker
beemo20
Bill DeRome
jjMustang
Melissa Baker3
mrdtang
neodissension
Ray_Mikey
Rudiepoo1
XcZachx20
Canon Rebel T5 DSLR cameras
Razer Kraken Xbox One gaming headsets
AtomicFins
LightCycle
Lucas P
moc426
nwoodby
PainiacZ
pmartineau
TheSurfaceGuy
$100 Amazon gift cards
920inBlack
Axmantim
Beverly Brigman
Chinmay Trivedi
Chris Turek
Classicsmiley
Dadstar0410
Darkgift
evwilliams
friedchocolatesoda
Funky Cricket
gzmo67
hermanax
hnic29
Karl Boerger
moc426
msaalli
paschott
ShaunKL
wildwest310-xbox-live-gamertag
Congratulations to all the winners! We'll be in touch via email over the next few days to get your prizes sorted.
We hope you have enjoyed this chapter in our Hidden Gems series. A big shout out goes to Microsoft and the developers of the apps who worked with Windows Central to make this happen and all the people behind the scenes who helped create this presentation. And a BIG thank all of you for jumping in on comments, giving feedback and sharing these Gems with everyone! Windows and Windows Phone has a lot to offer, and it was our goal to demonstrate that in a clear and professional manner.
Look for more of our Hidden Gems in the future!
Get the Windows Central Newsletter
All the latest news, reviews, and guides for Windows and Xbox diehards.