Here are our latest Windows 10 Gems sweepstakes winners!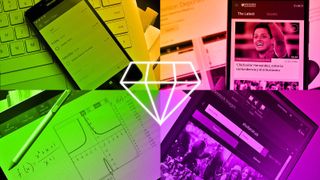 Over the last couple of months, we hosted the fifth in our Windows Gems series, and we had a blast covering what's new and notable with Windows 10 and Mobile. It's time to announce the winners of the accompanying sweepstakes, so let's get to it! If your name is listed below, congratulations! I'll be in touch with you in the coming week to get your prize sorted.
Beoplay H8 Wireless Headphones
Surface 3 tablet
$100 Staples gift card
Devan Hammack
evilgeniusmojo
jaimeastin
LightCycle
smthkat789
Keurig 525 Brewing System and $100
$50 Starbucks gift card
chadbad
chuck_manson
dbaxdevilsfan
gablee88
gzmo67
Office 365 Home
vedichymn
davisesq212
GrantVanderBurg
chikid68
nbarsotti
Lumia 950 XL
Xbox One 1TB EA Sports FIFA 16 Bundle
Lumia 950
Toshiba dynaPad Signature Edition Tablet
Xbox One Elite Bundle
HP Stream 8 tablet
Misfit Ray or Shine 2
CHIRT143
churchs19
llwallace
Legellan
pbilk
What's next? We're already in the early planning stages of our sixth Gems campaign with more awesome apps, more exciting games, and yes, more prizes. Stay tuned!
Get the Windows Central Newsletter
All the latest news, reviews, and guides for Windows and Xbox diehards.
A Rest of World Gems campaign? Edit: Sorry, genuine congratulations to the winners. Just got annoying reading every article to see it was US/CAN only.

Can't believe I need to write this again, but here goes... Each country has different laws, even different localities in one country have different laws. For example, there are states in the United States where games of chance like this one is illegal, which is why you sometimes need to answer a question such as what does 1+1 equal, because then it becomes a game of skill and therefore legal. I am sure that Mobile Nations has legal representation that reviews these things first and gives their OK. Suppose they tried to do this for all countries in the world, that would mean that they would need to hire a lawyer for each of the 196 countries (minus the ones that are embargoed) by the US to review the competition and make sure it is legal to give away to each of those countries. And what if they still happen to be in violation of a law, what then? They need to go to court, to jail? These competitions can be considered gambling in some countries, which can be severly punished. Or how about shipping? I once tried to ship a computer to my company's China office. Took months to get there, cost a fourtine, and was more or less stripped down in customs to make sure it didn't contain anything they didn't like. But you want to be included, screw the laws of your country.

The majority of our contests are open worldwide. The only exceptions are contests with sponsor restrictions (ie the Gems sweepstakes) and ones with a prize that only works on a certain carrier or region. We do our best to include everyone that we can, and in fact just wrapped up a contest that ended yesterday for a Lumia 950 or 950 XL that was open to everyone. :)

And the winners of those were announced already?

Has the winner of the global 950XL contest been announced?

Who's the winner Michelle?!!!!??!!!

http://www.windowscentral.com/were-giving-away-lumia-950-or-950-xl-enter-now

Hey, I'm not trolling here and have been a big fan/follower of WPC/WC for years guys and girls... You specifically asked for ideas etc.... I'm rather surprised at such a defensive (erring on aggressive) set of responses. Michelle, the 950 giveaway (yes, I'm aware of the odd wider competitions!) is good, but also counteracts much of the commenting above. It demonstrates wider giveaways are indeed possible, regardless of widely varying international laws. That said, I'm aware this is all thanks to sponsors and their terms will restrict eligibility. Sponsors (and both advertisers and users) make this site not only possible, but the thriving community it is. It is brilliant and continuing thanks to everyone who makes it tick! For me, and I'm sure others in UK, EU, AUS and other (many that are proportionally bigger WinMob user bases), the vast quantity of US/CAN-only competitions in comparison to RoW is irritating as they fill our newsfeeds (during GEMS it is several times a day) - only for the disappointment to hit once you salivate over the potential prize only to find the dreaded "this competition is only available to our readers in the United States and Canada".

I was not defensive nor was I aggressive. Try to put yourself in my shoes. I run contests for all of our sites, and we do our best to make them as fair for everyone as possible. A lot of work goes in behind the scenes both before and after the contest is ever posted, and no matter what we seem to do, there are always people complaining. Either it wasn't available in their country, or they think the winners are fake, or we don't do this or we don't do that. It's honestly pretty frustrating to feel like I constantly have to defend against complaints, when we are just trying to give stuff away to our readers. The majority of our contests ARE open worldwide, with Gems being typically the exception, and that is unfortunately not in our control.

Thanks for all your hard work on this, Michelle. I was picked to win prize and How do I claim the prize?

I'm still working on contacting everyone. You'll get an email soon! :) Congrats!

Thanks for your time and hard work, Michelle! I look forward to hearing from you regarding the Staples card. Thanks again!!

Hi Michelle, I still haven't been contacted. Any idea how or when you will reach out?

Hey Michelle, I still haven't been contacted. Any ideas on when that may happen? Thank you

Congratulations to all of the winners!!!

Congrats to all! Yay for seeing names that actually look familiar as winners! lol

Congratulations to all \m/ One Day :P :P :D :D

Congratulations everyone!

We still got the Age of Empires Castle Siege sweepstakes to look forward to

There's an error in this article. My name is missing. :) Congrats to the lucky winners!

GG to all people who won. WCentral made a lot of people happy today

Congratulations everyone. You beat me again. :P Enjoy the glory and the swag.

Huh. I, uh, actually won something. Wait, what? Posted via the Windows Central App for Android

Thanks! I've never won, well, anything in a giveaway haha. Posted via the Windows Central App for Android

Thanks! Posted via the Windows Central App for Android

Congrats! Posted via the Windows Central App for Android

Congrats to all the winners! Enjoy your toys! :)

Way to go to all the winners!
Gratzo everyone!


I can see my name in next giveaway right now.. Is anyone want to see??

Aw, rats! I really wanted that 950 XL! Congratulations to all the winners.

That's what I wanted the most too. Posted via the Windows Central App for Android

awesome... I won! There's a first time for everything... Thanks windowscentral (or should I wait til I get the gift card?)

Doh!
Ok, so I never got an email or anything. hmmm...

Congrats to the winners. ( I seem to use this phrase a lot) :)

OMG. I am a winner. I won the 365 subscription which is awesome since I recently bought a laptop and dont have a word processing program on it. Yay! Thanks so much.

Gratz to the many winners!

Congrats to all the lucky Winners!!!! Those are some Amazing Prizes!!!! Enjoy Guys!!!!

You won something before, how does it feel to be one of the elites?

That's some good memory you have my friend, I feel blessed, I was picked from over 6,000 people, I use the app everyday and they saved me a lot of money by sending me a 950XL, and because of that I have even been able to buy luxury items like the Leather and wooden back covers for the phone, I mean switching from a Nokia 1020 was a big leap in technology, processor and screen wise, but I do miss that Camera, 950XL's camera is good, but the 1020's would never take a bad picture, I don't know if it was the sensor size, algorithm or xenon flash, but I do miss it!!! Having loads of fun with the 950xl though, pictures, Netflix, Music, big Battery etc, just the whole app gap is getting to me, Amazon, MixRadio, CNN, I mean come on guys, and that Nokia Mclaren article shown earlier blew me away, I would have loved to get my hands on that, and would have made it my next phone for sure, I'm hoping the "Surface" phones will bring out something came changing otherwise might just have to get a Nokia with Android at the end of the year when they are allowed to manufacture again, who knows...

Wow I won staples gift card, Thanks Windowscentral! Now how do I claim the prize?

Congrats to the all winners, and Thanks Windows central.

Hooray! I can't believe I won something! Thanks, Windows Central! I look forward to hearing from you :)

Have any winners been contacted yet? I haven't heard anything and haven't seen anything in my spam folders.

I haven't been contacted yet, not sure how they planned on contacting us.

I see that I won too!!!! Anyone receive orher notice? Congratulations everyone else who won!

I still have not heard from anyone yet either. Its a bit odd but they will eventually get to us. :)


I think you are right. I can be patient.

Still haven't heard anything though. Been several weeks since the anouncment.

Its a bit strange since you'd think they could send an email by now. um... 3 weeks now to send 30 total emails?
​Something isn't right.