Here are the PC specs for the Windows Store version of Call of Duty Infinite Warfare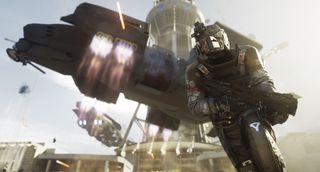 Both of this year's entries to the Call of Duty series will be hitting the Windows Store this November, despite some major caveats. Although these versions of the games will be separated from their Xbox One and Steam equivalents, they still offer the same campaign and multiplayer features across all platforms.
Among the support page which ousted the Windows Store versions, we've also been given a closer look at what hardware you'll need to be packing to run Call of Duty: Infinite Warfare.
Swipe to scroll horizontally
| Category | Specification |
| --- | --- |
| OS | Windows 10 64-Bit (with Anniversary Update) |
| Processor | Intel Core i3-3225 @ 3.30GHz or equivalent |
| Memory | 8GB RAM |
| Graphics | NVIDIA GeForce GTX 660 2GB / ATI Radeon HD 7850 2GB |
| DirectX | Version 11 |
| Network | Broadband internet connection |
| Hard drive | 80GB |
| Sound Card | DirectX-compatible |
These don't hugely differ from the minimum system specifications for the Steam version, aside from the requirement of an additional 10GB of hard drive space for the Windows Store version. As with other triple-A titles releasing on the Windows Store, the game will also require Windows 10's Anniversary Update to be installed.
Will you be picking up Call of Duty: Infinite Warfare on the Windows Store? Make sure to let us know in the comments!
Matt Brown is Windows Central's Senior Editor, Xbox & PC, at Future. Following over seven years of professional consumer technology and gaming coverage, he's focused on the world of Microsoft's gaming efforts. You can follow him on Twitter @mattjbrown.
It would have to be a really good game to buy it more than once. Unfortunately, the game sucks, and the fragmentation is no better.

On my list but, for the Xbox one... And chances are I will buy the disc version... and I have many reasons why I prefer DISC over digital...

I'm curious. Mind to share what those reasons are? I prefer digital for the convenience of not having to change disks and to be able to install any games in my library on a friend's console when I visit, plus I like to be able to jump into any game right away when invited by friends, etc. I understand there are probably lots of reasons to prefer physical, I would just like to know what those are from your point of view.

Digital is easier, sure but, some of the issues why I prefer physical over Digital are. 1. Value, a used game has value, a used digital game does not, even 10 years from now, it will have value. 2. Easy to let a friend borrow a game, or borrow a game from them 3. 20 years from now when the Xbox one is NO MORE and even cant get online with one, Digital game, no play but, a physical game should be able to install and play. I like to play classics time to time and in 20 years Xbox one will be classic gaming. 4. Again the Value, for my $63+ each game, I get a nice little case with the art that was designed for the game (plus Xbox live trials and other things). I do like to display my collection. 5. Used game values on buying. A 2 month old AAA tile used on Xbox is like $30 on ebay.... it's still on xbox live for $59.99 + tax. If you want to save ANY money, Digital is not a way to do it. 6. Do not have to wait 2-3 hours to download a 47.5gb(common size for the last 3 AAA games I downloaded) game from Xbox live on release day when I want to play it, installing from disc takes about 1/10 of the time. I like to get value for my dollar and a phsical game offers FAR more value in the long run

Fair enough. That makes sense. It would be a better deal if digital games were priced lower than physical. In my case, I never get a good deal trading in games, slightly better selling them on my own, so for the time it takes me to sell and deliver them by the time I'm done playing, I decide not to deal with it. I just buy them digitally wherever I am, and by the time I get home they are usually ready to play or fully installed. I rarely wait for a game to get installed. But sometimes I do miss the art on the games, no doubt there.

When I purchased my XBONE S a few weeks ago it came with the promotion of any free game. I picked up Forza Horizon 3 but had to get a disk version as the MS store said I couldnt get digital games with the offer. I am pretty much all digital this gen for the same resons you go digital so I went to Gamestop to see how much they would give me for the game so I could get it digitally. This was on THE DAY that Horizon 3 released and they said they were giving $15 for it. What a joke. Brand new, never opened, day 1 game and getting $15 for it.

Probably the only time that digital is cheaper than physical for a popular game is when it's a game like Ocarina of Time 3D. I generally prefer physical as well unless it's a special, limited time offer game.

Yea but, 95%+ of AAA Xbox one games on Xbox live, are RETAIL prices 2-3 moths after release. Pricing is everything when you try to play a lot of games. When the same game MS is selling for $59.99+tax, I can find used on ebay or another source for 50% or lower than that. Used games will always have a place in the marketplace... and never mind the WAITING for games to download, it just takes forever. Picked up a digital copy of the new COD last night... 51gb.. I waited 3 hours to TRY to play Multiplayer... even when it said "ready to play" I could not play it. It would load but, everything was "downloading". Started it around 9:30-10pm...and at 1am, it was not fully downloaded (I gave up and went to bed)... A disc game would of been installed and ready to play within 45 min...

True. I really wish digital games would cost less than physical at launch. And I agree that as long as companies continue manufacturing the physical disks, there will always be a market for them, and for used games. About CoD IW, yes... that's a huge download. While chatting with a few friends about it on Friday, one of them went out to get it at Best Buy, and I made the purchase from my phone using the Xbox app while watching Netflix with my wife. A few hours later, he texts me complaining about how long it is taking to install the game from the physical disk he bought (I don't really know when he actually started installing, so I'm not saying that it took hours for him to install). Then I go to my family room, turn on my Xbox One, and it was already fully installed, and the included Modern Warfare Remastered was about 35%. So in my case, I do know they take a long time to download and install, but there are times, like this weekend, that I'm doing something else and can just trigger the download from wherever I am and know that it will be ready to play by the time I get home or by the time I'm ready to play it. Now about CoD:IW... how u like it? I'm enjoying it so far, but man... when playing multi-player in a party, there are some serious performance issues on the Xbox One. Framerates would drop to unplayable numbers. At least Infinity Ward is already aware of the issue and are trying to figure it out.

Yeah I also prefer physical mainly because I can buy used copies for a fraction of the price of digital and if I choose to, I can trade in or sell old games for some cash as well. On top of that, I don't have to worry about losing my game forever if for some reason one day, Xbox Live or Steam were to permanently go under and shut down. Once the download servers are shut down, you're out of luck if you owned digital copies. But with physical, I'm free to install and uninstall as many times as i like. And finally, I just like having physical games for collection purposes. The game case looks nice and sometimes you even get bonus content in the game case like some posters or game art. Also, if you pre order and buy physical copies from stores like Gamestop or Best Buy, they will often give you pre-order bonuses like posters or in the case of Forza Horizon 3, a scale model of a Lamborghini. Sometimes you might even get t-shirts and so on. It really doesn't take me much more effort to change discs for it to be worth it to go digital.

LOL I am always laughing when someone mentions such thing as "someday Steam will shut down and all my games will be gone". Its a nonsense. This is like saying that Instagram or Facebook will close doors and all your messages, photos, videos will be gone forever. Chances are 1 : 100000000 Maybe if WW3 would hit the whole world or a BIG disaster would destroy everything but then you wouldnt be playing games on PC/console :))

I would if I were able to play on Xbox Live with my Xbox One friends..

lol unless microsoft subsidizes part of cost for w10 store customers, like selling it for 40$, I don't see this thing going anywhere

Unless Microsoft finds some other users than you, then yes things won't go anywhere. Because believe it or not, great games and apps are developed for money.

yes, but great games should allow players to play against each other = Steam vs W10 store edition or at least W10 vs. Xbox but non of this will happen with the W10 edition which is S T U P I D

no I'm just referring to the steam vs w10 store situation, there's no contest here, steam will completely eclipse whatever sales the w10 store manages to make, if you buy it on w10 store all you do is lock yourself in a tiny community and be forced to deal with UWP's limitations and nonsense, why would anyone pay the same price as on steam just to get a worse experience?

wow very nice, very low requirements. That is great to see. Previous WinStore games like this were just ridiculously un-optimized and demanded absurd specs

it's really nice to see AAA games on the windows store , finally , hope others will consider release there games on steam and Windows store

Yea but, you could always get them on steam or a 3rd party site, or even pick up a retail box in a store.
Windows Central Newsletter
Thank you for signing up to Windows Central. You will receive a verification email shortly.
There was a problem. Please refresh the page and try again.