HERE collection of apps receive updates for Windows 10 Mobile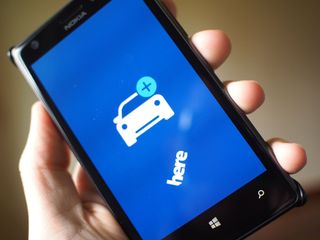 The popular suite of HERE apps for Windows Phone have been updated. New releases have been rolled out for HERE Drive+, HERE Transit and HERE Maps. Since there are six versions available on the store, we'd imagine that each and every listing has received some love and attention. Unfortunately, as is the norm these days, there doesn't appear to be a changelog.
We'll file these updates under stability and minor enhancements. Oh, and make sure you download the right versions for your device. Notice anything new since updating on your smartphone? Let us know in the comments!
Thanks to everyone who tipped us!
Rich Edmonds is Senior Editor of PC hardware at Windows Central, covering everything related to PC components and NAS. He's been involved in technology for more than a decade and knows a thing or two about the magic inside a PC chassis. You can follow him over on Twitter at @RichEdmonds.
Off topic, but shud I install the latest W10M build onto my Lumia 520?

Eh?? There is off topic, and there is waaaaaay off topic....

Do it now or never! Who MS may keep these 512 MB RAM devices out of w10m official release :-(

If they've insider program for it, they'll update it with 10.

Pls, don't. It sucks on 512mb ram.

My L720 with w10m is my daily driver for a very long time. Yes or lags a little start screen freezes once in a while. But once you are used to w10m, you'll never want to go back to 8.1. Am waiting for Mi5 w10 to upgrade my 720. Don't think MS will give us a mid range phone any time soon.

Finally the long press bug to select a place on the map, is fixed..

Indeed, finally works perfect on my L950XL :)

You profile image thief!!!

Who?? Me??
hahaha... NOOOOoooo !!!
:D

Yeah but now the favorite pinpoints have the white dot misplaced :P

Here is incredibly inaccurate in my experience. Was continuously showing I should get off the main road and make some serious detours through some corn fields. Uninstalled it.

Make sure you select paved roads only

I've never found the routing to be very good, though I can't say it's tried to take me through corn fields. :P

Were you looking for some corn? Posted via the Windows Central App for Android

If you're looking for corn just go to CornHub.com. Obviously.

Yeah, that's a lot of corns, ready for you to enjoy!

Maybe it's a kernel error

I guess the experience can be different, depending on where you are. My last experience with navigation was back in early October, when the early Win 10 Mobile had serious resuming issues. I tried to use the built in maps, but it kept sending in circles...not literally of course, but it kept putting back on the same roads after making me take several exits. I decided to use Here Drive and it took me exactly to where I need to go. Here Drive and transit have always been pretty accurate from my experiences.

Yeap I have two styles of use paved and off-road. if you are off road you need to say use everything otherwise set you routing preference to paved /toll roads etc. also have a look at your route optimisation we are all a bit different in this shortest/ fastest /balanced. shortest and unpaved selected will take you of the main road obviously at times. sounds like fastest and unpaved not selected is right for you.

Updates for WP 8 Version too.

Yep, got the updates also on 8.1.

I wish they would enable the option to hide my on-screen bar.

I was just thinking this to myself. :)

HERE City Lens now available for install W10M (I'm using a 950 XL). Not sure if it was included in this update or a previous one, but I had tried about a week ago and it was not available then.

Yeah! It has come with this update!
Man! That's the only application I still prefer windows over others :D
Thanks to Nokia :)

It's a standalone company for now :)

It fixes the pinch to zoom issue

Still looks like a mess on phones with high resolution screens :(

What about HERE maps on W8.1 it's been trying to update for like 4 months now?!

I got update today for here map and drive.drive version 4.8.215.1 and map version 3.13.180.1

It is finally in the store. Go get it, before here removes all of its suite for some technical reason :D

I don't see it.... grateful if you post the link

Here you go HERE City Lens https://www.windowscentral.com/e?link=https2F%2Fclick.linksynergy.co...

I think some of here apps also updated for WP8.1 users.

I only use HERE Transit, for all other things the built in maps app in Win10M is better.

Here Maps are now available on Windows 10 store also (on PC) i didn`t find it before. But there`s no Here Drive. If i use my 2in1 tablet i still have to rely on Windows Maps for navigation.

To defect them once again?!

Got the update on 8.1 also and got maps updates

Map updates are also available on W10M.

Hopefully the issue where it stops updating the location and/or freezes after a little while if use is fixed because I still prefer Drive+ with its driving mode to maps having to put in directions to get close to free driving mode.

950XL here.The touch issue is fixed!

Good here apps are back on the store.

Its only normal for WM to have updates without changelog. Heck you cant even see when the app was last updated. Posted via the Windows Central App for Android

Why they are so many applications of here maps??Why they unify into 1

If applications crashes, the entire suite will be not responding. Its better, they keep them separate.

The HERE suite has provided flawless directions for me the past three years in the northeast US. Respect.

Here maps use to give me voice navigation now when I press it it tells me I need an app to do this would I like to find one? Why should I need another app to use a feature in an app that use to be there? A shame I have to keep my Garmin around but it's reliable & smart

All HERE updates fail, am I the only one?

I still can't sign into the app with Facebook

Have been using this since my 822 days its come along way...once you figure out the settings this is a rock solid app

can anyone post the version numbers!! I cant tell if i already have the last version or not.

I got the update notification, and now Here Drive+ no longer works. It just hangs on the startup screen.
Windows Central Newsletter
Get the best of Windows Central in in your inbox, every day!
Thank you for signing up to Windows Central. You will receive a verification email shortly.
There was a problem. Please refresh the page and try again.