Make sure you get the right versions of the HERE apps for Windows 10 Mobile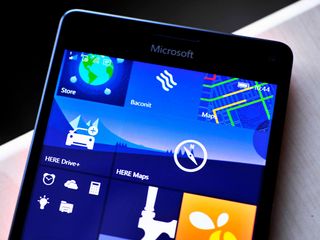 Last week, the HERE team and Microsoft finally resolved that long standing 'bug' issue that prevented Windows 10 Mobile users from utilizing those Maps, Drive, and Transit apps. While Microsoft is steadily building out its own Maps application HERE is still a critical service for many users around the world making its absence detrimental for new Lumia 950 and XL users.
Unfortunately, app discovery for the HERE suite is slightly problematic as is the story behind the solution. HERE did not just update its existing apps on the Store, but instead re-listed them.
The effect? Technically there are two sets of those three HERE apps. That is six in total for those good in the maths. The bigger result? Windows 10 Mobile users will likely land on the wrong ones in the store. And as expected, we have seen numerous comments, tweets, and forums posts from users of a Lumia 950 and Lumia 950 XL stating it is still not available, which is a shame.
The correct links
Listed below are the appropriate Store links for Windows 10 Mobile.
Alternatively, you could do a search for HERE Maps, then scroll down to Published by: HERE Europe B.V. and tap the publisher name. That action will then populate all of the HERE apps, and you should see six listed. Now, you can grab the right one and hopefully find your way to that next location with ease of mind.
At this time, it is not clear how Microsoft and HERE could resolve the issue. Putting 'for Windows 10 Mobile' in the title could certainly help. Then again, these 'new' apps are nothing but the 8.1 ones with a bug fix for the OS meaning they are not "true" Windows 10 apps. A better search algorithm would also be useful.
For now, just remember this tip, grab the apps, and share with others!
Daniel Rubino is the Executive Editor of Windows Central, head reviewer, podcast co-host, and analyst. He has been covering Microsoft here since 2007, back when this site was called WMExperts (and later Windows Phone Central). His interests include Windows, Microsoft Surface, laptops, next-gen computing, and arguing with people on the internet.
Is there anything different?

there is an update today!

Yes seems faster lol but no I didn't see anything new Daniel either.

Yes. They are still better than windows maps.

That's not the answer to the question he was asking. He was asking of the 'W10M version' is different from the 8.1 one. The answer is 'no'. This has nothing to do with Maps.

Ah, I thought differently. But still I'll hold my stand on this one.

Well Windows Maps does alternative routes ..the map data is the same basis.. in my book this makes windows maps the better solution

Overall perhaps, but Windows Maps/Drive has lane assist for example. So on some things it's actually better.

Wrong, Microsoft's Map is better.

Oops... you forgot the IMO or IMHO. :)

Nope, Navmii is way better

I disagree, Here apps used to be the go to option for me before, but in the default maps app in W10M is superb at least in UK and at least all the many times I have used it. One single app has all the functionalities of here maps, transit, and drive and with additional functionalities such as tracking ur self when u are using public transport in relation to the stops.

It also allows you to save where you parked your car as well.

I wouldn't say it's resolved with an annoying issue like this.

Good to see Microsoft is keeping everything simple as usual.

Another bug in the TODO list of the store. How difficult can it be to show different apps for different OS. The Store app really sucks :(

Um, that functionality has existed since WP7, so ...

Not difficult at all, if the publishers use it correctly. This is entirely HERE's fault. They should have added the Windows 10 versions as new bundles for the existing apps, not as new apps. Then the Store would show and install the W10 version to W10 users, and the WP8 version to WP8 users. It would even upgrade automatically when upgrading from WP8 to W10. All this works fine for other apps, e.g Fitbit. Alternatively they could have fixed their WP8 bundle to work properly on both platforms. You should only need to create a new bundle if using new features of W10 that aren't available on the older platform and there's no way to detect them when running.

So a program (i.e. DevCenter dashboard) that lets users (i.e. programmers) do something wrong (i.e. posting two apps with the same name from the same developer account as available on the same OS) is not bugged? In the enterprise where I work it is a frequent joke we make when they they tell you there is a bug we respond "it's a feature, you should learn to use it :P" What you should ask yourself is: "is there any use case where this behavior could be needed?", if the answer is NO then it should not be allowed, more so if it causes other problems down the road (and Murphy's law tells you that it will cause problems).

This is not user friendly and the store over all needs to continue improving. Here's hoping! I'll stick to Windows 10 maps, it's miles better in Dallas anyway. To the HERE users, good luck.

You know Maps is using Here data, right?

With a few extra goodies, so it does make it a bit better.

It's not Microsoft's fault, functionality functionality exists to have different versions per OS. Nokia stuffed up.

But windows map doesn't had compass function...here still the best

And Drive lacks several features that Windows Maps does not, including alternate does and street view. I was initially disappointed that Here wasn't available on WM 10 but since using MS Maps Here feels very outdated.

Is anyone aware of the fake apps of HERE suite?

The only app I need now from the here suite is here transit. Nothing as good on Windows yet

Agree. So, so glad to have that back.

My Here Drive + just received an update, Lumia 950xl

Second that, updates for Maps and Drive in my Lumia 950.

but major bugs not fixed (try tap and hold on map)

A shame they haven't tested pinch-and-zoom on the 950's, the behavior is completely off-centered...

Yeah I noticed it too, what a shame!

HERE Maps has something similar to City Lens, called Live Sight.

I got an update for City Lens today too. It is still there somewhere.

Sadly, not there for Windows 10 mobile.

I had been looking for HERE City Lens too. I found it in the store's "My Library" section. But the City Lens page said that the app is no longer available.

HERE City Lens just returned to the Windows 10 mobile store. I was able to install it on my Lumia 950 XL.

Thank you! I knew I wasn't crazy... My wife might disagree, but I know the truth! ;)

Just got an update on the old Here maps installed when back on 8.1. Seems to be working fine on windows phone 10.

These apps were HUGE VALUE-ADDS for MS on Windows Phone. That there could be ANY issues at all getting these at any time is RIDICULOUS.

Mine says on the 8.1s not compatible with this device. So it does let you know which ones not to install in the 640 with wp10.

That's not the point, the point is that a search for them on W10M will most likely show you the WP 8.1 ones in the results instead of the correct W10M ones.

Yeah I know.. I was letting people know it does that so you can't install the wrong ones.. It's annoying yes but it tells you.. Just not in a smart logical way.

Used the search in W10M and found the usable ones immediately. Searches just "HERE". The first six listings were the HERE maps, drive and transit (8.1 versions and 10 versions)

I had to use Google maps nav on Android the other day on a long tip from PA to FL and I have to say that Google Maps is so much better than either Maps or Here Drive+ in the US. It's not even close. Google Maps picked the better route each time and it's nav is smoother than either. I hate to admit it because Google is evil, but man do I wish they would bring their maps and nav to Windows Mobile.

Get Navigon and you won't use both anymore. Bing/Windows/Nokia/Google maps main advantage that they are free. But come nowhere close to a proper nav app. LIke Navigon.

Agreed. The only issues I have with Navigon that it hasn't really been updated in more than a year and a half. I also think that the CEO of the company jumped ship to Sygic recently and because it's owned by Garmin its fate is questionable.

Really? I truly hated the Google Nav experience especially when I hit dead zones for cell data. Never had that problem with Drive.

The fix seems obvious. Dump the older listings. If the posts are no different except for version check on the OS then it should work on 8.1 and 10 shouldn't it?

Windows Store allows you to have one app listing and different builds per OS version. Why Nokia hasn't used that functionality is beyond me.

@Nik Rolls. Well, Here is now longer part of Nokia. So it's who over seeing this at the consortium of car manufacturers needs to sort this out.

Drive and Maps (win10 version) have bug on 950XL - panning and zooming is off. Seems like touchscreen coordinates are improperly scaled.

i have problems with the bluetooth and the audio in the map Apps, dont know why yet

You might as well select the right link from their homepage www.here.com - but just if you find that information in the deep links of the homepage

Just some advice, do not install here drive ++. It's like a fake here drive, wants you to sign in with facebook, does nothing and when you quit tells you to give it 5 star review.

I got an update today for City Lens too on L950.

I cant download it. Says device not supported, lumia 950.

...I also loved the City Lense! hope it comes back too

Are you sure the duplicate apps are because of the OS version? There have always been two of each app in the store. Ones for Lumia phones and ones for non-Lumia phones.

Thank u so much for this post! :)

#UWP? Anyone? Hopefully HERE folks will embrace the UWP model soon.

Someone else also figured out that if you bring up the Store, then go to My Library and show all your apps you can actually install the correct version by locating the HERE apps in your library and reinstalling from there.

Well Daniel, you certainly cleared that one up. Where was this info in yesterday's article? The fix was known way before that was published.

I dunno, snow or something.

Wow, a measly three or four feet of snow really gets you guys preoccupied. Anybody found their cars yet?

The maps app native to W10m (a here product) is far superior. Haven't missed the actual Here maps or here drive +plus apps in the least.

Finding the proper public transport route with the default w10 maps app is a pain in the ass. You are unable to exclude transportation modes and there is no way to find the time tables of the nearby transit stops.

I strongly disagree - microsoft's own map app on w10m is pretty much unusable as in-car navigation. UX uses tiny text an controls - a traffic danger in itself - and you cannot view the navigation view without first entering a destination (useless for commute for example). Drive+ OTOH is market-leading. I repeat, product manager at Microsoft should be slapped with a wet trout.

Thx! Couldn't find them to install on 950. I will try HERE Drive tomorrow on my way to my prospects...

How about here city lens ??

I've been using the regular maps app on wm10. Is here maps for wm10 better?

I think the pure maps functionality of the default W10 is better than here maps. However, when it comes to finding the best public transport route, here transit is far superior. I also like here drive more than the build in driving directions of the W10 maps app

HERE has IMO much more fluid and intuitive interface but MS has more POIs, POI information, alternate routes and in theory in route rerouting. Sorta Mac iWork vs MS Office scenario if you've used both.

Here had configurable voices which sound less mechanical/computerized.

Having multiple routes to choose from is a big feature missing in here maps but not in the new maps app.

Really, MS? Can you get at least one thing right? It's been a downhill ride since the new people took over from Sinofsky.

Why is this Microsoft's fault? The store supports having different app releases per OS version, and Nokia have clearly used it incorrectly.

It says in the article that MS resolved an issue. If it was in the OS, there was no need to fix the apps. If they needed to fix the apps, it means somebody made an extra effort to create this problem instead of just incrementing the versions and re-uploading the apps. Here team is not Nokia anymore, BTW

I got the correct one but I have the problem that the touch is broken in the maps app. The touch point is half a a screen size to the top left, so anything I want to touch on the map needs to be within the top left quarter of the screen. Very annoying.

Thanks for the clarification Daniel and thanks HERE for continuing to support these for WP8.x and WP10! I still like the simple and large UI of HERE drive while navigating. Mycommute is nice but wish they had a full time active traffic re-routing function and alternative route selections.

I wondered why one minute it said not compatible and the next time it installed!

I've said this many times before, but I want that header image wallpaper

Well, it does say "this app is incompatible with your device"...People are dumb, but maybe not that dumb.

Sill Here maps are better since you can avoid tolls. Windows maps doesnt have this functionality yet, only rerouting.

I found Here Maps and Here Drive under my Library. The version on my 950 phone is 3.11.171.1. I will check the version on my Noka 928 phone later today. Let's see if they are the same version. Seems to work on my 950.

ONe thing is for sure. The clarity and precision of the Here Maps on the 950 is far better than the Nokia 928. If you have zoomed out to see how the "topHalf" of the Atlanta interestates are handling traffic, the 928 would not clearily differitiate traffic on both north/south lanes. On the 950, it is cryastal clear. The 950 display is noticablly superior and makes life much more productive. I have experienced two phone locks which required forced power off to get the phone back up and running. I also had one auto reboot. Not sure what was going on.

Cannot believe this. There was a time when this app was exclusively available to the Lumia.

ABOUT BLOODY TIME! WHAT ON EARTH TOOK SO GODDAMN LONG?!?!?!?!

The store in Windows 10 doesn't tell version number and last update day!? Even Windows Phone 8 do that.

What happened to city lens or something like that? Because of the locale I have here transit is replaced by city lens. Very little public transportation around here....

Here maps didn't exist for Japan, making Windows Maps the only solution for me. I have been happy since the switch and hearing that there is no difference between the Here Maps for 8.1 & 10 headed me to be wary about downloading Here.

So is there a mapping solution for Japan?

The side effect is that HERE is now available on non Lumias :-)

As they have been since 2013

So on what kind of phone have you been using it?

Too bad Waze won't update for WP10.

Google bought Waze, soo there is that.

Is City Lens only for 8.1 at this stage? Still doesn't show for me.

Pinch to zoom is wayyyy off

chinese map data are not up to date,been a long time not to update…

Haha. Fragmentation even in the app store. Something even Android doesn't have. Way to go Winblows. Hey, let's re-invent ourselves again... Windows 12.1, because this time it's better. Did we mention free?

The store allows for entries which can determine your o/s version and push the correct version to the user. However in this case it wasn't utilized, hence the duplication. So it falls squarely on the person or people who is in charge of getting it on the store at HERE; not Nokia - as HERE has been sold to a consortium of car manufacturers.