HERE Drive+ for Windows Phone get updated with bug fixes and improvements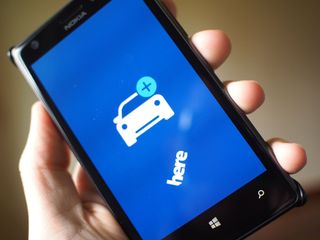 HERE has released an update for its HERE Drive+ app for Windows Phone users. The popular navigational app, part of the HERE family of mapping apps, looks like it got a small update with no new features listed.
According to the change log, the new version number for the app is 4.5.204.1, but it lists "Bug fixes and stability improvements" as the only thing in this release. If you do manage to notice any major improvements to HERE Drive+, feel free to alert us in the comments!.
Download HERE Drive+ for Windows Phone (Free)
Thanks to everyone for the tips!
Still not WP10 compatible

Cleary they folded it into maps

What is not working? Mine is launching just fine...

Really!? I lost the ability to get HERE apps on WP10 when I did a hard reset before installing 10512.

I just went into my app library in the store and downloaded from there.

I can not find the app in the windows store. Can you please put the link to it? ... Thank you

They have removed it seems HERE DRIV from Windows Store. unable to find it. its really sad.It used to work so well. but cannot find HERE DRIVE ANYMORE IN WINDOWS STORE. :-((

It doesn't want to update!! Like a lot of apps on WM10

W10M maps is far superior

Agreed. That said, UI of new maps is spartan and still a little crashy on ny ICON linking from Cortana or Edge.

W10M maps doesn't have voice guidance so I never use it

The Maps app in W10 mobile certainly does have voice guidance. I just tried it. Perhaps it's a region thing?

Wish someone could tell where to download or activate voice guidance. I can't find it anywhere

Just discovered you have to download your language in the menu time and language, submenu speech recognition and then it will work.

Lol, my here drive+ dont know the position though it is activated. Keeps asking for gps #W10M

Mine works just fine and have done so in every build I've used

This is how I got HERE back on wm10
- Download an app called 'Maps' by Live Tiles
- search or click somewhere on the map
- click on directions
- a menu page will pop up asking what maps you want to use for car directions. Click on use HERE maps
- HERE maps opens and the HERE suite will appear in your app list, including drive+ Hope this made sense.

I still question it's popularity against other apps.

In north America and Europe it has worked better than alternatives based on Tom Tom for my uses.

I like it and is accurate for US. But absolute fail that it doesn't reroute for traffic!!! Still use my 5 year old Garmin to make sure I'm going the optimal route.

I absolutely love it for a free app on my US 920. Still flawless in W10M.

But it's not in the store

I just updated it using the store link in this article...

This is my favorite navigation app. But, yeah... Busted on W10M.

Will it come to windows 10?

Not likely since Windows Maps uses HERE maps and traffic and Nokia has removed most if not all of its remaining apps from the WP platform.

I use all of the HERE apps on W10

You have them.installed from 8

I have HERE Maps and HERE Drive+ installed... Work great.

The only upate I'm getting is 0x80073CF9 - Micrsoft really needs to fix their store. The fourth app that is stuck in update mode and cannot be uninstalled now.

I second that. Metrotube is doing the same thing for me. I don't want to hard reset.

Those apps aren't compatible yet..

Here says there's a glitch with the listings and that the apps will be back...but who knows when. The only way to get the app currently is to download it through the SysApp Pusher app.

I hope this works. I've given up on Drive+ on my WP8.1 Lumia 930. Freezes and crashes ALL the time!!!!

It worked correctly for me on 8.1 L930. Crashes or freezes constantly on W10M.

Does anyone else find (on a L930 or otherwise) that when you open Drive+ it freezes for about 20-30 seconds?

Yep, but not necessarily at any specific time from when opening the app.

It did that constantly on my Lumia 830 as well. The 'fix' I found was to turn off the internet connection and rely on offline maps.

Yes mine keeps crashing too on 8.1 L930, hope this sorts it

Don't gold your breath. It still freezes for up to half a minute every time I open it and still crashes every time I receive a call or text while I'm using it.
Thank goodness for Sygic!!!

Have never had a problem on my L930

I asked Here about all the Here apps a while ago and they said it's a glitch and that they will be back...who knows when. You can download them right now through the SysApp Pusher app, though.

Tried it; no go... "Not available any more", or some such.

There are two listings for Drive on the app. One of them should work. I just tried it and it still works.

Lumia 930 with w10 and here drive its ok

The app kept freezing up on me before this update so hopefully this will fix that. Or maybe I just need to uninstall and reinstall.

I really hope they fixed the crashing of the app during navigation. It has just been terrible lately.

What's supposed to be not working on W10m? It's working perfectly fine for me.

Same here, only it crashes sometimes.
Maps app from Microsoft can't match here drive yet. It is too regional. No language support, no foreign road signs..

I've gotten to loathe this app. If you're in a parking lot, or anywhere else not on an actual road, it does not care. It always says you're on a road and gives directions like you're on the road. So if you're in a parking lot heading west, it will put you on the nearest road and give you directions like that. It also takes about 7-8 seconds to reroute. So let's say you miss a turn, you're going to drive by 2-3 alternate roads before it tells you what you need to do. The traffic information is never correct. There are no options to force an alternate route. The directions aren't as good as my wife's iPhone's Apple Maps. The app sucks. 2 stars. And 2 only because it tells you tour speed.

I haven't encountered any of those things when I have changed the prescribed route.

Freezed frequently on my Lumia 830. I found that having my Bluetooth off seems to help have it last a little longer, but on long trips, It would still freeze/lock up.

Yep, updatet. Maps too, today.

I´ve been using Here Drive+ on L930 lately and freezes all the time!!! The other day, I was on the highway, the app froze and I diddnt turn where I was supposed to make a turn and I had to drive more 20kms till the next exit to go back to the turn which I was suppose to turn. Drives me CRAZY!!! The live transit is not accurate AT ALL where I live. I live in Porto, Portugal. Google Maps transit notfication is 100% accurate. Another thing that happened: I was driving and suddenly was a street with no end cause a train pass in the middle of the street so the street is blocked by a wall. I took pics of the place, printscreen of the map and sent to Nokia. By the way, the Here Drive+ update doesnt complete the download bar. Gives an error message. I have to go back to Apple Maps, which I like actually, has a clean design and is smooth.

I prefer google maps personally, but I hear you. This app has not improved at all that I can recall in the past almost 3 yrs I've had my 920. I recently bought a neutab 7" tablet to drive for uber, and found the here maps app to still suck. Google maps has been much better, despite not having offline maps as good as the drive+ app.

Wish they would add something to show the picture of the place you're going

Nice. If only we could have Transit for W10 as well...!

Lumia 1520, italy. Here drive works perfectly in Italy and around Europe. Only problem I found traffic info are not as accurate, but this depends i believe because of not as many WP phone as lagdroid so being based in crowd data they are not as updated. Just a matter of time.

I'll check it out at work when I start shuttling customers home

We need ability to save offline maps to SD card. Any insiders seeing this please add the feedback.

Fails to update on windows 10! That's another on my list

Works like a charm for me from day one on my allmost 3 years old 920. Updated with no probs. All i did was i updated maps before i did HEREDrive and i had no problems. BTW im from Europe.

Item not found! Is there any problem with link?

No.. Seems like the app is pulled from some Store. Same here, been months.

Just used the app today. I noticed a stronger battery life.

Besides basic stuff like navigation rerouting which it doesn't do, Here also needs things like more accurate points of interest, and Uber integration.
But we all know it isn't happening.
Looks like this is now a legacy Windows phone app that's only going to get bug fixes from here on.

The turn tolls off option doesn't work here in Sydney. Still takes me through tolls, and they're damn expensive.

To me HERE Drive is as good as Garmin honestly. Personally I think it actually is Garmin, to tell the truth.

Seems to have been taking out of the store.

Can't find Here Drive in the Store anymore. Annoyed because I uninstalled it as it wasn't working properly, and now I can't reinstall. Does anyone know why it isn't in the Store, and is it coming back.

I cant get Here drive + to even open the last two weeks. It says 'There was a problem. Please try again later' and then the ok button. I have posted other places but no answer. I have a Nokia Lumia 520

here drive + is the very nice drive apps but my store is out please again come in the window phone 8.1 store
Windows Central Newsletter
Get the best of Windows Central in in your inbox, every day!
Thank you for signing up to Windows Central. You will receive a verification email shortly.
There was a problem. Please refresh the page and try again.