HERE Maps for Windows Phone update ask users to download new version that can't be seen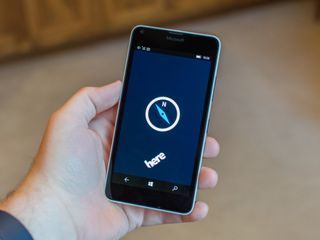 Windows Phone and Windows 10 Mobile users who use HERE Maps have been prompted to download updates for the mapping app this week. However, the problem is that the update is asking them to download an all-new versions of the app that is currently not visible in the Windows Store.
The update would seem to be a good thing at first glance, but the prompt to download the new version that cannot be download is basically disabling HERE Maps. Jere Suikkila of HERE's social team stated today on Twitter:
We will post an update when the all-new HERE maps app is visible once again in the Windows Store. Until then, we would recommend not downloading any HERE Maps updates if you want to keep using it on your phone.
Thanks to everyone for the tips!
Download HERE Maps for Windows Phone
Source: Jere Suikkila (Twitter)
Windows Central Newsletter
Get the best of Windows Central in your inbox, every day!
So... when will Here Drive show back up on the Windows 10 store? I could use it on my 640, but only because it was pre-installed. Not the case on my new 950.

You should use Maps instead. Same features as Here Drive, but way faster (on my Lumia 930).

There isn't. I use Here to see the traffic. The traffic in maps is more polluted than Here. If you are using without a destination, Maps will lock the screen, Here won't. There is also a button to see the traffic city from above on Here, and it isn't available in Maps.

Yup and I can see bus numbers from the bus stops selected in Singapore in Here but not in built in Maps app

Maps has godawful UI that makes it completely unuseable while driving. I can't read ANYTHING. Also, Here Drive has the fantastic Communte feature that I've grown used to.

I like the Maps UI more than Here Maps but I kind of miss to specify not to use toll roads.

And Maps doesn't support my HERE collections, which I built up and could use over multiple OSs. So, no, not the same features. Similar functionality, but not yet entirely ready, and has lost/not implemented, features.

> says Here Maps is broken
> adds download link

Says Do Not Download, posts Link to download

I want all the HERE Maps HERE Drive HERE Transit HERE Explore back to Windows store. 8-(

Was asking myself the same thing

I wonder how many downloaded without reading lol

Well it says "this item isn't available in the store" so np

I admit. I didn't read haha! :P

They added the link the app that is hidden from the store. People can't download it but when HERE fuxes the issue, people will be able to.

Windows when will they learn

Reading. When will you learn?

even tubecast had this bug -_- can't find the app in the store !

go to my library on the store u will find all the apps u have downoaded since using windows 8.1 this is how I found it and downloaded it after signing with the same windows account of course

Using Windows Maps would be all well and fine but it crashes on start up every time for me and I get "Something happened" error when trying to manage my offline maps in settings. Just updated from 8.1 on L925 to latest fast ring build. Device Recovery tool won't work to revert. Anyone else have Maps crashing issue?

Me too! MAPS doesn't work. HERE and HERE DRive don't work on my Verizon Lumina ICON. Help!

Use sygic navigation app.

Yeah Sygic is good and the UWP for WP10 has more features. That said, I'll miss HERE like I miss Waze.

The app has been completely missing from the store for WEEKS

Revert to 8.1, install HERE suite, upgrade to 10586, don't hard reset.

Yeah that's what i had to do. I got my friends old 1020, had to hard rest to take their data off...HERE maps GONE. Coudn't get it back. Had to use the recovery tool to put the Carrier image back on and it includes the HERE services. Now i can't update and now i know why.

Did that yesterday on my 1520, but did a hard reset after the 10586, and HERE Maps and Drive+ were still there.

It's probably been two months now.

That is what I thought about when I read their reply on my tweet!!

Welcome to 3 days ago lol.

Yes I made the mistake of getting this last update after getting the new windows 10 and being able to save maps to the SD card finally on my Lumia 635 just to find the app is now useless..

I just downloaded HERE Maps this morning and there is no message to update.

Can somebody tell me when here maps for Windows 8.1 will be available? Official blog keeps silence..

Isn't it already available? I have it on my tablet.

The Store says "Here Maps is not currently available" (Windows 10 Mobile build 10586, Nokia Lumia 930 unlocked UK version).

Yeah that message, went to store can't find then WC provide link but in the store says "not available" lol

Meanwhile, the Windows Maps app's search function doesn't seem to work unless you disable WiFi and Mobile data. Anyone else having this problem?

HERE Transit does the same

When I click the link to download the app in the article, the Windows 10 Mobile store says that the app is no longer available and to go to Microsoft support online. I'm a not worried about "no longer" available.

Why did you post a link and a QR code to an app that isn't available? Many people will just scroll down to the link or QR code without bothering to read the entire article. Posted from my Moto X Pure Edition via the Windows Central App for Android

Nokia apps are always a legend.

A little off topic but why does the store show downloads available yet many of times no icon or description? On mine I'd assume Here Maps is one of those blanked, no didn't update lol.

I got the same issue, yesterday, with Here Drive + and Here Transit.

Perfect tube update on the 15th caused app to crash only to find later on that is no longer available in the store

Oh! Late recommendation. I've received that update yesterday and after that I don't have here maps and bus.

Hope Here Transit makes a reappearance, it's brilliant for planning journeys in advance. Windows Maps does similar but you can't look hours / days ahead. Unless I'm missing something that is.

I just looked in the app store from the link in this Windows Central app and it says it's not currently available.

I created a thread in the forum 2 days ago as soon as I updated about this error. How annoying. They have been working on this technical issue for over a month now. What's going on? Why release an update that disables the app. How dumb. Release another update which reverts it back to original state for those who have it installed already. Don't like Windows Maps even though it used HERE Maps data ad it isn't as feature rich. I need HERE Maps back.

They removed the windows phone SDK from the here development site there is only android and ios sdk's I think they stopped developing for windows phone and I'm leaving windows phone for here maps

I saw that too. Sad. Just want someone to support our small ecosystem because they have a heart (and in this case a history with WP).

Why is not possible to download HERE maps?

the store says the app you're looking for isnt here anymore!!

I used here transit in June, waited an hour for a bus it told me to catch, then found out that service was cancelled over a year before

when you visit here.com web site you will find only two versions of here maps to download to your phone only IOS and android also when you visit here.com from your windows phone on internet explorer "desktop version" you get the message you browser not supported and no SDK for windows phone this means that here maps is gone for good for windows phone so sad

HERE maps 'promised' us that Widows Phone would continue to be supported when Nokia sod them off. The truth is now exposed, no more HERE Drive or Transit. Keeping my WP8.1 and all my HERE apps, as WP10 is killing off the Windows Phone ecosystem.

Is​ the database for Android and windows phone is different for here maps? I'm just asking as I saw a more detailed map in android version than in my Lumia. This in not fair.

I also noticed that the official https://www.here.com website promotes the HERE app to be downloaded for the Google and iOS store but no mention of the Windows App Store anywhere. Should we all be worried :(

i think they've pulled out the app from windows phone.

the "new" version of Here Maps will be the native Windows Maps app, I guarantuee it. So long, Here Maps/Drive....

but lots of apps are tied into here maps, my nokia tresure tag for instance, hope they think about & fix this before they leave us high n dry

If HERE Apps are not going to be on WM10, I'll have to go back to iPhone, seriously ​Windows Maps sucks big time. There's no public transit option, nothing shows when you tap a POI or bus stop, nada. Plus, as someone else mentioned, I spent a lot of time pinning favorites for HERE Drive+, like for all our vacations and everything. MS is blowing it by dumping HERE products, they'll lose LOTS of fans in Europe, and this is where they're trying to build their base.

Same here even when I try to search for a place on windows maps it shows me results in other countries not in my location.. HERE search is just perfect unlike windows maps

More proof they're ditching HERE: ​On the latest build, go on Windows Maps > Settings, scroll all the way down and what do you read? "About this app (c) 2015 HERE, (c) 2015 Micorsoft Corporation." Case closed

What MSFT is waiting for to offer a tool to import collections (favorite places and routes) from HERE to (Windows) Maps??? On Nokia times, Gmaps used to import the data with no problem.

What is happining nothing has been said and the app all of sudden just disappear. Alteast they should inform what's going on whether they're fixing somthing or they've just pulled out the app (sorry for my bad english)

Where is it? Noting Back Till Now Even U can't Download it from the link!!!!!!!!!!!

@ Ashishmarlecha Where did you find it? Still can't download it on my 950xl. Still says "HERE Maps is not currently available" post link please.

HERE decided to shoot themselves in the foot, and NOT offer it's app to Windows 10 Mobile once (when?) it becomes available. What a stupid business move! Now to "teach Microsoft Windows Maps" to behave like HERE did, and offline, too.........