Here's all the ways you can catch Xbox news from E3 2014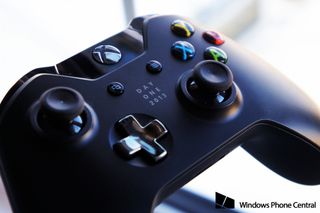 We already know the Xbox E3 2014 event happens on June 9th, but there's much more than that one event happening and you're going to want to stay up to date on it all. Thankfully, the Xbox team has now outlined all their E3 2014 details, events and where you can catch the news as it happens. It's a pretty intense line up of things and it certainly sounds fun, so be sure to check out the full list.
Microsoft Store Pre-E3 Event (Sunday, June 8 from 1-3pm, line opens at 11am) - Have you always wanted to attend the Xbox E3 Media Briefing? This is your chance! One hundred people who attend this event at the Century City Microsoft Store will be granted access (via raffle) to Monday's Xbox E3 Media Briefing event and Xbox: E3 Briefing Post Show. While you're at the Microsoft Store, go hands on with ID@Xbox titles as a sneak peek of what's on the E3 show floor – before E3 even gets underway. We'll share more specifics next week.
Pre-Show/Green Carpet (Monday, June 9 at 9am) - New this year, we are inviting fans to be part of the excitement at the Galen Center in the final minutes before the show kicks off. Tune in to our live stream on Xbox.com or Xbox Live for an exclusive pre-show featuring sneak previews and interviews with our development partners and celebrity fans as they arrive at the Galen Center and walk the green carpet.
Xbox: E3 Briefing Post Show (Monday, June 9 at 11:15am) - Tune over to Twitch.tv/xbox immediately following Xbox: Game On for a live, fan-centric "post-game show." Xbox leaders and developers seen on the Media Briefing stage will talk more about what was just shown and will answer questions from Twitter and the live studio audience. Guests include Phil Spencer (Head of Xbox), Chris Charla (ID@Xbox), Yusuf Mehdi (Microsoft Devices & Studios), Ted Price (Insomniac Games), and Bonnie Ross (343 Industries). Details on how to submit questions for the Post Show will be revealed soon.
Sunset Overdrive Event at Century City Microsoft Store hosted by Major Nelson (Wednesday, June 11 from 6 – 9pm) - Insomniac Games is taking the Sunset Overdrive E3 show floor experience outside of the LA Convention Center for one night only! Join us at the Century City Microsoft store to be among the first gamers to go hands on with this upcoming Xbox One exclusive. Attendees will also have the chance to meet the Insomniacs that make Sunset Overdrive and Xbox Live's Major Nelson. Ice cold Overcharge Delirium XT awaits! (Yes, seriously)
ID@Xbox on Twitch (Tuesday through Thursday during E3 show hours) - While the Xbox E3 booth is open, we'll be broadcasting what you want – straight gameplay. Every day, we'll focus on two different ID@Xbox titles, with many of the developers stopping by to chat with viewers. We'll also be taking many other titles over to the Twitch E3 booth throughout the week, so keep an eye on the main Twitch channel as well. The full broadcast schedule will be revealed at the beginning of E3 week.
See? Massive list of events and things happening. Needless to say, we'll be covering news as it happens as well so be sure to tune into all the E3 2014 coverage here. Who's getting excited? And more importantly, what do you hope gets announced at E3? Let us know in the comments!
Source: Xbox News (opens in new tab)
Windows Central Newsletter
Get the best of Windows Central in your inbox, every day!
Offtopic: File App available in Store...


Thanks for the heads up!. Link below if anyone needs it -).
http://www.windowsphone.com/s?appid=762e837f-461d-4847-8399-3526f54fc25e

I hope Sony and Microsoft will announce cool and a lot of games this year, and not be the rumored "warm up" for E3 2015...

The Nintendo conference seems promising, hopefully MS's will be too. Sony I could care less about, but it'll still be interesting to hear what they show off.

I second that, I think this E3 will be the great chance for Nintendo to stand out since in the last one they didn't even bothered to show up. This year both Sony and Microsoft seems "out of ammo" from their new generation launch.
I have an Xbox One and an Wii U, because Nintendo games will always have a special place in my living room.
I think Xbox needs something besides FPSs and Sports games, the Playstation line have more variety of genres like many more RPGs and Puzzle/Adventures.

I'm hoping that they show more of The Division

I think you're on the wrong article. :P

I'm curious what new x1 titles we will see at e3 and hopefully a release date this year for destiny, division and the crew :P. Edit: I just noticed, Chris you wouldn't happen to be related to the comedian "Andy Parsons"? :P lol.

Is he rich? If so, yes. If not, no. :)

Am pretty sure they've already announced the release date of Destiny: 9th September.

Could we stream the MS E3 event live from our Xbox One's?

Yes. A tile will be dedicated to that. Also on windows phone u can use the live event player to watch live (if it works with that bad app)

Wish they would make an app for the E3 stuff

Nintendo has no press Conference like last years E3. But a short Nintendo digital show. (Yeah right, digital. It's still a show.) Anyways. Microsoft and Sony are far from "Out of Ammo" @Marcos. Both have loads planned from now till 2016. Non stop exclusives and a wider variety of genres. Even Microsoft has more Japanese games support than Sony right now. So far, Sony has planned 1 big bomb of a surprise for E3 and Microsoft plans to continue to drop announcements close after E3 for '14 and '15. Cause the show time is to short. Both Sony and Microsoft's press conferences will be huge. But my bet is. Microsoft takes this E3 this time.

Doesn't matter if it's a conference or something similar to Nintendo Direct. Nintendo has a lot in store. Zelda U, X, Pokémon remakes, an unannounced 3DS game, SSB4 and probably more. But I agree with you, from the looks of it MS will be shoeing more. Of course Sony could have unannounced titles to showcase, though.
Personally I want EA to show off Mirror's Edge 2 more than anything.

The thing is. This E3 makes Nintendo the kid that doesn't fit in the group. The games u mentioned for Nintendo are small on impact to the heavy guns Microsoft and Sony will bring, cause this E3 is all about Next Gen and the New Consoles. What Nintendo must do, is show those 2 new Hardware they got now, they are great! not next year or 2016. Too late imo.

Pokémon? Small? Mario? Small? I don't think so. And Nintendo needs no new hardware, they just need to focus on the current one they have out. The Wii U is more powerful than many would have you believe, but most 3rd party developers are lazy, do quick ports and then don't support the game at all after release. And 3DS is doing fantastic right now and has a huge library of fantastic games. No new hardware needed for a while. This is just gonna be a repeat of 6th gen for Nintendo: great handheld sales, crappy console sales and a ton of great games on both platforms. Unlike Sony and MS, Nintendo can afford to suffer another GameCube. If MS and Sony can't sell consoles, they're done for in the industry.

I'll bet u didn't read the news, Nintendo has almost $500M Loss thanks to the Wii U and the loss keeps growing. Nintendo isn't that big as u claim it to be. They need new hardware and new IP's. Do u really think Mario and Pokemon games and 3DS can save those millions loss? Not this year and the next end the next. Nintendo knows that. Developers aren't lazy, the priority isn't the Wii cause of its lesser power. simple as that. Microsoft can't sell consoles? They made 8 billion already for "14. Not thanks to Xone, but in a whole. They can afford not making profit yet on the console just fine. Sony is the biggest loser of all 3. Ps4 can't save Sony since day 1. They have $100B loss for "14 and "15 to catch up. Nintendo and Sony need to change things big time. Or they will make cuts this fall.

No, Pokémon, Mario and the 3DS can't save them, but it can sustain them for quite a while. And Nintendo has a whole isn't as big as MS or Sony, but compare Nintendo, a company that only does video games, to the game sections of MS and Sony. And tell me, if power is what's keeping the Wii U back, then why are so many new games bring developed for 360 and PS3 when the Wii U is more powerful than both of those?

Wii-U is more powerful than 360 and ps3? Close to the 360 but No, ps3 No way. Better on some parts but worse in most parts that matters. Tons of developers who said their games are to heavy and comes short of raw power for and of the Wii-u. I'll bet u don't even know what's inside the last gens ps3 and 360. Things that Nintendo has no knowledge about themselves. Nintendo has spend allot of money on outside help for 2015's "16 new hardware, so it can try to Compete with the Xbox One and PS4 and turn that loss around into profit. knowing Wii-U lacked. It's about damn time. Simply the Wii-U should never have been made, and that's not only my opinion. I'm not talking down on Nintendo. I do hope that new hardware and that other thing I won't mention brings back the good Nintendo magic. It has the power for it. But Not the Wii-U. I give a + for Nintendo, giving the gamers the last push to satisfy before bringing the new Console to the public.

You seem to know a lot about this mystical new Nintendo hardware that there's no sign of (and if dont bring up Iwata's QOL device he announced or the new console for China, because neither of those count) and little about the science behind the Wii U hardware, so I think I'm just gonna stop here. If you new how the hardware in the Wii U works, how efficient it is and how devs are bullshitting you about how underpowered the Wii U is, you'd agree with me. On paper yes, the Wii U is weaker. But definitely not in practice.

I gotta say, last year IGN put up some really great live E3 coverage thru their app on Xbox and ps3. That's where I'll be streaming my e3 coverage.

I read that Sony will be broadcasting the E3 at 40 theaters US and Canada. MICROSOFT should have a plan to do an E3 event at every Microsoft store for the fill 3 days with E3 demos and give away, plus allowing people to visit the stores.. Just an idea..

I just want a pass to get into the event. Like last year, and hopefully Microsoft has a better set-up this time.

giantbomb.com/chat is a good place to watch the Xbox event. :)

Wish they would show it at Microsoft Stores again like they did last year