Here's how to get Office 2016 right now if you have an Office 365 subscription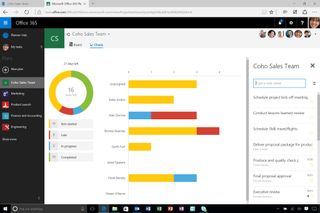 Microsoft officially launched Office 2016 for Windows earlier today, with new desktop version of Word, Excel, PowerPoint and more. You may be wondering if you can get Office 2016 on your Windows PC. If you have a paid subscription to Office 365 Home, Personal or University, there's no need to wait; you can download Office 2016 right now for free.
The process is pretty simple, according to a Microsoft support page. Office 365 consumer users can sign onto the "My Account" page, then choose "Install", and select "Install" again to start the Office 2016 download process, which happens in the background. Once that is done, you should see a request to install Office 2016. If you are ready, just click agree, and then agree to remove the older Office 2013.
Be aware that when this is over, the Office 2013 software that was on your PC will be removed and replaced with the Office 2016 versions. If you purchased Office 2013 as a stand-alone product, you cannot automatically update to Office 2016. You will have to either sign up for an Office 365 subscription plan to get Office 2016 or purchase the stand-alone edition of the software. If you have an Office 365 business subscription, you will likely need to check with your IT admin to see if you can download Office 2016.
Source: Microsoft (opens in new tab)
I got a subscription for a year from an HP steam 7. What happens when it ends? Will office 2016 he deactivated?

"As the expiration date approaches, you will receive notifications in the Office applications and via email, alerting you to the upcoming expiration. If you choose to let your subscription expire, the Office software applications enter read-only mode, which means that you can view or print documents, but you can't create new documents or edit existing documents. To return to full Office functionality, you can purchase a new version of Office by visiting www.office365.com or any participating retailer. You could also return to full functionality using an older version of Office, or you can use Office Online for free for basic editing." https://products.office.com/en-US/microsoft-office-for-home-and-school-faq

Thank you. Been wondering this for a long time

Can someone please assist wit 365 planner. It tells me it is not yet ready for microsoft accounts, yet the sreebshot (of the article) begs to differ?

https://blogs.office.com/2015/09/22/introducing-office-365-planner/

What happens if you have 2016 preview?

You can remove the Preview one, and Install the RTM one. or You'll be able to upgrade from the Preview to the RTM one. Eventually you will get a notification to upgrade. (if you have a subcription).

Our university has Office 365 Pro Plus, I need to wait for the IT dept to update it in our accounts.. :-/

Same here. I tried to update like this and ended up just reinstalling 2013.

same here, I'm so confused, I deleted my office 2013 (it was non legit version (guilty) and got the subscription version from my uni, and ended up with the same exact one. Tried different ways but can't seem to get the 2016 one.

Same. I uninstalled Office 365 Pro Plus completely, and it still only installs up to version 15 (Office 2013). I even uninstalled and installed an Office 16 RTM iso, and tried logging into 365, still would not let me activate it. IT department at my university definitely needs to update accounts.

yep, here too. system requierments says office 2016. but it ends with A reinstalled 2013

Thanks for the comment! I was confuses as to why 2016 was not available yet, but I guess my school is the same way... hope they push it out soon! 2013 has never run well on my laptop running the win10 preview, The office file updater and OneDrive sync client essentially fight eachother causing a constant 20-30% load on my laptop cpu, really hoping that 2016 fixes this!

URGENT note however...if you use Skype For Business, you have to get from these links: 32-bit, English: https://c2rsetup.officeapps.live.com/c2r/download.aspx?productReleaseID=SkypeforbusinessEntryRetail&... 64-bit, English: https://c2rsetup.officeapps.live.com/c2r/download.aspx?productReleaseID=SkypeforbusinessEntryRetail&...

What about OneDrive for business? Mine was uninstalled during the upgrade and I'm getting errors trying to install it again.

Good to know. I was on the Skype for Business Preview, with all of the new features, which are now all gone. I will need to request a new install link for the preview features from Microsoft. Darn it.

I got office with my 640XL. Am I eligible to update to office 2016??

Yeap. You can use until your expiration date.

With all excitement at the office we all started to do download from our Office 365 Business Portal, after installation realised that it was still the Office 2013! Surely Microsoft could identify and warn the users that is going to install the same version again. One of our clients had received hence why we assumed that all UK receive it now, it appears that rolling out process is not prioritising the partners which is rather disappointing.

I would love if I had this issue - I installed 2016, realized that Outlook won't connect to my exchange server and now am having a very difficult time getting 2013 to install again. Even links provided by MS support which are suppose to specify 2013 from O365 are still reintalling 2016. This is something of a nightmare roll out.

Thankfully the one that we did for client today was a fresh install and with O365 which worked fine however can imagine what you mean, we had similar issues when upgarded to Windows 10 however found a fix, maybe worth trying it yourself: 1. Run CMD as admin
2. Type following "sfc /scannow"
3. Restart and try again

Your IT admin needs to authorize it first (if you have a business account andan IT guy hat manages updates)

We are the admins that deploy them, hence why is frustrating.

Businesses have a different rollout method that, I would assume, includes testing which is probably why you weren't able to get it, I have it installed on my PC but that's with an Office 365 Personal subscription.

Agree, our client is a business account and we are a partner who deploys them, one would have assumed that Microsoft would look after us first priority.

Keep in mind, if you use an Exchange 2007 installation for your email, Outlook 2016 is not compatible. This functionality was removed from Outlook after Office preview build 1002, a newer installation of Exchange or remaining with Office 2013 is necessary to retain access to email in this configuration.

Which is complete and abominable BS. We are on a hosted Exchange, as we are a small business. Absolutely no surprise that a) I had no idea, b) I can't just ring down to IT, and c) this now reduces the convenience of using my (personal) Surface 3... to that of having a brick. At this point my old RT was much more useful. Hosted Exchange providers aren't going to magically upgrade from something that is solid and not broken, so I'm betting many of them are staying on Exchange 2007. I spent all morning on chat with MS tech support and now there will be a level 2 tech support person calling me in 2 days to fix this. Um. Here's a fix. Confirm my Office365 subscription, and then send me a link to reinstall the 2013 version that I had to begin with. This is unbelievably annoying.

It only redirects to office x86 setup, can not get for 64 bit

you need to click on "click here for more install options" the 64bits it's there.

would have been to easy to just allow the update of the current version in the account page of the office application like the normal updates.. have to go through this annoying process and tell everyone else to do the same.. jesus

This isn't the normal process. You're doing this because you can wait for the normal process. If you were a normal person, you could just wait the update notification reach your PC and upgrade through the normal process like everyone else.

I'm very happy to beign a Not normal person, also I have the freedom to do anything

I only want word and excel but unfortunately you get everything,like outlook,acces,onenote,etc. So I decided to keep the touch apps to use. They work good enough for me and they are free. Though wish you could make a selection what you want to install with office365

I have an rt version of surface. Do we get same update? Posted via the Windows Central App for Android

Unfortunately I have Office 365 ProPlus so I can't get the update either :-/

What about students? Can they update? As a student I got entire Office pack

if you bought office 365 or office 365 university you are good to go. If you got it via your college most likely you are using Pro Plus (though you may have just gotten univsersity so check) if so, check with your IT pro when it will be available, give them some time though, dont spam them today. Wait a week first.

When will MS fix the "bug" that kills Office 2013 apps that AREN'T part of a customer's Office 365 suite? A member here reports in the forum he had to cancel his Office365 install because it insisted on deleting the Visio that was part of his old paid for office suite.


Visio could have been reinstalled after the install was complete, the only reason it removes ALL Office 2013 applications is to minimise compatibility issues.

Great! I hope I can remember the thread and post that if someone else didn't already.

My Office on Windows 10 Mobile won't allow me to edit or save files unless I have Office 365 subscription. However, I do. How do I get my phone to recognize i already have a paid subscription?

will it update to 2016 on it's own or do I need to manually update all the devices on my account?

I used to pay for Technet to get the latest Windows and Office, now with 365 I dont need to anymore. Cool.

Updated. Excel looks better on tablet.

John will there be no review for the new office?

I've got an office 365 from my uni, and I installed on my surface, and i tried to do the same as mentioned here, but I couldn't because downloaded again office 2013. does anyone know why?

Before installing, I just went ahead and uninstalled my Office 2016 preview, restarted and then installed this latest version. Going to have to compare it to the version running on my MacBook Pro and see if there are any differences (which I doubt there are anything really major).

I got my Office 2016 365 last night. Works great so far on two machines

Ended up with 2013 again from my university account :\

I have Office 2013 with my current Office 365 subscription. Are there any major bugs in Office 2016 that would make me want to wait to upgrade? Posted via the Windows Central App for Android

if you connect to Exchange server without allowed autodiscovery, will will have problem.

Please return back manual setting of Exchange account into otlook 2016 !!!

thanks WC for the advise, I purchased a $60 7 " windows 8.1 tablet, and came with office 365 which I installed on my large laptop, nice to see I can get Office 2016 for free

Does anybody know what is the office 2016 version (build number)? Mine is: 16.0.4229.1024; I want to make sure if I have the most recent version.

My 64 bit office 2013 install was replaced by a 32 bit install of office 2016. Why was i downgraded to 32bit when switching to 2016? was anyone else?

I upgraded and now it says its unlicensed, I cant upgraded through the internet, please help

Use KMSpico to activate every 180 days

If anybody is angry like me that with the Office 2016 setup, you CANNOT choose what you do and don't want installed, such as if you don't use Outlook, Access, Groove, OneNote, it installs anyway, wasting disk space. But you can install the Office 2016 Deployment Tool.. Brad of the Microsoft Commnunity's solution via thread "custom install gone?"; After much trial and error, I got it to work for me. First I had to run the Office scrub vbs file (available from Fix It here: https://support.office.microsoft.com/en-us/article/Fix-Office-365-Office...) to remove all traces of any Office installs on my computer (I'm running Win10x64 Pro & Ent). Reboot 1. I opened the ISO from MSDN and extracted that to D:\Archive\Office2016\ which created subdirectories off of that of \Office\data -- Note that if you don't have the iso yet, you can can ask setup to download the required files, just skip ahead to step 3 below--- 2. rename D:\Archive\Office2016\setup.exe to whatever the heck you like. 3. I downloaded the Office 2016 Deployment Tool (http://www.windowscentral.com/ext?link=http2F%2Fclkde.tradedoubler.c...) and extracted the zip to D:\Archive\Office2016\. This will place setup.exe and configuration.xml into that directory (this is why we renamed setup.exe above). I edited the XML file and put the following in it (deleting everything else that was in it): <Configuration> <Add SourcePath="D:\Archive\Office2016\" OfficeClientEdition="64" >
<Product ID="proplusretail">
<Language ID="en-us" />
<ExcludeApp ID="Access" />
<ExcludeApp ID="Publisher" />
<ExcludeApp ID="Grove" />
<ExcludeApp ID="Lync" />
<ExcludeApp ID="skypeforbusiness" />
</Product>
</Add> <Logging Name="OfficeSetup.txt" Path="" /> </Configuration> ***NOTE that I wasn't sure about the naming convention for Skype for Business/Lync so I put them both in the config file - I still don't know which one is needed but the above config successfully did NOT install Skype for Business*** 4. If you don't have the ISO then run the following:
D:\Archive\Office2016\setup.exe /download configuration.xml that will create the sub directories and download the files necessary for your desired configuration 5. Now, whether this is from the ISO or the downloaded files, run:
D:\Archive\Office2016\setup.exe /configure configuration.xml bingo, bango, bongo, you've got a customized install.

if you need genuine office you can try this link, my office got here and works well,strongly recommend you, it is brilliant <a href="http://www.aakeys.com/">www.aakeys.com</a>

I would highly recomenned www.Microsoftkeystores.com , the keys worked great, plus excellent customer service

http://www.MicrosoftStoreinc.com Having been used for several years, your computer may get crashed often? Every time when it goes crashed, you can just stand by anxiously? Or even want to buy a new and let this old one abandoned directly? Actually, it's not necessary at all! You can just upgrade your operating system by ordering a product key from the professional online site http://www.MicrosoftStoreinc.com you will feel like your PC is totally a new one. Also, you can chat with the guy on this site about your computer issue. You must get helpful answer and instruction ASAP. http://www.MicrosoftStoreinc.com

Visit the site http://www.Microsoftkeysales.com/ . I believe you will get what you want on the site. Besides, keep in mind that you also can communicate with them about the technicalproblem. They can help you with patient explanation and warm service.
Windows Central Newsletter
Thank you for signing up to Windows Central. You will receive a verification email shortly.
There was a problem. Please refresh the page and try again.