Spice up your Windows 10 point-and-clicking with a custom cursor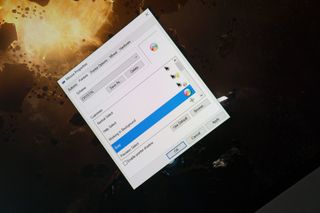 Windows comes with a selection of default cursors to choose from, but what if you wish to add some style to your desktop experience? Luckily, it's super easy to add new custom cursors to Windows — and you don't even have to use third-party software. There are plenty of system-compatible packs available for download that are quick and easy to use. We'll take you through some easy-to-follow steps to get started.
To kick things off, you'll need to find a cursor (or pack of icons) that you like the look of and download them to your PC. Various websites feature said content, including the likes of DeviantART, CrystalXP.net and Open Cursor Library. Do some searching, there are also some handy lists out there.
Install Cursors
Download your chosen cursor icons (or pack of icons) from your favorite websites.
Open the System Cursors folder, which can be found at C Drive > Windows > Cursors and move across your downloaded files.
If your downloaded cursor pack comes with an .INF configuration file, right-click and select "install". If not, we have a separate section for manual install below.
Bring up your favorite assistant, Cortana. (Windows Key + Q)
Search "Mouse", which should bring up the results below.
Choose "Mouse" from the search results. (Should have "Control Panel" underneath the listing.)
Select your desired new cursor theme from the "scheme" drop-down menu.
Hit Apply to activate the new scheme.
Customize Schemes
These instructions are for customizing schemes and installing cursors manually. We'll continue from step 7 above.
Select the cursors you wish to replace.
Select "Browse".
Browse to the respective cursor icon, then choose "Open".
Hit "Save As" under the scheme drop-down menu to save your edits as a new listing.
That's pretty much it! It's the absolute basics when it comes to customizing your cursor. As noted already, there are third-party solutions that enables you to take this even further. Do you utilize third-party software to alter your cursor? Let us know in the comments, and be sure to share what packs you're currently using!
Rich Edmonds is Senior Editor of PC hardware at Windows Central, covering everything related to PC components and NAS. He's been involved in technology for more than a decade and knows a thing or two about the magic inside a PC chassis. You can follow him over on Twitter at @RichEdmonds.
Nice one ! I always thought we had to download some 3rd party software
Thanks !

We've come along way since Windows 95 Themes...

I use custom cursors from Windows 98, there is an annoying bug when Windows forgets your selected cursors after the restart. This was going for years and different OS iterations, MS never bothered to fix it. So have fun always swicthing those cursors back! :D

Which is precisely why this article is a waste.

I have had no issues with my cursor settings resetting after restarts.

So it only matters for you and we can say "Screw all the people having issues. I don't care about them. It works for me! I'm going to dislike the comment about someone having unfortunate issues." Smh. Now Microsoft will never bring it to attention.

Try installing or saving the cursor IN the cursor directory. The os fetches data for the cursor from there itself. Save the file someplace else may be at startup the cursor will be slow erratic or as happened with you, reset.

Dude thanks that fixed it. MS should still find a way to fix this however. Perhaps force users to save it in that folder or wait until the cursors load before displaying the desktop. Posted via the Windows Central App for Android

I am using custom cursors and have never had to change it back after restart...

Where to download custom cursor?

This is one of the many reasons why I love this website.

Windows 95 had ugly cursors, Windows 98 had ugly cursors, Windows XP had ugly cursors, Windows Vista had ugly cursors, Windows 7 had ugly cursors. Even Windows 8 had ugly cursors. Now that in Windows 10 we have the privilege to control the pretiest cursors in the history of computers, why not stop making this kind of guides?

What on earth are you talking about ?!!

Those cursors were not UGLY !!!
They were and are still quite decent.
But yes, it would have been better to have a more robust 3rd party cursor usage system which wouldn't cause issues when used. Like one user said above.

Because pretty and ugly are matters of opinion.

Windows 8 and 10 have the exact same cursors...

I still like a cursor I had years ago of a walking dinosaur for when the machine was busy

I learned how to do this **** when i was 5yrs old.

In other words, you learned how to do it last week.

Too bad you didn't learn manners or that the world doesn't revolve around you.

Dude i just said sh** i mean do i have to be like a princess like you?

Yes, because I'm a princess for not being a rude jerk. Ok then, Internet tough guy.

Dude i just said sh**... I mean like everyone says that on the internet but if i say that i am being rude? You guys are such hypocrites..

When I was using Windows XP, I copied the default Aero cursor theme from Windows 7 and manually created the theme on XP. It looked pretty bad, but it worked and I could tell that it was Aero.

I've always liked the inverted cursor that comes with the OS. Really helps with finding the thing against any background. The dinosaur was really fun though!

Haven't used a custom cursor since W95 or W98. Back then I used the peeling banana that came with Win ☺

I remember changing these on my school's laptop back in 3rd grade on win XP

Finally, one of these tutorials are not about disabling stuff :D And it could be useful for casual users :D I use a custom cursor too, an orange one, that goes with my orange overall theme, and orange-ish Firewatch background (you know, the one with the hills and the watchtower). I think it's from deviantart, and is called Metro X3 Bold Orange, with the dots going in circle when the computer is busy, just like on the loading screens in Win 8/10, or on Windows Phone :D It looks pretty cool, wish I could insert a screenshot here :D

This doesn't work anymore on Windows 10. Many people including myself have discovered that once you restart your PC, the cursors go back to default. :(

No, they don't. They work just fine for me.

Oh so just because it works fine for you that means no bug exists and nobody else matters and it's their problem. SMH....

Wow, dude. He just said it works fine for him, as for information, everything else is your brilliant over-exaggerated interpretation.

Not really. My comment was disliked. He also said "No they don't" as if the issue doesn't exist.

Wow bro. It seems like my comment really hurts you, for whatever reason. Sorry :D

You didn't hurt me. I just like to prove points. Posted via the Windows Central App for Android

To be fair, if I get a reply with that kind of attitude I'd dislike it, too.

It was disliked before my comment Posted via the Windows Central App for Android

It is nice to revisit this feature that has been available on windows since 20 years.
Windows Central Newsletter
Thank you for signing up to Windows Central. You will receive a verification email shortly.
There was a problem. Please refresh the page and try again.