Here's the new Xbox Guide Menu accessible via a single button tap [Update with video]
As we detailed previously, Xbox Platform head Mike Ybarra gave a sneak peek of the new Xbox Guide menu during a stream on his Beam channel.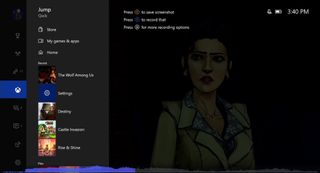 Back in November 2016, we detailed how Microsoft was planning to expand the Xbox Guide Menu to include pins and other features to promote speed of access to essential console features. Now, we've been given a glimpse at the new menu ahead of its release, which will likely appear in a new build in the Xbox Insider Program shortly.
The new menu was shown by Xbox Platform head Mike Ybarra during a stream on his Beam channel, and then subsequently screen capped and posted on Twitter.
As you can see, the new Guide is accessible via a single button press and gives you instant access to your Games & Apps, most recently used games, the store, and also your pins. Additionally, you can see that there are new recording options by pressing the menu button with the new Guide open, giving you quick access to clipping different lengths of time from the Game DVR.
Also, a new streaming icon has replaced the multi-tasking menu, which will enable you to instantly stream to Beam and, presumably, Twitch, and any other future services that Xbox chooses to support. Microsoft is building up Beam in a big way, and it won't be long until we see it fully integrated into both Xbox One and Windows 10.
Update: To get an idea of how smooth it is, Twitter user Jakosaur sent us a video clip of it in action from Mike Ybarra's stream. There's some stream lag causing artifacts, but it looks like the transition from game to Guide is very smooth.
We previously wrote about how speed is the theme of the new dashboard update, and Microsoft confirmed it in a recent blog post, detailing how the refreshed Guide will add a new Achievement tracking overlay, Gamerscore Leaderboard, a new Cortana design, and more. This is all designed to create a more seamless experience, responding to feedback about the slow speed of the dashboard.
Stay tuned to Windows Central for all the latest emerging from the Xbox Insider Program.
Do you like the new Guide design? Let us know in the comments.
Windows Central Newsletter
Get the best of Windows Central in your inbox, every day!
Jez Corden a Managing Editor at Windows Central, focusing primarily on all things Xbox and gaming. Jez is known for breaking exclusive news and analysis as relates to the Microsoft ecosystem while being powered by caffeine. Follow on Twitter @JezCorden and listen to his Xbox Two podcast, all about, you guessed it, Xbox!
I think they finally got it just how I like it. All the functionality of home without any clutter. I'm down.

Nice, it really looks easier to navigate especially while in the middle of an active game. And, speaking of game capture, is there a place where we can check how much space we have used and have left for captures? They aren't stored on our OneDrive are they?

When you edit through Upload Studio you can choose OneDrive as a destination for the uploaded product. I don't believe it is stored on OneDrive until then though.

When you capture something, it is stored to the Xbox, you have to go through the Upload Studio to get it onto your OneDrive. To see how much space you have on your console, just go into your Games and Apps option, it should be listed in the lower left. If you are talking about space on the cloud...I have never heard if it is limited or not...I don't think it is. If you abuse the system, you might reach a limit, but I don't think a common user should have any issues.

The Upload app will show all of your captures and tell you how much Xbox Live space you have remaining.

Speed to access functionality is one thing. Speed to open the Guide is another. Currently you're lucky if it takes less than 2 seconds. Even if it would respond with some visual indicator immediately and then take the usual amount of time to load, it would be an infinitely better experience than not knowing if it's opening or not.

Exactly. I thought with the update (windows 10), they were promoting improved Dashboard speed. I have noticed that during the preview it was indeed faster. Now, it's slower and I too would rather see some kind of animation instead of waiting to see if it's going to work or not.

Thrown in a video for you

Couldn't agree more...there are a lot of times when I push the home button and it takes 2-3 seconds for it to appear, it is more annoying than unacceptable though since I have no idea if it realized I even pushed anything. My other complaints are the Insider Preview took away pinned games a couple months ago and it just says "they will be back soon" but we are getting close to maybe 6 months without it. And second, a double tap of the Xbox button used to swap between snapped apps. I now that to double tap, hit right twice and hit A. Add in all the lag of the menu loading and a 1 second process in 2014 now takes about 5-8 seconds...

Yeah, that switching between snapped apps is frustrating now when it used to be so easy. Now you have to be accurate and wait because the button presses aren't queued up. It used to lag before Guide as well but at least the button presses were queued so you could fire off the sequence you wanted in one go without thinking twice about it.

Yes! These look like good improvements. Will have to see how it works when released, but a more response UI and quicker access to tasks will be much appreciated.

One step closer to the Xbox UWP app. I think the two should have 90% of same UI.

i think they'll have an even bigger revamp when scorpio comes. fingers crossed!

Is there still going to be a way to get to home?

It looks like it's going to take more than a single button press, but the option is there in the menu to select home.

We don't know if he got to the option he showed with a single or double press either. Could single press to get the quick blade menu or double press to get to the larger Home screen. But yes, you can see the HOME option so it still exists.

Hope the "speed" works this time round... have a day 1 Xbox One, those speed improvements better work on the older type of console!! I've had it a while, but it takes me a full 5-7 seconds for the home button on my controller to work!

Id always welcome speed, but I hope they're not getting rid of the dash though and replacing it entirely with this, I do quite like it as is. Might need some tweaking, but as speed goes its fine and better to navigate than say the store. Also provides a good way of customising the Xbox.

The dash is still there, and by all accounts, it's now lightning fast.

I like how they keep pushing updates out for the Xbox one and quiet fast.happy Xbox one user now the only thing missing give us some info about project Scorpio

Its a small thing but its nice that it shows the clock

They should make the App and the Xbox Dashboard look and feel the same.

Will this be launching as part of the Creators update?

The previous guide was supposed to seem faster. Lol cant wait. I just hope going home is faster too.

The previous guide was supposed to seem faster. Lol cant wait. I just hope going home is faster too.

The previous guide was supposed to seem faster. Lol cant wait. I just hope going home is faster too.

The previous guide was supposed to seem faster. Lol cant wait. I just hope going home is faster too.

The previous guide was supposed to seem faster. Lol cant wait. I just hope going home is faster too.

I am looking at the icons. The second to last icon (the tilted mushroom) is new. Does anybody know if that is perhaps for Beam?

LOL @ tilted mushroom, haha. But agreed...that for sure is the broadcast option (not just Beam, Twitch and others too)

What button do we push to do this? How do we go home?