Here's what's new in Windows 10 Mobile build 14267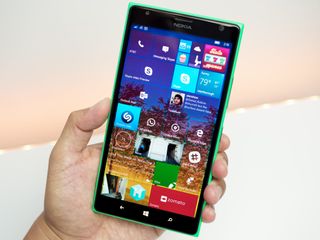 Windows 10 Mobile build 14267 has just started making its way out to Windows Insiders on the Fast Ring, which means there are some new goodies to look forward to. The latest build brings the mobile preview up to the same build as the PC preview, and includes new features for Cortana, Microsoft Edge and more. Here's the breakdown of what's new:
Search for music easier in Cortana: We have made it easier to invoke music search in Cortana by adding a music search icon to the top right of Cortana. You can now open Cortana on your PC and click on the music search icon to have Cortana listen and search for the song that's playing.
Word Flow now works in the address bar in Microsoft Edge on your phone: For fans of Word Flow, we heard your feedback, and we have re-enabled the ability to use shape writing in the address bar in Microsoft Edge on your phone!
Open InPrivate tabs more easily in Microsoft Edge on your phone: We take the need for private browsing seriously, and InPrivate has been a feature of Microsoft Edge in Windows 10 Mobile from day one. However, we received feedback from Windows Insiders that the InPrivate feature was either hard to find or missing on their phones. As a result, we've moved the button to create a new InPrivate tab to appear right next to the new tab button. The next time you need a private tab in Microsoft Edge, you'll find it right in your tabs view. Try it out on your phone and let us know what you think.
Improved Download Prompts in Microsoft Edge: Microsoft Edge will now show a prompt when you start a download, allowing you to cancel unwanted downloads.
Keep in mind that, since this build is on the development branch, it's currently only available for Fast Ring Insiders using a Lumia 950, 950 XL, 550, or Xiaomi Mi4. For more, see Microsoft's full blog post at the source link below.
Source: Microsoft
Windows Central Newsletter
Get the best of Windows Central in in your inbox, every day!
Dan Thorp-Lancaster is the former Editor-in-Chief of Windows Central. He began working with Windows Central, Android Central, and iMore as a news writer in 2014 and is obsessed with tech of all sorts. You can follow Dan on Twitter @DthorpL and Instagram @heyitsdtl.
Apparently only for 950, 950 XL, 550 and Xiaomi Mi4

Okay was gonna ask if it's for all or just for those win 10 devices.. Confused since this article has a Lumia 1520 picture.

Let me see will it install on Ativ S with registry edit. :D

Not only are you funny, but hopefully this highlights the kind of support you can expect from another T-Mobile exclusive. Like the 640 that dissapeared very fast after release for them.

This is pretty much everything I have been complaining about. Probably my favorite build so far. Edit: Except for double tap to wake and super sensitive touch.

Edge is an app but currently gets updated only via new builds, cant remember the reasoning but the plan for future is to have it update like regular apps.

Wonder if they fixed the private mode security issues

They actually fixed those in the latest cumulative update.

They probably hasn't figure out to decouple the front-end/app components of Edge and its engine which seems tied to the OS. I hope they will able to make Edge truly updatable from the Store. Edge is still have a long way to go and its really appropriate to make Edge easily updatable without a need of OS upgrade/update. Web browser is one of the most commonly used software these days, they can't let Edge to be like this for so long.

It seems Edge is updateable via Windows Update. On the page detailing the latest cumulative update on the PC, you can clearly see improvements being made to Edge. Also, on the PC version I recently noticed improvements on the new tab page. You can now add quick links to web pages, pin them, and remove them. Removing also gives an option to undo the action.

Definitely there is more than those changes in the build

that's what i tough too, not enough in the log

Such as? I mean other than bug fixes etc. of course. Posted via the Windows Central App for Android

well for all those builds pc and phone they are just building the layout for the new features they said so there are no new features but the structure for them has started in a few more numbres we will see it :D!

Maybe a video is coming too ?

10586.107 + Release preview configuration update = idealus veikimas ant L625 ir taip. be bugu be nieko, kaip official release.

Which language is it, man ?

Looks good, hopefully a wave of bug fixes also.

Stop... the image burns in my phobic mind =s

Windows 10 doesn't tell me I have a new message from ......... Read it or ignore. Im I missing something, used it with windows 8 all the time???

Thank God for the word flow in address bar!

So the mobile OS is now 64bit?

Where do you get that from? Anyway, I don't think you'll be able to update a 32 bit OS to a 64 bit one, it's never been possible on desktop so it's doubtful for Mobile. Devices will probably need to come with the 64 bit version preinstalled when it's released.

mobile OS does install from the ground up as opposed to the desktop but still i don`t see anything about 64 bit

What make you think this?

I read an article earlier saying Redstone will bring true 64bit support.

"Redstone 2" will support 64-bit ARMv8 & 32-bit ARMv7 this November! Finally going to take advantage of my 64-bit ARMv8 hardware in my 950 XL.

Does ur processor support 64-bit?

Where in the settings > extras > advanced info do you see what version you are on? I'm looking and confused about this :|

Go to Settings > System > About > More Info :)

So... The rest of you are asleep. But still no double tap to wake for 950xx

That will come with firmware, not an OS update. If at all.

Double tap to wake IS certainly in W10. My 1020 has it. My 950 XL, but that's not because of the OS. It's because of the hardware, or (I hope so) the firmware.

i can use it on my 535 xD so it;s not OS as the ppl say :3 calm down ppl
actually i never saw the spec double tap to wake on this phone i only saw glance O.o

Photo messaging in Skype. Bout time!

Here's what's fixed We fixed an issue where shape writing would ignore every second word when typing into a text box on a website in Microsoft Edge. After installing the Polish keyboard, typing a word that should be accented now offers the recommended accented word. For example – if you type the word "milosc" it should properly autocorrect to "miłość". We have resolved an issue where you could not hide the navigation bar in Windows Phone 8.1 apps like WhatsApp, Twitter, Weibo, Flixster and others. We fixed an issue where videos recorded onto SD memory cards would result in a large number of dropped frames. There should be improved app launch reliability and certain crashes that were causing the phone to reboot are also fixed. We've polished the Live tile animations and improved the logic for refreshing Live tiles. We've made reliability improvements for keyboards with large dictionaries such as the Hinglish keyboard. Known issues Visual Voicemail notification and delivery is not working in this build; causing devices to not receive any new visual voicemails. You can manually check your voicemail by calling your voicemail to listen to any new messages. You can call your voicemail within the Phone app by clicking "…" > Settings > "Change more settings for Phone" > "Call voicemail"; this will also leave the Voicemail call in your history to make checking voicemail easier.

Yay! I can now hide the nav bar for WC! **** ya baby!

"We have resolved an issue where you could not hide the navigation bar in Windows Phone 8.1 apps like WhatsApp, Twitter, Weibo, Flixster and others" Hey great, hopefully this works in the Kindle app as well.

"We fixed an issue where shape writing would ignore every second word when typing into a text box on a website in Microsoft Edge." YEEAAAH!!! (then again, 'bout time)

OMG! Finally a Redstone build for mobile. And they added music recognition button in cortana, great! How about improving cortana/search UX by implementing swipe gestures, smoother scrolling and more native app experience. Also, I had been an insider for 8 months and we had inPrivate browsing mode in edge? Lol. Once asked windows central peeps on twitter to tutorial it if they knew how to do it but they probably didn't read that mention. But good to know that they are improving Edge and Cortana and general UX. Can't wait for it to reach on other phones. Oh and commenting on this article from brand new Windows Central Continuum enabled Universal app for Windows 10. Brilliant stuff from developer and Windows Central management. Great work guys!

if they make conratana able to do basic stuff offline again... like notes and such then she could upload it when we connect to the internet like wp8,1 did and w10 build 10240 could do this... :(

How about releasing cortana in dutch, ive been dying to try it out. Also bing is kind of minimal compared to the us version

Still no NFC mobile payment.........

Why not? You can even get a sandwich at Katz's Deli with Samsung Pay (according to the commercial). I've had Wallet and NFC since WP7 with absolutely no support for them. Right now, if I go to Wallet, it suggests I add my favorite loyalty cards and passes by linking apps from the store, and provides a link to the store. The link takes me to a blank store page. Apparently there are no such apps. Wonderful. That's not even payment, just bring up the bar code.

When will there be an update for the Lumia 640 LTE????????

i cannot update my phone, i always get a crash now with the configuration update.... x_x this sucks!

Cortana improvements, great. But why not making cortana first available in ALL countries? Already waiting for over a year in Belgium ...

+2016 still missing in Switzerland!

They did only a beta rollout and then an alpha one about a year ago and that's it. Idk if there are future plans to expand it. Apparently not.

Interested to hear and see how performance is on this build. Hopefully will get to download it eventually on my L925 and Fierce XL :-)

Can't wait for release in my Lumia 730

All four are welcome (and useful) additions.

I thought they are able to push EDGE updates without the OS using the store.

After all this time there is still nothing exciting about this platform that will attract new users, let alone current users. Half these "new" features were in 8.1! Is this really the best they can do?

No....this is why they are constantly working on it. Small update by small update. "Windows as a Service"

It's a pretty bad service though.

I'm a member of fast ring insider but I'm not getting this update..!! Please help

It's for 950/950 xl/650/550 only

And. Two minutes of silence for those people who said Microsoft doesnt pays heed in developing windows 10 mobile....10586.107 to 14286...where are you haters

Hahahahaha it is also come with fixes And bugs No New Features After A Huge Build Jump...

1520 anyone running this build?

Films and tv app in L535 getting green sometimes...i have to switch it off all times...any suggestions.......

Off Topic
Hey guys a chance to win a brand new Lumia 950XL.. https://wn.nr/2bKBWX

So did i missed something out what? My 640 is on 10568 and 14267 is out now? It's a MAJOR jump?

I want this build for the final release.

Redstone 1 some people say May I say August then Redstone 2 in November time frame.

Another great update, but still when is the final and the official update to windows 10 mobile??I own a Lumia 540

When Our Boring Lockscreen will change...???

I was so surprised that the phone can handle 15 open application at the same time as part of the multi tasking and it is so amazing unlike before it limits my 950xl to 8. I just received the latest update so far so good I just noticed some changes with the Microsoft Edge while watching YouTube the screen turns to black every time I use the landscape view.

Really need this on my 535

Still need to enable double tap to wake though !

Are there any improvements in the way you close tabs in Edge? The way it is now is kinda fiddly, tabs have an x with a tiny hitbox that's easy to miss. Any changes in that regard?

L950XL insider hub is back with this build rs1. Edge however crashes every time i start it. On the L550 no edge crashes.

First comment from Android Posted via the Windows Central App for Android

Wtf why Microsoft not rolling out official windows 10

They are probably waiting, for WP to die

just updated. 950XL dual sim. pressing camera button to launch the camera results in phone reboot almost every time. Anyone else experiencing this?

950xl single sim. No problems with the camera

after that build 950xl stoped senting any notification to my band 2....
cant make it work....
it is perfectly synced with phone... everything works fine...
this build is awesome... but i will go back to .107 cause i dont get any notification to band 2
not even calls/messages etc....

I hope they will make it available soon for old Lumias in the insider program.

can build 14267 available for lumia 730

Do you mean like they did with 8.1 GDR2 coming so quickly to all the 1520 and 930 devices that are so much needing that firmware update?????

i got this build on my windows 10 nomia lumia 630 and 635

I hope this build fixes my problem with always losing my Wi-Fi connection. I can be sitting here doing something and all of a sudden, poof, Wi-Fi connection gone. I go into settings and it says there are no connections found. I reboot the phone and it connects automatically. This is so aggravating. It's not the phone because it did it on the Lumia 1520 and now on the 950XL also.

Hii friends hw can i hide my taskar

This is nothing but MS is slowly killing the Nokia Lumia models....... So guys you must purchase the new XLs

nice to see music search reapear. So far stable build on my phone 930 same as last build in terms of its very reliable a smooth going but i still want windows gestures back and wold like to use both cameras on my skype. Hope they make a build official for my windows phone 930 cause iots prety decent at this stage. That doesnt mean i like hamburger menu, i dont, and i would like more features like apple pay equivilent but its still a great build.

;( is a bug, I got an update this morning, now cant charge my phone!!!!!!!!!!!!! 550! oh noes! :(

My 550 won't charge either.

a step further ...it keeps draining, then get a bit of charge now, reboots, get the charge symbol with the connect flashing. I reset my phone ! but this doesnt solve it as its the same version then I saw this http://www.neowin.net/news/microsoft-lumia-550-wont-charge-with-windows-...

When is windows 10 coming to all devices? I'm not impressed, have been waiting over a year for it to come out on the windows Lumia 1520. I am not going insider, cause I know that windows 10 there is extremely buggy and I didn't want to ruin the software on my phone. Before you make builds etc for other comps, tablets, and the lumia 950,950xl,550 please concentrate on making windows 10 for everyone and not limited products. I heard windows 10 was meant to come out in November worldwide for all windows phones, then in January. Now its Feb and doesn't look like its at all ready. Grr

Not showing me update ,why??

Im in the same boat...I haven't had an update since I got my 950...I am really tired of the bugs. I would take it back to AT&T but I'm past the point of return...Not cool. I'm very disenchanted with this entire experience. HTC HD7, no issues. HTC Radar no issues. 920 no issues. 1520 no issues. 950...horrible experience thus far. I should have went with my gut and switched to the evil Apple Empire...next time...another 9 months...

Still not available for most ppl. Wish they also make a super fast ring besides a fast ring. We're getting left out

Please update the Acer liquid m220 to windows 10!

Cortana will arrive in Brazil in early 2016. We're going to the third month of year and nothing about a pt_BR Cortana on air. How long is early 2016?
Windows Central Newsletter
Thank you for signing up to Windows Central. You will receive a verification email shortly.
There was a problem. Please refresh the page and try again.