Here's what's new in Windows 10 Mobile Insider build 14342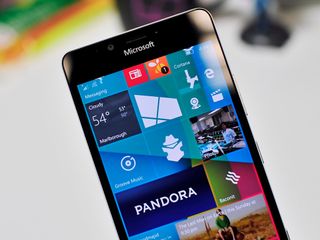 Windows 10 Mobile preview build 14342 is now available for Fast ring Insiders, meaning there's a slate of new stuff to test out. Coming along in this update, you'll be able to take advantage of a swipe gesture in Microsoft Edge, the ability to toggle opening websites in their corresponding apps and more.
Here's the full breakdown of what's new in Windows 10 Mobile build 14342, from Microsoft:
Swipe navigation in Microsoft Edge: Since the release of Windows 10 Mobile, our top feedback request for Microsoft Edge has been asking for the return of the swipe gesture to navigate back and forward. With this build, you can now swipe from anywhere on the page to get back to your previous page.
Apps for websites: As we discussed at Build 2016, you will soon be able to redirect certain websites to open with an app instead. This is a new capability so apps that support this are still in progress. In preparation for their availability we have added a new page at Settings > System > Apps for websites where you will be able to manage them. Stay tuned for more on this.
Feedback Hub improvements: We've heard from you that it can sometimes be hard to find which category your feedback belongs in. Now when you create new feedback, the Feedback Hub will suggest categories and subcategories based on the title and description you entered. If you see a suggestion that looks right, just click it to fill in the menus and get your feedback to the right engineers quickly.
Some solid improvements, to be sure. If you're on the Windows Insider Fast ring, you should be able to snag the update to build 14342 now. And be sure to chime in with what you think of the latest build in the comments!
Windows Central Newsletter
Get the best of Windows Central in in your inbox, every day!
Dan Thorp-Lancaster is the former Editor-in-Chief of Windows Central. He began working with Windows Central, Android Central, and iMore as a news writer in 2014 and is obsessed with tech of all sorts. You can follow Dan on Twitter @DthorpL and Instagram @heyitsdtl.
Waiting for what's broken and what's very broken in this build ;3

it's a pretty small broken list

Even though WC breaks it up in three articles (not complaining), the blog post from Gabe Aul always has all of the info a single place; this means people can see all the info as soon as they get wind of it. https://blogs.windows.com/windowsexperience/2016/05/16/announcing-window...

Been waiting on that swipe navigation in Edge for ages.

Not me. You must have a decent device. The swipe system on IE (WP8.1) often caused more problems on low end devices in that when a full page website was loading/stuck trying to move the page content would confuse the gesture and either go back or crash the tab. Hopefully edge swipes are more stable this time and the feature should also have the option to turn it off too.

I hate this the most from win 8.1, easily swipe by accident. Should have an option to disable it.

Looks like it loads from scratch rather than cache.It takes actual page load time.

seems faster... lol okay I know, but I've never said it before hahaha... getting the update now

I had the phone in fast ring, and didn't get the update, and now it's announced it will be going to slow ring, I moved the phone to slow. Still waiting for the update 14342, I'm stuck on 14332 now. The 950 XL did get the newest build 14342.1003, don't know why the BLU WIN HD LTE 150q was passed up.

Ah yes. The return of old "Features" I see what you're doing microsoft.. I'm watching you... lol

Didn't linking from a website use to open apps...
Like windows central .com or an email could open the app

Didn't linking from a website use to open apps...
Like windows central .com or an email could open the app

yep, i'm calling it windows 8.1.1 now lol as not much groundbreaking happening just features we had in 8.1

Yeah, just watch them..soon they will bring Zune to life again :D

Funnily enough I cast a video from my 950XL to an external device for the first time the other day... The receiving device recognised the stream as 'Zune Video'. :)

Still waiting for artist art lockscreen support in the music player...from 2012.

Dan do you know if there's an option to disable the swipe gestures in Edge? I personally can't stand them as there's been a ridiculous amount of times I've accidentally ended up going back or forward on a page in the past when I've just tried scrolling when zoomed in.

Yes, I too don't like this feature. If I remember right, IE in windows mobile 8.1 had it and many many times I ended up accidentally moving to a different page. Posted from Windows Central app in Lumia 640xl dual sim running stable version of Windows 10 mobile.

I would love to see improved speed. It should be much faster on the 950. Compared to other platforms, Windows 10 Mobile crawls. Hopefully with release nearing that will be the focus.

W10M flies on my Lumia 950. Also compared to other platforms. Must be something else on your phone.

Must just be the 950 then. It's pretty quick on my 1520 and even my 1020 on production is pretty damn smooth.

That's why I rolled back to 8.1. Best decision I ever made.

So you committed phonocide by going backwards... Your choice though! Posted via Windows Central app for Windows 10!
Proudly rocking my Lumia 1520!

No extension for edge web ???!!!!! رضا

That's planned, hasn't been announced though.

Hi everyone!! I have a problem a lot of months now and I want your help! I am a windows insider since the beginning of windows 10 mobile but I don't get the new releases anymore . Am stuck in .107 build. Thanks !! Send from my Nokia Lumia 1020

Go into the Windows Insider app and re-enable the fast ring, you might have done a hard reset many months ago and just forgot to (I know I have before, heh).

Thanks for your reply. Unfortunately I've done this a million times but nothing changes. it does restart and everything but when I check for updates nothing shows up. Send from my Nokia Lumia 1020

I just realized you're on the Lumia 1020, you might have to go to the Production line for further updates as the Fast and Slow are both on the Redstone builds (and the Lumia 1020 is ending on Threshold).

you mean that I have to buy one of them new lumias? daaamn

Roll back to 8.1, then get the insider builds. You'll get 10586.something which is the most stable win10m build now. As for Redstone.. I'm sorry to say you won't see it on your 1020. However, you'll be quite fine with build (threshold) of Win10, untill you can get a new device which supports Redstone and further builds. It is a 3 year old device after all.

Running a 635 on 10586.318, so think I'm probably stuck too, like yourself. Oh well. Though thinking of getting a 1020, maybe to keep on 8.

Why dont you update to the latest 10586.318? Update or reinstall the wp insider, select preview build. 14xxx is another branch for newer phones

Help. Im in slow ring insider. If i want to change it to fast ring, will i re instal all over again? Or just simply update it?

Just switch back to the fast ring, reboot, and check for updates. Just did this on my L830 and within a few minutes it's pulling down this latest build. Good luck!

So excited...
Oh, and Beta 30 of the Windows Central app is also live... with quite a few improvements!

have they finally fixed reply to individuals in the mobile version? Since updating to the windows 10 mobile version, there has only been the option to add a post to comments. The desktop version has the option though.

It's fine for me. Here I'll reply to you from my phone. Windows Central Universal Application for Windows 10

Well it's not my "phone" phone...that's my Lumia 830. Windows Central for Windows 10-Microsoft Lumia 640

I am planning to get this build on my BLU Win JR LTE. I know I have read this but is a hard/soft reset really required?

Getting error: 0x8018830f after it downloads and then tries to install. Did a powercycle and still the same issue! How do I get aroud this issue. Intalling on my Lumia Icon that had 14332 build.

I believe there was a download bug with the last couple of builds that stopped devices from updating, or something along those lines.
I'm also not certain the Icon was "officially" supported for the Windows Insider program until this build (even if you could get it last build) so that could be a part of the issue. Windows Central Universal Application for Windows 10

Its disgusting that every time it takes too long to download the update!

It's a couple of gazillion gigabyte in size!! Be patient!!

Anyone using this on a 640? What's it like?

I'm installing it now. Reply to this comment in about an hour and I'll let you know after I've done some testing. Windows Central Universal Application for Windows 10

Hey sorry for the wait. Performance is good, but not production good yet. Battery life was, of course, bad at first but it stabilized fast and now it's real solid. Store is okay but needs a lot of work. Action Center is not presenting icons or dividers. Edge gestures are buggy and are a bit annoying. Settings looks great. Overall seems to be a solid build. Too early to say if it's definitely more stable than the last build. Windows Central for Windows 10-Microsoft Lumia 640

Awesome, thanks for that.

No problem. Have any questions shoot them my way I'll find an answer.

I have a 640 , 640xl and 1520 I have not had any problems with any. alll run win 10 fast build and I have not had ANY performance issues. bout to switch to 640xl from the 1520. it has the ear pice problem and the warrenty ran out from Att I would recomend it.

So swipe gestures and apps for websites are only exclusive to redstone builds? Or will we get this on other branches too.

Eventually the threshold build and production build will be unified.

What's that beer tap looking app?

Eeeh, something went wrong. After update has been installed and phone restarted I am stuck on screen with blue windows. It's been for almost one hour. :( Lumia 830

It did this on my 950XL as well. I just pressed and held the Volume Up+Power key for about 10 seconds until it vibrated and rebooted. Then it continued the installation and all seems fine.

Yeah, I had tried the soft reset independently of your comment and it's back on now. This could be helpful for others!

My 950 did the same thing, froze on the Blue Windows logo for over an hour! Reset the phone with VOL- and Power for about 10 seconds (Vibrate) and it restarted. Now continuing to install, thanks for the tip I was hesitant at first...

Skype is missing or am i missing Skype?

Skype shows up in my app list and launches fine. Check the store and try to download again. Or maybe some apps are reinstalling still

Seems good & quite stable.

I just updated the Windows Central app and it looks great. I think the "Jump to Last" icon should be different. It's the same as the "Download links" icon.

Oh yeah and I'm installing this build of Windows 10 Mobile haha. The improvements are small in number but welcome nevertheless. Especially the Edge gestures.:D Windows Central Universal Application for Windows 10

Tried 4 times and it downloads but fails to install on my 950.

The notifications UI in Action centre has been changed as well! It's much much better now!

with soft-reset it is working....

This build bricked my phone. Thank goodness for the recovery tool.

App very responsive in this build. However, the battery life is horrible on my Icon. Downloading videos while charging for 1 hours lowered the battery for 5 percent... Did a hard reset but it seemes to be no help...

am i the only one who wants a settings page "Default Apps" on mobile too? currently we have the default apps for messaging and such in their respective settings pages and no settings for things like browser, video player etc. plus the pc default apps page is weak with only few apps settings.

Not only you! It'd be great to choose an app before open any content e.g. while using the WindowsCentral app and tapping a link, a prompt box should appear and choose which browser opens this link (and a tick box under the browser selection to select it as default selection) !!! If you haven't understood, let me say it again with other words :P

There's problem of this build with win.phone with 512mb Ram??

For my Lumia 730DS still the old issu that is network setting sometime not showing present in this build. Also for those app install in phone memory is not updating, show error. Nothing improved except cosmetic show up.

Well i'm glad to say that the DRM issue that has stopped me listening to my Groove music pass for the past 4 weeks is now solved. Except it's solved because Groove won't even load any more, just bombs out every time.. :(

There is no update available for my phone. It says it is up to date.. What should i do?? Please help!!!!!!! I am release preview insider|

I like the feature where it bricked my device for some weird reason

Not so good this build...R*

Lumia 950XL
This is the best build in a while. Issue with Tweetium crashing fixed. Messages being read to my bluetooth headset fixed.

uh...DO NOT USE THIS UPDATE.....my 950XL just restarted and will no longer boot....I am stuck on the blue windows icon. WRDT does not recognize it either...I am screwed!

Don't panic, You need to wait till 60 minutes, or try use power button with vol up, few times, will finish update sooner or later. You are not screwed!


When will Hey Cortana be added back into Redstone?

Hey ..how much size this build?

HEATING HEATING HEATING HEATING HEATING HEATING HEATING HEATING HEATING HEATING . lumia 930 on this insider build.i can even hold it for more than 2-3 minutes, as soon i switch from data to wifi it cools down, if i am back to data. gone metals sides are burning

It's HOT in a bad way! I have the same exact issue. Phone updated from the previous insider build. Only updated yesterday to this build. Immediately my phone started to get VERY HOT. Discharges completely when idle in just a few hours. Tried uninstalling facebook and disabling onedrive synchronisation (Main battery users according to settings). For me, it seems that any network activity gets it toasty. :-(

Installation failed on my Lumia 950XL, after the "grinding gears" it restarted, first the Microsoft logo, then black then the Windows logo appeared, then still on Windows logo, then still on Windows logo, then after 1 hour still on Windows logo, so I decided to force restart by pressing the power button plus volume down for 10 secs. It vibrates then restarted, then again stucked on Windows logo. Oh well, the life of an Insider is really frustrating but I enjoy breaking and making the phone again. I became a kind of "techy" guy when I joined Insider. Now I am using the Windows Device Recovery Tool to recover my phone. Hopefully, turns out successful.

This build downloaded all of my IM's that did not in the last build, seems faster. I will do a factory reset tonight to see if all is well.

Ok, did the factory reset, everything seems to be faster. I don't see the problems everyone else seems to have. I left work @ 5 yesterday did not charge the phone, used it for a few calls, a few games, check emails, the normal stuff, at 7 this morning I had 67% charge left. Battery seems much better. I did not have any problems other than one that I had on an earlier build, when sending a text, after touching the arrow to send, it would sit there a few secs before it sent, doesn't happen all the time. Based on problems that I've had with earlier builds, I can live with this for now. My 950 is very snappy, doesn't get hot or reboots. Works very well for me...

with this build, at least once a day I have to reenter my password for my main email account and have it send me a code to my secondary email account to unlock the first. Very frustrating. Worst yet, when I get the code and the keyboard pops up, hitting the number keys results in no input until I do a reboot and then try to input the email unlock code. Have also found on several occasions with email, the keyboard is not coming up at all. Lumia 950XL

ALL emoji's are now supported- so now you can see churros, unicorns, shrugs, pinocchio, etc...

How can I switch to Slow Ring from Fast Ring? Is it by selecting 'Slow ring' in windows insider app or by selecting 'Slow ring' in Settings->Phone Update->Windows Insider Program ? I am facing the problem of lossing the mobile data connection and needs to reboot the phone for several times to fix it. Also apps like WhatsApp and Groove crashes almost every time the phone is turned on. Also having battery drain and heating issues in 14342. I am using Lumia 535 DS.

Navigation bar is covering up the lower part of the screen in most of the apps. for example in Camera, I can see the image capture button only half. The video and the three dotted settings buttons are hidden under the navigation bar. Sam with other apps as well, the lower part of the screen is not visible. In the feedback hub I managed somehow to click on the submit bettun at very bottom of the screen, it is almost completely not showing. Asking for help to fix this issue, please someone respond to my twits or comments on various forums. Nobody has sen this issue on their devices? By the way I am using "Nokia Lumia 638 LTE" device. This was not a problem until I installed the built 14342.1003. I just installed 14342.1004 and it's still not resolved. I have even did a factory reset with NO success. Someone please help.

My BLU WIN HD LTE 150q is still on buid 14332, I see on Windows Central that 14342 is out to Insiders on fast ring, which I'm currently in the fast ring. I wondering why the phone stopped getting the new builds?
Windows Central Newsletter
Thank you for signing up to Windows Central. You will receive a verification email shortly.
There was a problem. Please refresh the page and try again.