Here's why Halo Infinite's delay is ultimately a good thing
While the news of Halo Infinite's delay is disappointing for fans, it's ultimately a good thing for the game and its developers.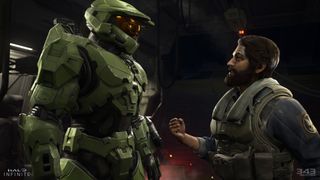 (Image credit: Xbox Game Studios)
Recently, Microsoft and 343 Industries announced that Halo Infinite has been delayed to 2021 due to developmental challenges caused by the COVID-19 pandemic. This news stings a lot for fans of Xbox's flagship franchise, and as a diehard Halo fan myself, the update initially felt like a punch to the gut. We at Windows Central saw a lot of it during the recent gameplay demo and there was a lot of it to like despite some issues, so we're disappointed we won't be able to get our hands on more of it.
However, after thinking on things a bit, I ultimately feel like this delay was the right call for both Halo Infinite and its developers.
The next adventure in the saga
A new Great Journey awaits

Halo Infinite is sure to be an incredible game filled with wonder, adventure, and more.
Halo Infinite's delay allows more time to implement feedback
Firstly, Halo Infinite getting more time in the development oven means that 343 Industries has more time to implement the feedback given by fans following the game's official gameplay reveal.
Primarily, people were critical of the game's visuals, citing issues with the game's lighting and texture detailing. While 343 Industries stood by Halo Infinite's art style in a recent blog post while also noting that the demo was shown off on an older build, it also noted that many aspects of the fan feedback have "brought new opportunities and considerations to light that the team is taking very seriously and working to assess." Additionally, the developer acknowledged that "we do have work to do to address some of these areas and raise the level of fidelity and overall presentation for the final game."
343 Industries will likely be making changes to Halo Infinite's graphics based on what Halo fans had to say about the gameplay demo. While it's unfortunate that we won't have the game in our hands come 2020's holiday season, the delay will no doubt give the developers the extra time they need in order to refine Halo Infinite's visuals.
Ensuring polish at launch
Over the years, the mighty Halo franchise has seen a decline in overall popularity due to an increasing amount of fierce competition in the first-person shooter market. However, with its open-ended and exploration-heavy campaign, free-to-play multiplayer, and position as a platform for future Halo content, Halo Infinite looks to be a game that could bring Halo back to the front of the pack. This will only happen, though, if the game launches in the polished, high-quality state that players have come to expect of flagship AAA titles.
We've seen Halo struggle with bugs and server stability issues before — Halo: The Master Chief Collection (MCC) launched in an unacceptable state on the Xbox One back in 2014, and although 343 Industries admirably patched it up in the years that followed, the damage was already done to the game's reputation. Additionally, issues with the PC ports of the MCC games — most notably, Halo 2 Classic's multiplayer — have led to some similar situations.
These issues simply can't happen with Halo Infinite, as the game represents the forseeable future of the Halo franchise on both Xbox Series X and PC. This delay will give 343 Industries time that it needs in order to ensure that Halo Infinite will launch in a polished and stable state, supported by all of the necessary systems and infrastructure that modern AAA games require.
It's true that this means Xbox Series X won't launch with its flagship game, which could pose problems for the console's expected November 2020 release, but in the long-term I think it will be better for Halo Infinite to launch later but with more polish, instead of earlier but potentially crippled by stability problems. It might not be good in the short-term for Microsoft, but it'll ensure a better product for players.
Ultimately, it's the right thing to do for developers and players
We can analyze the realities all we want, but in the end, delaying Halo Infinite is the right thing to do not only for players but for the health and safety of its developers. In his announcement of Halo Infinite's delay, 343 Industries Studio Head Chris Lee stated that "it is not sustainable for the well-being of our team or the overall success of the game to ship it this holiday." This clearly speaks to the fact that developing Halo Infinite from home has proven to be a daunting and stressful task for 343's staff, as it has been for a lot of developers these past few months.
As disappointing as this delay is from a fan perspective, it's crucial that we prioritize the health of developers. The creative minds behind our favorite video games are not robots; they're people, and they're being negatively impacted by the COVID-19 pandemic just as much as you and I are.
It's important to note that delays don't always necessarily result in healthier development practices. For example, Naughty Dog employees suffered from intense crunch despite The Last of Us 2's delay, with one developer noting that "People thinking the extension is somehow to relieve stress or the workload on the team are wrong. The first thing that they wanted to reiterate is that we aren't slowing down the pace." However, Lee's statement suggests that Halo Infinite's delay largely stems from concerns about the well-being of 343 Industries staff. We can only hope that Microsoft and 343 Industries' executives do right by the studio's employees.
We've waited five years for Halo Infinite. If we have to wait a little longer so that the game's developers can maintain a healthy state, so be it.
Halo Infinite is currently slated to launch in 2021 on the Xbox Series X, Xbox One, and Windows 10 PCs.
The next adventure in the saga
A new Great Journey awaits

Halo Infinite is sure to be an incredible game filled with wonder, adventure, and more. It might be delayed for the forseeable future, but you can pre-order now.
Finish the Fight
Halo: The Master Chief Collection
Experience the entirety of Halo history

The Master Chief Collection is a collection of every Halo shooter from the pre-Xbox One era, offering incredible value at an incredible price.
Get the Windows Central Newsletter
All the latest news, reviews, and guides for Windows and Xbox diehards.
Brendan Lowry is a Windows Central writer and Oakland University graduate with a burning passion for video games, of which he's been an avid fan since childhood. You'll find him doing reviews, editorials, and general coverage on everything Xbox and PC. Follow him on Twitter.