Build an army and destroy the neighbors with Hero Sky: Epic Guild War for Windows 10 PC and Mobile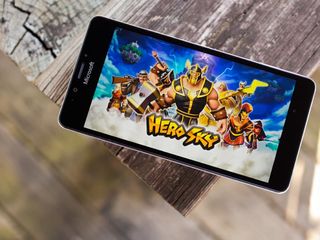 Hero Sky: Epic Guild Wars is an empire-building strategy game where you build an army centered on a host of epic heroes and destroy your neighbors. You will also need to fortify your village to defend against enemy attacks. Heroes are customizable and include the likes of Thor, Spartacus, Perseus, and more.
You also have options to join or create alliances, customize your heroes and battle Hades and his evil minions. Graphics are colorful and nicely animated. Gameplay is challenging, requiring a combination of battle strategy and resource management skills.
City builders may not appeal to everyone but for those looking for a title from that genre of game Hero Sky: Epic Guild Wars is well worth a look.
At launch, Hero Sky: Epic Guild Wars will offer you the option to create a user account based on your Facebook or Microsoft accounts or play as a guest. The account is free and allows your gaming progress to be available across devices. You can play as a guest, but the game cautions you that your gaming progress may be lost.
Once you set up an account (or proceed as a guest) Hero Sky: Epic Guild Wars will walk you through an extensive tutorial on how to play the game. The goal is to build a village, summon heroes, build and train an army, and conquer your enemies.
Gameplay centers on a map view of your village and are not overly difficult to pick up. Navigational buttons and gaming stats are present along the edges of the display. Tapping on a structure will pull up any available options available that include an information button. You also have a character button in the upper left corner that will highlight any tasks that need to be tended to.
The challenge is juggling the various tasks involved in the game. You will need to build gold mines and nectar farms to garner resources needed for village growth (gold) and troop training (nectar). You will also need to make sure your storage facilities are large enough to hold your gold and nectar harvests.
You will need to recruit and train your armies, as well as manage your heroes and build up your village defenses. It can seem a little overwhelming at first and Hero Sky does an exceptional job of providing informational windows or help screens throughout the game just in case you lose sight of what does what.
Heroes can be summoned daily from the temple that sits to the north of your village. If you want to summon a hero sooner, you can spend gems earned during gameplay to summon them as well. Heroes range from the likes of Thor, Spartacus and Richard the Lionhearted, as well as generic characters that include Vikings, Pirates, and Asian Warriors. You will even find a few Clowns and Santa Claus to recruit.
Recruitment is random and heroes can have their abilities and skills upgraded as they grow in experience. You will also be able to pick up new weapons for your heroes and evolve your hero into a stronger character that will have skills that are more destructive.
The hero is the leader of your army while attacking the enemy. Your armies can be composed of infantrymen, archers, brutes, griffins and more. As you advance in experience, the more troop types become available. Just remember, the more advanced the troop type, the more nectar is needed to train them.
Battles span two modes, missions and matches. Missions are battles for resources and gems against Hades' underworld army. These missions are level-based and progressively unlocked. The further you advance in the missions, the more difficult they become. Matches, on the other hand, are battles against other Hero Sky: Epic Guild Wars players. You invade their villages in an effort to defeat their defenses and loot their resources. In addition to these to battle modes, you will also find daily missions to tackle for bonus rewards.
You have a limited amount of time to battle your enemy (about three minutes) with the ultimate goal being the utter destruction of your opponent's village or stronghold. If time expires before you are victorious, the battles ends in defeat.
Soldiers, along with the hero, are deployed on the outskirts of the village you hope to wreak havoc upon. While combat is automatic, deploying your troops needs to be done strategically to hit the weak points of the village. Your hero does have skilled attacks that can be launched against the stronger defenses of your enemy.
After your battles, you will return to the village to recruit additional troops to replace those lost in combat, manage your hero and manage your village resources. Once you have replenished your troops, it is off to the next battle.
There is a social aspect of Hero Sky: Epic Guild Wars where you can create alliances and join a guild to become a more formidable opponent. There is a messaging system in place to chat it up amongst other players and guilds have the benefit of sharing troops and hiring guardian heroes to protect the guild town. You do not have to join a guild to play Hero Sky, but is an appealing feature.
Overall Impression
Hero Sky: Epic Guild Wars does a nice job of balancing combat missions with village management. There is enough gaming content with Hero Sky to keep you busy for extended periods and tackling a battle mission fits nicely if you only have a few minutes to devote to gaming.
Graphics are colorful and have that cartoonish appearance with plenty of detail. Gameplay is challenging, with not only the battle sequences but also just being able to juggle all the tasks involved in the game
The Windows 10 game challenges your skills at strategy, resource management and even time management. You will need to create a balance of troop types as you invade stronger opponent's, make sure you have the resources to support your army and the time to upgrade facilities to handle your empire's growth.
My only nit with the game is that there is no means to revisit the tutorial or a dedicated help section. The game does provide plenty of guidance through information windows, but a stand-alone help section could come in handy.
While this gaming genre may not appeal to everyone, when the dust settles, Hero Sky: Epic Guild Wars is a nice city builder for Windows 10 PC and Mobile. It is a free, ad-supported gaming title with plenty of in-app purchase opportunities.
Download Hero Sky: Epic Guild Wars for Windows 10 PC and Mobile
Get the Windows Central Newsletter
All the latest news, reviews, and guides for Windows and Xbox diehards.
George is the Reviews Editor at Windows Central, concentrating on Windows 10 PC and Mobile apps. He's been a supporter of the platform since the days of Windows CE and uses his current Windows 10 Mobile phone daily to keep up with life and enjoy a game during down time.