Hill Climb Racing adds dragster and 2 new levels in the Christmas update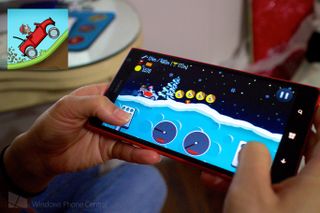 Windows Phone users have waited a long time to get Hill Climb Racing, but the developers bring the Christmas update for the popular physics-based driving game around the same time on Windows Phone, Android and iOS. Version 1.13 adds 2 new levels and one vehicle.
Don't worry if you don't have enough coins to unlock the new items. Watch the video after the break to see what's new.
In Hill Climb Racing, you play as Newton Bill, a young aspiring uphill racer. You face the challenges of unique hill climbing environments with many different vehicles. Earn points from daring tricks and collect coins to upgrade your car and reach even higher distances.
The controls are easy, with just two buttons: gas and brake. Think again if you believe you can just get through the levels by just pressing down the gas pedal. You'll need to figure out when it's good to accelerate and when it's time to slow down.
The Christmas update brings two new levels: Xmas and Night. Newton Bill also gets a Santa suit. The Xmas level has Christmas trees on the road. You can either try to drive over the trees or speed up to go through. The new Night level is obviously darker. You depend on your vehicle's headlights to guide you through the level.
Hill Climb Racing 1.13 also introduces the new dragster. It stays low to the ground with a huge rear wheel and smaller front wheel. It's hard to imagine a dragster car in real life racing uphill in uneven terrain, but you can do it in this game.
Hill Climb Racing is a free download at Windows Phone Store. The ads don't get in the way while you're playing, but you can remove them by purchasing coins at the store. The most affordable option is 150,000 coins for $1.99.
Are you a Hill Climb Racing fan? Let us know what you think of the Christmas update in the comments!
Thanks for the tip, Talk4Lig!
Windows Central Newsletter
Get the best of Windows Central in in your inbox, every day!
Great, pretty much beat the game.

Bought everything and upgraded everything.

I play all the time and purchased points. Great game

Great to see support continuing for WP8 from this dev! For comparison, when did this update come for Android & iOS?

I actually think it's kinda boring... Yes, it's fun in the first week, but as the game progresses, I feel no sense of accomplishment. I do get a hell of a kick hacking through the forest level with the tank, but that's about it.

Where are the fuel cans in christmas level??!!!!!??

Found it. I had a bad motor... :D

So addicted to this game! I got at least 5 other people addicted too. I really wish there was a leader board to compare stats with my friends though.

I love this game. So much so that I bought some coins to show support. Glad to have this one on WP.

Spent $2.99 on coins. Used them all up already =(

Heh, yeah, they are easy to spend, but I'm hopeful the developer sees that making games for WP is financially rewarding. :P

Still waiting for san andreas

Thanks for the update! Lol

waiting has became habit nwfor d wp users...... no need to b lol....

San Andreas the new instagram.... *sigh

Good to see the christmas update.

I've burned through my battery every night for a week before bed. Love it.

Me too! And wasted many hours ala SW tiny tower.

Cannot get enough of this game!

i m waiting for vlc not gta sa..... cause i hav 520 .... xD .... just dying to see it in my applist...

Same is the case with me. GTA will be for 1GB RAM phones and I have 512MB RAM. So I'm also waiting eagerly for VLC to be released.

Started out as a fun little time waster, now an obsession. Love this game.

Awesome, a friend got the update a few days ago on their Android. I was afraid the update wouldn't come to WP, but it appears to have come out in time with the iPhone. I assume the delay compared to Android falls inline with the certification processes of WP & iPhone.

Does it fix battery drain after it's already closed?

Did anyone notice how the rear tyre of dragster gets deformed when it hits the ground? That's called attention to detail!

Yeah I noticed, the same happens to the tractor too. The games is simple on graphics, but very deep on physics and details.

Awww, for some reason, I can't update the game. It downloads, then it tries to install, but I get attention needed every time. Great game, tho. But it's really easy once you figure out the specific combo. For example, to get massive amounts of coins in no time, drive your bicycle on the level Moon, and jump whenever you can. Getting about 100-200k during a single, 2 minute run is pretty standard.

Sony xperia is way better phone than nokia lumia 800 because you can get hill climb racing,instagram and much other games and softwares

Really? No thanks...I'll stick with my Windows Phone :-)

Ur xperia will not grow as fast as nokia is growing

Nokia has provided too many updates and new apps in these 2 months.did u get frequent updates on ur xperia??hahahaha

U r talking about games??can u play a single game without any lag on ur lagdroid???

Lumia 800 is legacy. Welcome to windows phone 8. Get an 820 or anything really. we have a kickass range of apps. And it's piling up everyday. Kthanxbai.

Seriously...games look awesome on that L1520.
Oh!..and...uh...downloading this game to try it out on my L925

I'm a fan. If you want coins, take the motocross bike and the moon, you'll be rich !

Haha! Exactly what i been doing...

I prefer monster truck (upgraded) and moon for coins and its the best.

This! The upgraded monster truck really bounces high! Insane air time!

Thanks for mentioning me in the article! You guys from wpcentral rock! ;)

Nooooo, when I press update, it doensn't begin to download the new version. But when I visit Hill Climb Racings marketplace site again, it asks me to update it. Then same happens again when I press update. How can I update it without losing all my money and unlocked cars and tracks?

they should fix low framerate on 1GB RAM phones. On my 920 and on videos on youtube - 20-25FPS

I don't know why but it really has a low fps on 920. I can play this game very smooth on my 4 year old iPhone 3gs.

Love this game, so addictive!!!

Chep yr Windows 8,..waiting for flipboard

Lots offf problem in WhatsApp

Waiting for hangouts n some games...lyk temple run 2 n sabway surfers for 512 MB

Im also waiting.512 MB devices has to wait for everything

New Christmas level is nice

Looks pretty gorgeous on that huge Lumia 1520 screen, oh... maybe one day...

Try Zombie Derbie friends...... Great game from Herocraft...... Free too.....

Does anyone know what the background agent of this game is for? unusual for a game isn't it?


It is still lag or has a low fps on my 920 compared to my 4 year old iPhone 3gs
Windows Central Newsletter
Thank you for signing up to Windows Central. You will receive a verification email shortly.
There was a problem. Please refresh the page and try again.